January 23, 2011 -
Dan Pompei
Coaching the Senior Bowl has benefits
The coaching staffs of the Cincinnati Bengals and Buffalo Bills are doing a solid for the rest of the NFL by coaching the North and South teams at the Senior Bowl this week.
But they also are doing a solid for themselves.
The hidden benefit in coaching a Senior Bowl team is that the staff gets an inside look at the players, and can gather intelligence about individuals that is difficult, if not impossible, to come by. That's why Bengals coach Marvin Lewis happily agreed to do it for the third time in seven years.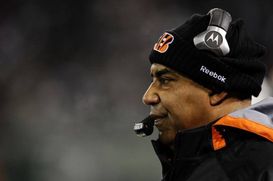 Bengals coach Marvin Lewis will get a good look at all of the players in the Senior Bowl.
"You get a first-hand look at the prospects," Lewis told me. "It can get you a little bit of a leg up and see how they learn. With some of them you can develop a pretty good relationship so that if you are fortunate enough to pick one of them, when they hit your building, you have a good handle on them already."
The coaches observe how players interact with authority and take to receiving orders. They see how they blend in with teammates. They observe how they absorb the playbook. They find out how seriously they take the game. They discover if the players know how to watch tape to get the most out of it. They get to know how well individuals understand strategy. They even can find out about outside influences on the players.
There really is not much of an advantage in seeing how players fit in a particular scheme, because the Senior Bowl uses Pro Bowl rules, with vanilla offenses and defenses. But coaches can get a feel for technique, and how a player runs drills. As a result, Lewis said the players he can learn the most about during the week are cornerbacks, because it's all man-to-man, one-on-one coverage.
Lewis said he has lobbied to have players added to his roster in the past when he's lost players. He might do the same this year.
Even if a player is on the opposing team, there is an advantage to coaching in the game. The Bengals chose linebacker Rey Maualuga in the second round of the 2009 draft. He played on the South team; the Bengals staff coached the North.
"You are in the same breakfast, lunch, dinner area with opposing team for an entire week," Lewis said. "Once the coaches and scouts leave, from Thursday on, it's just you and the players for the most part. You see them interact with families. We also have a time Thursday night where we will exchange teams with the Bills staff, have our coaches spend time with their players. We'll get some one on one time with them, gather some information. It helps eliminate some guys from your combine interview list."
Lewis embraces the opportunity this year because it's a chance to work with his staff and put a miserable season behind them. "If you're not going to be in the playoffs, it's not a bad place to be," he said. "For our coaching staff this year and what we went through, it's a good chance for us to spend some time together, a working retreat away. We can go out to dinner, have a good time and reconnect with each other. It's hard to go through a season like that, so this will be good."
It will be especially good come draft time.
Dan Pompei covers pro football for the Chicago Tribune at chicagotribune.com.