December 16, 2010 -
Dan Pompei
Crisis Management 101
When Leslie Frazier became interim head coach of the Minnesota Vikings a few weeks ago, he stressed to his team the importance of focusing on nothing but their current opponent, and putting all of their energy into the pursuit of victory.
That was before he knew he'd go through two quarterbacks and be forced to start a rookie who was considered more of a wide receiver than a quarterback by many NFL teams. And it was before the roof literally collapsed on the Vikings, forcing them to play one home game in Detroit and another, this coming Monday, in a college stadium. They think.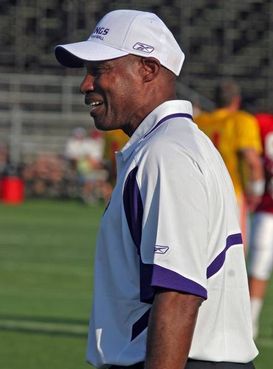 ICONLes Frazier's calm, easy going personality is likely to serve him well in times of crisis.
Nothing is more sacred to football coaches than routine, and making sure everyone on their team knows what to expect. So this would be a monumental challenge for any head football coach, let alone a first timer trying to prove he should be retained.
"You know how important the quarterback is in our league," Frazier told me. "It's a challenge when you don't know who is going to line up at that position."
Given the advantage of crowd noise the Vikings have enjoyed at Mall of America Field, they basically have lost two home games. "When you say you have a home game, you are thinking Mall of America Field," Frazier said. "But I think our guys are at a point now where they understand the situation a little better than they did before the Giants game. So we'll be much better from a mental standpoint than we were."
Frazier acknowledges crowd noise won't be the same if, as expected, the game is played at TCF Bank Stadium in Minneapolis. And there are game plan factors involved with moving a game outdoors that was supposed to be played in a dome. "From a strategy standpoint, it depends on how windy it is," Frazier said. "Do you punt to Devin Hester? Can you throw the football down the field? Those kinds of things. We'll probably have to gage it closer to the game."
Having Adrian Peterson and Toby Gerhart and the potential of a power running game is at least a security blanket for Frazier. "You can't have a better guy to hand it off to than Adrian," he said.
Managing crises is an important part of being a head coach. When Frazier was a special assistant to Tony Dungy on the Colts staff, he saw how consistency from the head coach can help a team through rough patches. Frazier wants to be the same way.
"Tony never really changed," Frazier said. "He was always the same, in the midst of a storm or if things were going well. He was very consistent in the approach to the team. He wasn't a yeller or screamer and he got his point across. His personality reminded me so much of myself that it taught me there is nothing wrong with being yourself. Just be the way you are."
Frazier believes he has been ready for challenges like these. He has been touched by some outstanding mentors, including Dungy, Andy Reid, Jim Johnson, Mike Ditka and Buddy Ryan. He was interviewed for seven head coaching jobs without getting an offer.
"I thought for awhile I was ready to do this," he said. "I wasn't certain when it was going to happen, and didn't picture it happening this way, with this team. But I feel I'm more than ready to lead our team and help our team and get this organization headed in the right direction."
Dan Pompei covers pro football for the Chicago Tribune at chicagotribune.com.