May 08, 2012 -
Dan Pompei
Dissecting the Seahawks' selection of Bruce Irvin
Editor's note: This column originally appeared in Dan Pompei's "Sunday Blitz."
No draft day selection has been dissected more than the Seahawks' pick of Bruce Irvin. In fact, it was dissected more than anywhere at the Seahawks offices overlooking Lake Washington.
So while the talking heads took their shots on draft day, the Seahawks heard none of it. The Seahawks had done their work and were confident in their conclusions. In their draft room, the only sounds were of reggae music and ringing telephones. The televisions were on mute.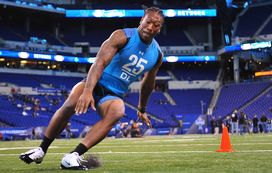 ICONSeattle's selection of Bruce Irvin raised some eyebrows around the league.
The Seahawks may or may not have picked a player who will be an NFL star. But they knew who Irvin is, and they have a plan for him.
They had unusual insight into his widely discussed character because Seahawks coach Pete Carroll recruited him to Southern Cal. Seahawks defensive passing game coordinator Rocky Seto also had first hand knowledge of Irvin. As an alum of Mount San Antonio College, Seto sold Irvin on attending the junior college.
The Seahawks did not pretend Irvin's background was ideal. They did not close their eyes to the fact that he lived in a drug house, or spent time in a juvenile jail for burglary. But they did not believe his background was as troubling as some teams did.
"Look he has had a rough background," Seahawks general manager John Schneider told me. "He was so desperate. He dropped out of school. He basically was living on the street. But he was able to pick himself up, get his GED, get into a junior college, then get a scholarship."
To Schneider, the fact that Irvin persevered when he could have quit reflected well on him. He also pointed out Irvin never was in trouble when he was in junior college or at West Virginia until March, when he was arrested for breaking a sign at a sandwich shop. The charges since have been dropped.
"Is it a risk?" Schneider said. "Sure it is. But we were as comfortable with it as you can get. Obviously you would like a guy be clean as a whistle, have them all be like Shea McClellin. Sometimes a guy like this comes along and is worth a shot. We felt he was."
Schneider thought Irvin was the best pass rusher in the draft and one of the three best defenders, along with Luke Kuechly and Mark Barron. Two other general managers I spoke with concurred that Irvin was the best pass rusher in the draft. Some teams questioned if Irvin can be more than a pass rusher, however.
For the time being, Irvin may be only a pass rush specialist. But the Seahawks believe he can grow into a larger role. Schneider said he has no doubt Irvin can be an every down player at the Seahawks' "Leo" position, which also is known as an "Elephant" in some defenses. It's the same position Charles Haley and Fred Dean made famous. Chris Clemons has been manning the position for the Seahawks recently.
If Irvin plays Leo, he will be dropping about a quarter of the time. The Seahawks think he has the capacity to do that. It may take him awhile, but they believe Irvin, who was a receiver in high school and a safety in junior college, can get there.
"He's not a finished product," Schneider said. "He's like a lump of clay. He has a lot of work to do, don't get me wrong. But he is a guy the coaches think they can mold. His change of direction testing was phenomenal. His movement skills are phenomenal."
Speaking of movement, the Seahawks entertained the notion of moving down in the draft into the late teens or early 20s. Some thought Irvin would be available then. But the Seahawks did not want to risk it.
Some risks are worth taking. Some are not.
Follow me on Twitter: @danpompei