November 11, 2010 -
Dan Pompei
Every team needs draft picks
Read an interesting story in the Florida Times Union last week about how the Jaguars might have made a mistake in 2008 when they traded a pick in almost every round of the draft in order to take two players—Derrick Harvey in the first round and Quentin Groves in the second.
At the time, the team believed it was just one excellent pass rusher away, and that the roster was so sound it didn't have openings for many young players. As it turns out, the Jaguars never really ascended, and their defense has struggled since.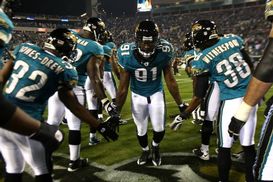 ICONThe Jaguars took a big gamble on Derrick Harvey, and so far it has not paid off.
"We probably had underrated the number of players we had that were getting up in their years, that weren't going to continue playing for a long time," coach Jack Del Rio said was quoted in the story as saying. "I would say that's absolutely something we have to admit looking back that to package that many picks and try and move, thinking you're that close, that's really not the sound way to do things."
It really brings up some interesting points. Is a team ever so well off that it can afford to not restock itself through the draft? And can a team ever be so sure that it's just one or two players away from a Super Bowl?
So I called Del Rio to talk about it. The realization he has come to is NFL teams always need numbers of young players. It's necessary for the life cycle of the depth chart. It's necessary for competition. And it's necessary for salary cap equanimity.
"It's important, especially for us because we are a small market team," Del Rio told me. "We depend on the draft to restock our team more than free agency. If we don't have young guys coming up through the pipeline, eventually there is a problem."
Of course, maybe Del Rio wouldn't have been feeling this way if Harvey turned out to be Clay Matthews and Grove turned out to be Trent Cole. He acknowledges as much. In that case, the Jaguars would have gotten what they needed—pass rush, and the play of their draft picks would have lifted the play of others around them, and hidden deficiencies elsewhere on the team. But you can't count on your draft picks turning out to be superstars. Players like Matthews and Cole are the exception more than the rule.
Harvey has lost his starting job a couple of weeks back after having only a half a sack in his first seven starts. He has six sacks in three seasons. Groves was traded to the Raiders for a fifth round draft pick in the offseason.
Instead of gambling it all on players like Harvey and Groves, the Jaguars probably would have been better served taking the Bill Belichick approach—trading down and acquiring as many picks as possible, whether they are for this season or next. More picks means more lottery tickets. If you have 10 tickets, your chances of a big hit are a lot better than if you have five.
"He's been very smart with the way he's done it," Del Rio said. "He gives his team a lot of chances with young players every year."
Since Gene Smith has was put in charge of the Jaguars' front office in the winter of 2009, the team has taken a different approach, emphasizing building through the draft. They have drafted 15 players over the last two years, and all of them are still on their roster. Those players have started 106 games between them.
It's the right approach for every team, and especially for the one in Jacksonville.
Dan Pompei covers pro football for the Chicago Tribune at chicagotribune.com.