November 18, 2010 -
Dan Pompei
Favre takes one more swing at his old team
When Brett Favre takes the field for what likely will be his final game against the Packers Sunday, many will expect to see a shell of the Favre we knew — the NFL version of Willie Mays in a Mets uniform.
After all, the 41-year-old has thrown an NFL-high 16 interceptions. His passer rating of 72.2 ranks 31st in the NFL. And his underachieving Vikings are 3-6.
The numbers say Favre should have retired. But the tape says something else. It says Favre actually has played pretty well in a bad situation. A lot of what has gone wrong in Minnesota this year has not been his fault.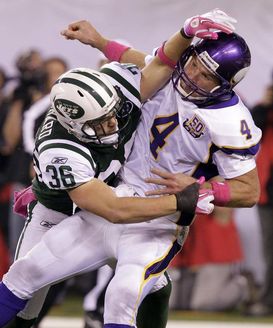 Favre has taken too many hits like this in 2010.
For instance, he threw three interceptions Sunday in Chicago. On two of them, his wide receiver fell down. On the third, the ball was tipped at the line and deflected into the hands of a Bears defensive back. He has thrown many interceptions like those this year.
Twelve of his 16 interceptions have been thrown in losses. That's not ancient Favre. It's vintage Favre — taking wild chances to try to win games.
The biggest problem Favre has had is instability with his receivers. No Sidney Rice. Randy Moss, now you see him, now you don't. Bernard Berrian is ready to play, and then he isn't. Greg Camarillo still trying to get in the flow.
"It's tough on any quarterback when you are shuffling the lineup week in and week out, whether it's the start of the year when we were adding new guys, or a game like last week when you have guys who go down," Vikings offensive coordinator Darrell Bevell told me. "It's hard on the timing of any quarterback."
Injuries have been a factor too. Favre reportedly has been diagnosed with elbow tendinitis, a sore throwing shoulder, a sprained ankle, a stress fracture in his ankle and a heel injury. And he has taken a lot of hits. Early on, the elbow seemed to be affecting his throws. But not lately. One of his throws last Sunday, a potential touchdown, was too hot for Camarillo to handle.
"I know the last couple of weeks there has been a noticeable difference," Bevell said. "He has been throwing the ball really well. He has good zip on it. I think the elbow is behind him. I think he's over that."
His mobility does not seem to be affected much. Against the Bears, on one play he spun around like a ballerina to avoid pressure, took a few steps up and fired off a missile. "I've actually seen him do a lot of good things to be honest with you," Bevell said. "I know he has a bad ankle, but I've seen him get outside the pocket. I've seen him step up. I've seen him move side to side. I've seen him make some great plays. Is he hurting? Absolutely. But I wouldn't put the turnovers on anything to do with that."
Bevell has a unique perspective on Favre because he worked with him for five years in Green Bay until 2005, first as a wide receivers coach and then as a quarterbacks coach. Bevell doesn't see a big change in Favre physically. He said his arm strength is still good. And while Favre might not be as capable of running as well as he once did, he didn't do a lot of running back then either.
To Bevell, the biggest change in Favre has been his experience. "He definitely is a different player from then," he said. "He's got a lot more years under his belt. As a coordinator now, I talk with him a lot more and get his input on the game plan. Take a look at this play. What do you think about this? We hash those things out now."
Favre probably has some extra input for Bevell this week, seeing the personal significance of the game to him. "When you get to the end of your career, I think you savor every game," Bevell said. "Particularly being Green Bay, I'm sure it's extra special for him. But the biggest thing for him is he'd like to get a win no matter who it is."
Losing isn't making Favre feel any younger.
Dan Pompei covers pro football for the Chicago Tribune at chicagotribune.com