October 06, 2010 -
Dan Pompei
Former players can get emotional
It would be much more startling to see Wade Phillips flip off an official than it was to see Chuck Cecil do it Sunday.
Former players, especially fiery former players like Cecil, tend to approach the game with passion. Sometimes that passion works in their favor, and sometimes it can work against them if it gets out of control.
A former player like Cecil is used to expressing himself physically, and accustomed to being able to take out his frustration in an aggressive manner.
It's not an excuse for Cecil to be able to act however he wants. He was wrong. He has acknowledged as much. But no matter what Cecil does, he'll probably never be able to take a passive approach on the sidelines.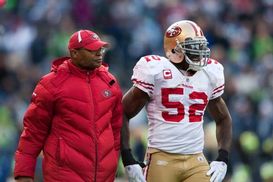 ICONSome former players like Mike Singletary may have to fight the urge to get too caught up in the game.
Mike Singletary sometimes looks like he's ready to tackle an opponent on the sidelines. He has gotten into verbal confrontations with opposing players. He wears a cross around his neck during games to remind him of who he is and how he is supposed to act.
Jim Haslett and Jack Del Rio are former NFL players who can wear their emotions on their sleeves as coaches. Sean Payton, though he had only a cup of coffee in the NFL as a player, is another with fire in his eyes.
Not every player turned coach is a maniac. Some former players are known for their calmness and composure. At the head of that list is Tony Dungy. Others who keep it low key include Dick LeBeau, Mike Munchak, Gary Kubiak, Mike Mularkey and Jason Garrett.
It's hard to imagine Cecil's boss Jeff Fisher losing his cool like Cecil did. But all of the former players who are now coaching probably could understand it.
No one understands the mentality of a coach like Cecil better than Mike Ditka. "There is an etiquette you have to use on the sidelines," Ditka said. "Chuck Cecil let his emotions run away from him, that's all. But that's what he felt. What's the difference if you stick your finger at the official or you walk past him and call him the same thing? That's the way Chuck is and that's the way he played the game. I laughed when it happened. The people in the room said, 'Did he really give him the finger?' I said, 'Yeah, and the guy deserved it.'"
Ditka said the only real problem with what Cecil did is it sends the wrong message to kids. It also sent the wrong message to Cecil's bank account—debit $40,000. Consider it a costly lesson.
In the mid 1980s, Ditka thought he was getting a little out of control on the sidelines. The hall of fame tight end thought wearing a tie during games would help him act more appropriately, so he tried it on and off for a number of years.
"It did help me calm down a little bit," Ditka said. "Winning helped me calm down too. A leopard can't change its spots, and if he does he's still going to growl once in awhile."
Cecil probably won't stop growling either, despite the fine. It's who he is.