March 17, 2011 -
Dan Pompei
Going outside the box
Given the way offenses and defenses are evolving, safeties are becoming more and more important in the NFL. But they also are becoming harder to find.
In the April draft, it is likely that not a single safety will be chosen in the first round. "This probably is the worst safety class we've seen in a long time," one AFC front office man said.
Over the last 10 drafts, at least one safety has been picked in every first round with the possible exception of 2005. In that draft, three safety tweeners were taken in the first round — Antrel Rolle, who started at corner but subsequently has been moved to safety; Thomas Davis, a safety who was moved to linebacker; and Marlin Jackson, who has played both cornerback and safety in the NFL.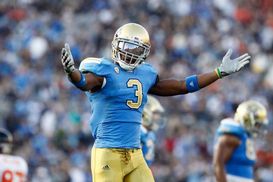 ICONRahim Moore has some holes, but clearly looks to be the best safety in a weak class.
The only player with an outside shot of being a late first rounder is UCLA's Rahim Moore. His 4.58 40-yard dash at the combine won't help him, nor will the fact that he weighs only 202 pounds. But scouts I talked with said his positional workout was good, and they pointed to his 3.96 20-yard shuttle time.
The problem with Moore is he came out after the wrong season. As a freshman, he started 12 games and was all-Pac 10. As a sophomore, he led the nation with 10 interceptions, was co-defensive MVP of the Bruins and an All-American. But as a junior last season, he had one interception and was regarded as a disappointment.
So if a team in need of a safety doesn't want to take a chance on Moore, what can it do?
Here are some possibilities.
*Go for a fourth or fifth-round value pick.
This area can be a sweet spot for safeties. Among the starting caliber safeties who have been chosen in that range in recent years include Dawan Landry, Kerry Rhodes, Tanard Jackson, James Sanders, Gerald Sensabaugh and Gibril Wilson.
Players who could be chosen in that range this year include Temple's Jaiquawn Jarrett, South Carolina's Chris Culliver, California's Chris Conte, North Carolina's Da'Norris Searcy and Appalachian State's Mark LeGree.
*Convert a cornerback.
Really, many teams expect their safeties to be cornerbacks with muscles anyway. The most valuable safeties are the ones who can cover and play the ball in the air.
Clemson corner Marcus Gilchrist has a year of experience at safety and is instinctive enough to play in the middle of the field. Aaron Williams of Texas has the size and aggressiveness to play safety in the NFL. Even Patrick Peterson of LSU has been mentioned as a potential safety. His size and speed combination could make him a lethal player at the position.
Converting a veteran cornerback is a possibility that more and more teams have explored. Among the former corners playing safety are Rolle, Charles Woodson, Malcolm Jenkins, Jairus Byrd and Charles Godfrey.
*Sign a veteran.
Why do you think Bob Sanders and O.J. Atogwe were scooped up so quickly? Teams know the pickings are slim for safeties this year, both in the draft and in the veteran market.
But there are some intriguing potential free agents, depending on how free agents end up being defined. The best three probably will be Landry, Buffalo's Donte Whitner and San Diego's Eric Weddle. But even though none of them is a difference maker, it is likely each will command somewhere in the vicinity of $5 million per season. In a market where the demand outweighs supply, overpayment goes with the territory.
Other potentially more economical possibilities include Jackson, Sensabaugh, Melvin Bullitt, Abram Elam, Dashon Goldson, Roman Harper, Michael Huff, Danieal Manning, Quintin Mikell, Bernard Pollard, Brodney Pool and Darren Sharper.
Dan Pompei covers pro football for the Chicago Tribune at chicagotribune.com.