October 01, 2013 -
Dan Pompei
Gone, but not forgotten
Tooling home on Georgia Route 78 on Monday morning, having remained in downtown Atlanta the previous night following the Falcons' defeat to New England, and musing aimlessly about the home team's maddening "red zone" shortcomings that extended to another loss, the 1984 Don Henley song "The Boys of Summer" popped up on the radio.
An avowed fan of The Eagles, the anthem is one my favorite Henley solo efforts, a nostalgic look at one of the singer's long-ago flings, but also a melancholy reminder to those of us on the long side of 60 about how much things have changed and how we can never recapture our youth. And it occurred to me – and, please, oblige me, because I generally try to avoid getting overly personal in NFP pieces – that with the Sunday death of former Pittsburgh Steelers' defensive end L.C. Greenwood, "The Boys of Autumn" from my fledgling days in the business are mostly gone now.
The passing of Greenwood from kidney failure, and following the latest in an incredibly lengthy string of back surgeries (his sister claimed that Greenwood underwent 21 different back procedures after his career ended in 1981, and the former Steelers' great vaguely pegged the number at "more than 15"), leaves Hall of Fame defensive tackle Joe Greene as the sole survivor of the "Steel Curtain" front four groups that propelled Pittsburgh to four Super Bowl titles in the 1970s.
What a group it was, and what a thrill for a native Pittsburgh kid in his first real reporting job to cover and get to know the bunch.
Greenwood, 67 at the time of his death, was as unique as every other member of the foursome, perhaps even more so. Right end Dwight "Mad Dog" White was forever angry at the world, a trait that he abandoned when he moved into a successful career in the investment and brokerage business before dying from a blood clot in 2008. Right tackle Ernie "Fats" Holmes, who also passed in '08, in an automobile accident, was a certifiable (literally) wild man, once committed to a psychiatric hospital, and always destined, it seemed, for a premature demise. Greene, who famously earned the nickname "Mean Joe" for his demeanor on the field, actually was a pretty gentle giant off it, a thoughtful and provocative man who seemed to be forever capable of plumbing the depths of both the game and of life, and putting all things in perspective.
And then there was Greenwood, arguably the most flamboyant of a pretty colorful quartet, but a man whose devotion to family, faith, minority representation, and entrepreneurship belied the extravagance he demonstrated during a 13-year career in which he contributed mightily to those four Super Bowl victories. It has been six or seven years since I interviewed Greenwood by telephone for a package on Super Bowl rings that my then-employer was compiling.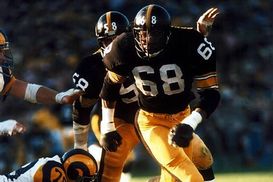 Greenwood spent all 13 seasons of his professional career with the Pittsburgh Steelers.
Said Greenwood at the time: "You know, we were all from pretty small schools, and that was a (bond). But the other thing was, we were in it together, for each other. There were times we weren't maybe the best of friends, but, on Sundays, we all came together with the same (team) goals. I think the game is different now."
Amen to that.
There were so many ironies to Greenwood, essentially discovered at Arkansas AM&N (now Arkansas-Pine Bluff) by then-Steelers personnel chief Art Rooney Jr., all of them recallable now. A 10th-round pick in the same 1969 lottery that brought the Steelers Greene with the fourth overall selection, and standout left tackle Jon Kolb in the third round, Greenwood was a long, angular, athletic player. At 6-feet-6-plus and only about 245-250 pounds, he nonetheless played virtually all of his career on the strongside. The way the game is played now, Greenwood, chosen in '69 only after 237 other prospects had gone off the board, would almost certainly be a prototype "rush end," aligning on the right side.
But despite being double-teamed by tight ends, who almost always lined up to the strongside at that juncture of the game's evolution, he produced 73.5 career sacks (admittedly an unofficial statistic at the time), second most in franchise history, and was named to six Pro Bowl appearances. He was a master of the sack-and-strip, with 14 forced fumbles. And in the biggest of games, he showed up big, swatting away three Fran Tarkenton passes, like Dikembe Mutombo blocking layups, in Super Bowl IX. A year later, in Super Bowl X, he sacked Roger Staubach four times. As noted, he was colorful, wearing high-topped, golden spikes after a 1973 injury left him with a chronically balky ankle, a sartorial choice that drew him plenty of attention. And his nickname, "Hollywood Bags," was hung on him by teammates, when he told them he always had his bags packed for when some Hollywood producer would phone and offer him a movie role.
Although Greenwood never became a cinematic star, years later, in the early '80s, he was featured in a series of Miller Lite commercials, in which he read a letter to NFL quarterbacks he'd played against, apologizing, "for the way I treated you."
In "civilian" life, though, Greenwood was about as humble and grounded a person as one could ever find. The son of a Mississippi farmer who worked two jobs to support a family of nine kids, and who did some part-time preaching on the weekends, L.C. Greenwood picked cotton for $2.50 per 100-pound bushel when he was a kid. And he never relinquished the work ethic instilled in him. Maybe that's why, following his 1981 retirement, he launched so many successful businesses that not only kept him well but provided jobs for so many others. And while perceived by some during his career as a player principally interested in himself, he was a longtime NAACP member and a quiet champion for civil rights.
On Sunday, in London, after the Steelers' latest loss, safety Troy Polamalu spoke of what he termed "the (Steel) Curtain guys," and of the "big shoes" they left behind for their successors. Greenwood's big shoes were gold, but so was his big heart. On Monday, years after I last spoke to him, his hearty, good-natured chuckle still resonated, just as did Henley's song.
A couple times, Greenwood has been a Hall of Fame finalist, and there are those, Greene and Rooney Jr. among them, who insist he belongs in the shrine. It's not our place right now to make the case for Greenwood's inclusion, which would have to come from the "Seniors" subcommittee of selectors. But in a final irony, it's notable that Greenwood's birthplace was rural Canton, Miss., where he is expected to be laid to rest.
Perhaps it's finally time to at least open discussion on Greenwood's candidacy for residence in a more prominent Canton.