September 24, 2013 -
Dan Pompei
Here come the Bengals
There obviously aren't any members of the Cincinnati Bengals' youthful roster old enough to recall the early 1960's BBC series, "That Was The Week That Was," a satire written in part by a couple of guys who would later help form Monty Python, and hosted by the late David Frost. Heck, even head coach Marvin Lewis was just a toddler when the short-lived 30-minute show came to American television sets.
But if the Bengals extend their postseason streak to three consecutive appearances for the first time in franchise history, and advance beyond playoff one-and-done for the first time since 1990, the past week might be remembered as a seminal moment for a team that has been lampooned as the "Bungles" for a good portion of its mostly miserable past. No one is contending yet that Sunday's victory over Green Bay will be a crystallizing moment. Combined, though, with the Sept. 16 Monday night win over Pittsburgh, a club that has long tormented the Bengals, and the past week could be a defining time for a team that seems to be emerging as a young power.
Given the history, it might take a while yet to exorcise all the demons, but the two straight victories over a pair of high-profile opponents suggests that Cincinnati could be poised to escape its hellish past. And, in an AFC that doesn't appear to have as many legitimate Super Bowl contenders as the NFC, the Bengals are beginning to believe they may have some championship pedigree.
"We know now we can play with anybody," said defensive tackle Domata Peko after the improbable 34-30 win over the Packers. Noted another longsuffering veteran, offensive left tackle Andrew Whitworth: "To be honest, I feel like it's our time."
Time will tell, of course, if Whitworth is correct. But there is a feeling that pervades this edition of the Bengals that seems a little different and it was evident on Sunday, even as Cincinnati squandered an early 14-zip advantage.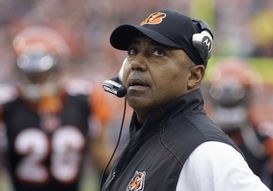 Marvin Lewis has the Bengals looking to claim their first divisional title since 2009.
Less than six minutes into the contest, the Bengals led by two touchdowns. And how did they handle such prosperity: On its ensuing seven possessions, Cincinnati had three punts and four turnovers. Coughing up the ball on four straight series (one interception and three fumbles) contributed to the Packers scoring 30 straight points and grabbing what appeared to be a commanding lead. But the Bengals battled back and then won when they knocked a fumble loose themselves, and corner Terrence Newman scooped it up and rambled 58 yards for a score.
These are the kinds of games, Whitworth acknowledged, the Bengals typically lost in the past. At 30-14, having blown its early edge with sloppiness, Cincinnati had every reason to fold. Reverse momentum and negative inertia had been such regular visitors to the franchise that a here-we-go-again attitude would have been understandable. Even predictable.
Instead, players said afterwards, there was a sense on the sideline that they could still salvage a winning hand. It's an attitude that older veterans such as Whitworth and Peko had not previously witnessed. And one that not even young players like quarterback Andy Dalton and wide receiver A.J. Green had experienced. But the domination of Pittsburgh, even though it doesn't appear as impressive now, given the Steelers' ineptitude, began to foster a collective belief among the roster. And the win against imperial Green Bay should buttress that feeling.
"We just feel like we're not going to back down from anybody," said defensive end Michael Johnson.
Building a winning program is one thing. Sustaining it is another. With two playoff appearances in a row, although each of the 2011 and 2012 trips to the postseason concluded with wild card defeats to Houston, Lewis began to nurture a good team. But the process of actually believing often requires a signature victory or a stretch in which a team meshes. There is an old football adage that a team needs to "learn how to win" before it truly progresses.
The past week may have provided the education and experience the Bengals needed to foster the growth spurt that puts them over the top.
Even after two straight playoff campaigns, some cynics noted that the Bengals were the perfect franchise for the HBO "Hard Knocks" series this summer. But now that the Bengals are administering the aches and pains, no one is laughing. Lewis and much-maligned owner-general manager Mike Brown have slowly crafted a strong, physical team, one with a Mike Zimmer-led defense that gets after people and beats them at the line of scrimmage, and an improving cast of offensive playmakers. For all the criticism of a scouting department most critics say is understaffed, the club has drafted exceedingly well the past few seasons, and developed in-house talent.
The only other time in franchise history the Bengals posted consecutive playoff years was 1980 and '81. And the second of those postseason berths carried a sort of asterisk, because '81 was a campaign truncated by strike. The current two-year streak of playoff appearances is much more legitimate. So might be the Bengals, who could be more than just a wild card possibility.
Defensive end Carlos Dunlap termed Sunday's victory "a big-time win." Green claimed the club had "just (taken) the next step."
If the stripes do, indeed, change in Cincinnati, chances are that the Bengals will point to the recent seven-day stretch as the week that was.