December 08, 2010 -
Dan Pompei
High picks might not look so bad this year
Picking in the top 10 in the draft has never has been as appealing to NFL teams as it has been for fans of that team.
In order to make that pick, a team usually has to endure a brutal season. It has to be prepared to pay the player a salary that is out of whack with what his teammates are being paid, and a salary that the player is not likely to live up to. That salary, and the cap number the contract carries, limits spending in other areas and reduces a team's freedom.
At least until this year.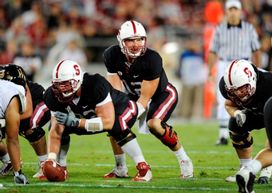 ICONIf he decides to make himself eligible for the draft, Andrew Luck could be a much better value than quarterbacks who were taken high in the draft in past years.
Teams are holding out hope that they won't have to overpay high draft picks anymore, as the league is pushing a rookie wage scale as part of the talks for a new collective bargaining agreement. "Even if we end up with a really high pick, we are hopeful there is a good chance the salaries will be corrected in the new CBA system," one high ranking NFL executive said. "That's a potential benefit of ending up with a high pick this year."
As Andrew Brandt points out here, the maximum value of the contract for the top pick in the draft may be worth up to $58 million less than Sam Bradford's deal with the Rams.
As a result, high picks could have more value to NFL teams this year, even though there may be less talent than there has been many other years. With a rookie wage scale, teams at the top might not be so willing to look to trade down as they have in recent drafts.
At this point, the senior talent at the top of the draft isn't getting teams very excited. But once the juniors declare, the talent is going to be much richer.
If it were a senior-only draft, the ones who would likely go at the top of the first round include Nebraska cornerback Prince Amukamura, Texas A&M linebacker Von Miller, Iowa defensive end Adrian Clayborn, Purdue defensive end Ryan Kerrigan, Colorado offensive tackle Nate Solder and Washington quarterback Jake Locker.
But many of those players are expected to be bumped down by more gifted underclassmen. Among the more desirous juniors at this point are Stanford quarterback Andrew Luck, George wide receiver A.J. Green, Alabama wide receiver Julio Jones, Louisiana State cornerback Patrick Peterson, Alabama running back Mark Ingram, Arkansas quarterback Ryan Mallett, Clemson defensive end Da'Quan Bowers and North Carolina defensive end Robert Quinn.
The team pulling hardest for a rookie wage scale to be in place in time to benefit the April draft might be the Panthers. As of today, they have the first pick in the draft. Given what they have been through this year, it's difficult to imagine them passing on a potential franchise quarterback like Luck.
Other teams in the top 10 are the Lions, Bengals, Bills, Cardinals, Broncos, 49ers, Cowboys, Titans and Redskins.
Another team, the Patriots, has two first round picks, as they have the Raiders' first rounder as well as their own by virtue of the Richard Seymour trade. That could give them the ammunition to move up to the very top of the draft—if anyone is willing to move down and give up a pick that suddenly could look better than ever.
Dan Pompei covers pro football for the Chicago Tribune at chicagotribune.com