May 10, 2012 -
Dan Pompei
Immediate-impact draft picks
Editor's note: This column originally appeared in Dan Pompei's "Sunday Blitz."
Every team hopes for an immediate impact from its rookie class, but not all of them can expect it. How ready rookies are and how needy teams are will play into what kind of contributions teams get from their draft classes. Here, in alphabetical order, are the teams that could get the biggest immediate impacts, according to front office men.
Bengals
The Bengals added so much talent they are bound to get quick contributions from a number of players. The most likely candidates to get up to speed quickly are Dre Kirkpatrick, whose position won't require a big transition, Kevin Zeitler, who should be NFL ready, and Devon Still, a four-year starter at a big college.
Browns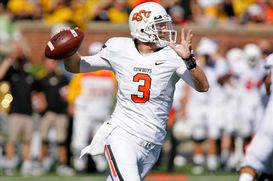 ICONBrandon Weeden will likely be headlining a new-look Browns offense.
The plan is for Brandon Weeden to step right in, and his maturity should be a plus. He'll be handing it off to Trent Richardson, and he may be running behind Mitchell Schwartz or Ryan Miller. Billy Winn could get in the defensive line rotation pretty quickly.
Bucs
They will count on big things from Mark Barron as a rookie, and he is capable of delivering. Doug Martin and Lavonte David also should make contributions this year. Having a new coach in Greg Schiano means many positions will be open for competition, which should help the rooks.
Chargers
Melvin Ingram and Kendall Reyes should pay quick dividends on the Chargers defensive front. Should the Chargers need David Molk, the seventh round center also could help as a rookie.
Colts
This team will be ride the shoulders of Andrew Luck immediately. And Luck will be looking for his Stanford buddy Coby Fleener as an outlet. He'll also be looking for help from third round pick Dwayne Allen. And fifth round RB Vick Ballard figures to have a role on offense too.
Eagles
Fletcher Cox and Vinny Curry should help the pass rush quickly if they take to Jim Washburn's coaching. Brandon Boykin can contribute both as a sub defender and as a return man.
Panthers
It looks like Luke Kuechly could line up at middle linebacker with Jon Beason moving outside. Amini Silatolu also is likely to be a starter quickly. Frank Alexander, Josh Norman and Joe Adams are likely to contribute on passing downs.
Packers
The Packers should get a quick jolt from this draft because they need their rookie defenders so badly. Nick Perry and Jerel Worthy likely will not be given the luxury of an Aaron Rodgers-like acclimation. Casey Hayward is likely to see time in sub packages if he is able.
Ravens
Courtney Upshaw should be as ready to contribute as any player picked after the first round. He also could have opportunity, given the injury to Terrell Suggs. Bernard Pierce could be a change of pace back immediately. And Kelechi Osemele will have a chance to start at guard from day one if he can beat out Jah Reid.
Vikings
First rounders Matt Kalil and Harrison Smith should help prevent big plays by opponents from opening day on. With eight other draftees, it is likely the Vikings will get some other significant rookie contributions as well. This will be a young team, and coach Leslie Frazier shouldn't hesitate to give rookies chances.
Follow me on Twitter: @danpompei