July 28, 2010 -
Dan Pompei
Is the push for extra pads worth it?
A few years back in the first quarter of a game, Terrell Owens came over to his sideline between plays, looking for the play caller. His eyes were like high beams, his movements were frantic.
"Throw me the ball! Throw me the damn ball!"
He was yelling, his voice high-pitched. "I've got a rookie on me and he's wearing knee pads and hip pads! Throw me the ball!"
The play caller followed T.O's wishes, and let's just say he was glad he did.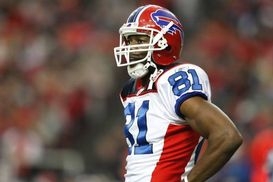 ICONFormer Bill and new Bengal Terrell Owens
That cornerback who was covering T.O. stood out like a ruby red tomato on a plant full of green ones because he was wearing pads below the waist. Cornerbacks, safeties and wide receivers in the NFL almost never wear pads below the waist. Running backs, tight ends and linebackers usually don't wear them. Even defensive linemen often eschew extra pads.
Until now, that is. In training camp and preseason this year, the NFL is urging players on a dozen teams to wear more pads — for knees, thighs, hips, and tailbones. And the thinking is it will be mandatory for all players to wear extra padding by next year.
Though NFLPA executive director DeMaurice Smith has voiced his support for more pads, the majority of his players are not going to be happy about it. Players think pads slow them down. Maybe they do. Maybe they don't. But if they think pads slow them down, extra pads put them at a disadvantage. The NFL is pushing lighter, thinner pads to address these concerns, but many players will want nothing to do with them. Some don't want to wear them because they don't like the way they look.
And really, the push for more pads seems to be overkill. What these pads usually prevent are bruises. And bruises really aren't a significant problem in the NFL. Concussions are a significant problem. Knee injuries certainly are. Foot and ankle injuries are. But bruises usually don't prevent players from playing.
The coaches and front office men I've spoken with agreed. "Guys are so good at protecting themselves that I don't see it as a problem," said one offensive coach. "If you put all those pads on you, it slows you down a little. As a cornerback, wide receiver, or outside linebacker, that matters."
The philosophy is that if one injury can be prevented, it should be.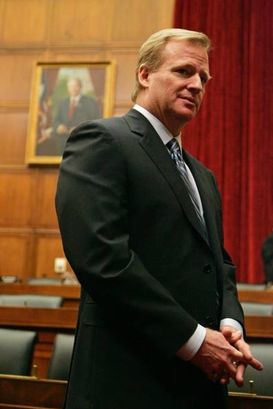 ICONCommissioner Roger Goodell
I'm told the push for more pads was begun by none other than John Madden, who is the chairman of the coaches subcommittee and also has the ear of one Roger Goodell. In fact, Madden and Goodell are making a training camp tour together this summer on Madden's bus. Back when Madden was coaching the Raiders, players were all padded up. Madden has sold the idea of more pads by saying if it wasn't a problem back then, why should it be a problem now?
It's also good enough for college players, who are required to wear more pads than their NFL brethren. And more than half of the teams in the NFL require their players to wear extra pads in practice. But college players are notorious for cheating by hollowing out the pads and wearing only the shells. Receivers and DBs often will wear the smallest set of shoulder pads they can find, the ones designed for quarterbacks, and/or trim down the pads as much as they can.
It seems certain that if NFL players are required to wear more pads on game day, they will try to beat the system. The NFL says it can prevent a player from taking the field if he's not padded up properly, but enforcing these rules could prove to be problematic.
The emphasis on more pads seems to be a major investment for a minor payoff.
Email Dan your questions at dan.pompei@nationalfootballpost.com
Ready for fantasy football? Click here to purchase the 2010 Total Access Pass/Draft Guide from the NFP.