October 16, 2010 -
Dan Pompei
Is this football's best safety?
When the best safeties in football are discussed, the conversations usually center around Troy Polamalu and Ed Reed.
Until now.
If you aren't familiar with how well LaRon Landry is playing, you need to be. Because no safety in the league is playing better.
"He's our version of Troy," Redskins defensive coordinator Jim Haslett told me. "He's unbelieveable. He's a beast."
Landry leads the league in solo tackles and was named NFC defensive player of the week Wednesday after his performance against the Packers, which included an interception of Aaron Rodgers on the Packers' final overtime drive, a forced fumble, two quarterback pressures, a quarterback hit and 14 tackles. The hit came on a play in which Landry was supposed to be dropping into quarter/quarter/halves, but he rushed because the Green Bay tight end stayed in to block.
Next up is a delicious matchup against Peyton Manning, Dallas Clark and the Colts.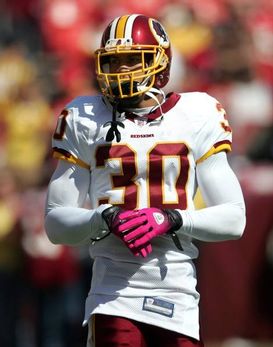 ICONLandry's strength is in his versatility. There isn't anything he does not do well.
Landry is playing the way you would expect the sixth pick in the draft to play—and that's what he was in 2007. On many draft boards, Landry was one of the highest rated safeties ever.
"He does a little of everything," Haslett said. "He rushes the quarterback, plays in halves, plays in the box. We even spied Michael Vick with him. He's all over."
Landry is playing his best football in part because the Redskins are playing to his strengths. After playing free safety for the past two and a half seasons, Landry has been moved to strong safety. The Redskins had tried to make him into another Sean Taylor, but he's a different kind of player. Landry is more effective in traffic than he is in space. "The scheme fits him a little better," Haslett said. "He needs to be around the ball. He's extremely fast and explosive and he loves to tackle. We mix it up, give him some freedom."
Last year, Landry was eyeing the quarterback too much. He's done a better job of reading his keys and diagnosing where he is supposed to be this season.
Now, Landry is eyeing a new contract. His rookie deal expires after the 2011 season. So far, the Redskins have not approached his agent Joel Segal about a new deal, and his price has gone up by the game.
Things have changed quite a bit since the offseason, when he was the subject of trade rumors and his future with the Redskins seemed uncertain.
Now, it's difficult to envision the Redskins without him. He is a presence as much as a player. "He loves football, he's one of those guys," Haslett said. "Whether he plays a game, or practices or does a walk through, it's all at the same tempo. He doesn't know the difference. He just goes full speed all the time."