October 28, 2010 -
Dan Pompei
Kenny Britt reaches a crossroads
Kenny Britt is in a very interesting place. And no, I'm not talking about the Nashville hoosegow.
On the one hand, the Titans receiver remains an unfinished product who, like a lot of 22-year-olds, is capable of some ill-advised actions and decisions. On the other hand, he is showing signs that he finally is starting to get it.
A week ago, Britt was involved in an altercation in a Nashville nightclub, the Karma Lounge. He could face discipline from the NFL. But then on Sunday he had a career day with seven catches for 225 yards and three touchdowns against the Eagles.
Up until recently in Britt's short career, he was a disappointment. He was inconsistent as a rookie and didn't have a very impressive offseason. He wasn't a good practice player, and he didn't pay attention to details the way an NFL receiver has to.
But something is happening inside Britt's helmet. He's changing. He's growing. He's becoming a man, based on how the NFL defines it.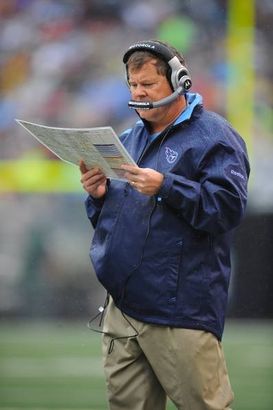 ICONTitans offensive coordinator Mike Heimerdinger believes Kenny Britt is approaching his job differently in recent weeks.
"We knew all along Kenny had the talent to do it," Titans offensive coordinator Mike Heimerdinger told me. "It was just a matter of when his work ethic was going to go along with the talent. He's done that the last three four weeks with his preparation."
Britt is studying his game plans and his game tapes now. When he trots out to practice, he is mentally ready. He gets to where he is supposed to be. He's running his routes well. And he is practicing at a game pace, which his coaches stress. Britt hasn't always approached practice this way in the past.
A light bulb apparently has gone off for Britt, even though it wasn't burning very brightly in the Karma Lounge.
That means there is a chance this gifted player can transform both himself and the Titans offense into something special in the coming months. Without focus, Britt couldn't reach the potential that enticed the Titans to take him with the 30th pick of the 2009 draft. With it, he can become one of the best receivers in the league.
Understand something about Britt. He's 6-3, 215 pounds, runs a 4.47 40-yard dash and he vertical jumps 37 inches. He is a special talent. Defenses will struggle to match up with him, especially because he is part of the same offense with running back Chris Johnson, who demands special attention from game plans.
"We've had him in some situations where he has been one-on-one, or he has had decent matchups," Heimerdinger said. "When he gets that, he's hard to stop. He has gotten open. He has gone up and gotten the ball."
Here is the other thing about Britt. It's all in front of him. He left Rutgers a year early. It often takes wide receivers time to develop even if they use all of their college eligibility.
He is a one of a number of second-year wide receivers who are starting to feel it. Among the others are Hakeem Nicks, Jeremy Maclin, Johnny Knox, Austin Collie and Deon Butler.
This is just the beginning for Britt. He just has to make sure it's also not the beginning of a rap sheet.
Dan Pompei covers pro football for the Chicago Tribune at chicagotribune.com.