March 10, 2011 -
Dan Pompei
Less experience equals more risk
There are several reasons for NFL front office men to waffle a bit before endorsing the selection of Cam Newton.
No reason is more significant than the fact that he started only 13 games in his college career. Of course he was about as good as it gets in those 13 starts, but NFL scouts like to see more of a quarterback before investing a high first round pick. In fact, many NFL teams believe a quarterback who has fewer than 30 college starts is a risky draft pick.
There really isn't much precedent for players like Newton having great success at the NFL level. Over the last 12 years, only two of the 34 quarterbacks drafted in the first round have been one-year wonders like Newton. One, Akili Smith, bombed out of the league quickly. The other was Mark Sanchez.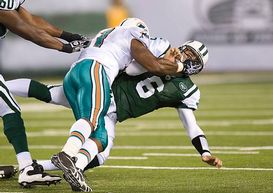 ICONIf Mark Sanchez becomes an unqualified success in the NFL, he may alleviate some concern over one-year-wonder QBs.
The Jets quarterback is an interesting case. He failed to beat out John David Booty as a sophomore, and didn't become a starter until his junior season at Southern Cal. After 16 starts, he decided to come out early. He was the fifth pick in the draft.
It may be a little early to say Sanchez has bucked the trend of one-year wonders failing in the NFL. In two years, he has taken the Jets to two AFC championship games. But he has a career passer rating of 70.2 and Jets coach Rex Ryan was considering benching him late last season. Sanchez may become the exception to the rule—but it's premature to conclude that he has beaten those odds just yet.
The only other current starting NFL quarterback who didn't have some kind of sustained success at the college level is another Southern Cal product, Matt Cassel. His is an unusual story because he sat behind Carson Palmer and Matt Leinart in college, and then was allowed to develop slowly and methodically in New England before he became a starter in Kansas City.
Many successful NFL quarterbacks were three year starters in college. Some were two year starters. The more college experience, the better. One personnel director explained why this way. "Game reps are totally different than practice reps," he said. "There is a huge learning curve for a quarterback with one year of experience. In the NFL, it's a different game—the coverages, the pressures, the bigger, more athletic players on defense, the more complicated playbook, a different environment. Sometimes a quarterback who doesn't have a lot of game experience in college never gets past all of that."
Sometimes, a deficiency in the player is the reason he has not started more games. Maybe the player isn't that talented. Maybe he isn't stable. Maybe he doesn't have the intangibles. Maybe he can't keep his grades where they need to be. Maybe he isn't coachable.
In Newton's case, the only reason he didn't have more starts is he wasn't in one place long enough. He was a highly recruited high school player who could have gone almost anywhere. He chose Florida but decided to transfer to Blinn Junior College when Tim Tebow came back for his senior season. He won a national championship at Blinn before doing the same at Auburn.
"He's had two opportunities and he's won national championships both times," one national scout said. "It's hard for me to say he hasn't done enough."
Still, junior college football isn't the same as major college football. Some NFL men wonder if Newton has played long enough for his flaws to be taken advantage of.
His unusual talent kept him on top of game at two levels of college football, but everyone knows talent alone does not make an NFL quarterback. Newton will need more than talent, and he'll need it quickly if he is a high first round pick. His intangibles have been questioned by NFL teams, and for good reason. Even some teams that like him aren't completely sure about Newton's football character, his leadership ability and the company he keeps.
Given the type of offense Newton played in at Auburn, his personality and his throwing mechanics, the jump from college football to the pros looks like it will be a big one for him.
The fact that he isn't beginning from a base that includes 30 starts or more probably will make that jump even bigger.
Dan Pompei covers pro football for the Chicago Tribune at chicagotribune.com.