December 22, 2010 -
Dan Pompei
Life after Favre
NFL scouts say Vikings vice president of personnel Rick Spielman has been showing up at every college that has a quarterback prospect for the April draft. And that comes as no surprise. The Vikings need to find a replacement for Brett Favre, who is retiring at the end of the year.
We think.
Until further notice.
Maybe.
Regardless of Favre's intentions, the Vikings need to find a quarterback. Here are their options.
*Stick with what they have
The Vikings have been developing Tarvaris Jackson for five years. They were ready to go with him as their starter until Favre came out of retirement in the summer of 2009. And Jackson has made steady improvement in his game. He might be ready to take off, though one front office man I spoke with expressed skepticism. He was critical of Jackson for his lack of accuracy and for his deficiencies in reading the field.
This is what Vikings interim head coach Les Frazier told me about Jackson: "He's a good young quarterback who just needs to play to get experience. We won a division championship with him starting, so we have a lot of confidence in him. We still have a lot of respect for his ability for what he can do for this team."
If Frazier is retained as head coach, maybe there is a chance Jackson returns. But Jackson would likely only be serving as a bridge to a young passer. The Vikings would have a hard time selling Jackson as their quarterback of the future both to their fans and their locker room.
Jackson was most closely aligned with fired head coach Brad Childress. Without Childress around, Jackson clearly is vulnerable. He will be a free agent in the offseason.
The team also might want to continue developing rookie Joe Webb.
*Acquire a veteran
A veteran might make most sense because these Vikings are built to win now. Two or three years from now, when a rookie is ready, many of the mainstays on this team may be past their prime.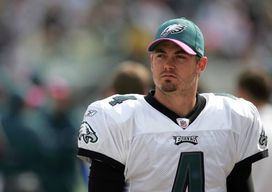 ICONCould Kevin Kolb be the Vikings' next quarterback?
A number of talented veterans could be available. The most interesting is Kevin Kolb. He would cost the Vikings in terms of trade compensation, maybe even a first-round pick. But if Kolb can play as well as the Eagles think he can, then he would be worth a first rounder. If the Vikings acquire Kolb, however, they probably would want to stick with the West Coast offense.
If Vince Young is on the trade market, he might be very intriguing to the Vikings. There is no question players with Young's ability aren't traded often, but Young's immaturity detracts from his value. At least the Vikings are accustomed to drama at the quarterback position.
Two veterans who could find themselves in new places are Donovan McNabb and Carson Palmer. Both still are gifted players, and both could benefit from a change of scenery.
*Draft a player
No matter what the Vikings do with veterans, it's likely they will want to draft a quarterback. The only question is at which point of the draft do they make a move?
Let's say they want to use a first rounder. As it looks now, the Vikings will pick in the 10-to-15 area. That's out of range for Andrew Luck, and probably for Cam Newton, although his stock is still in flux. They could find themselves in range for Jack Locker or Ryan Mallett. Or they could wait a bit and take a gamble on someone like Kellen Moore or Blaine Gabbert.
The Vikings need some youth at the quarterback position. But they also don't want to lose sight of their opportunity to win next year.
Dan Pompei covers pro football for the Chicago Tribune at chicagotribune.com.