January 07, 2011 -
Dan Pompei
Looking at the options for the first pick in the draft
Now that Andrew Luck is the prize in the 2012 draft, scouts from the Carolina Panthers and every other NFL team need to identify who the best prospect in the 2011 draft is. Based on my conversations with the stopwatch and remote control crowd, these are the top five best prospects based on what they know at this point.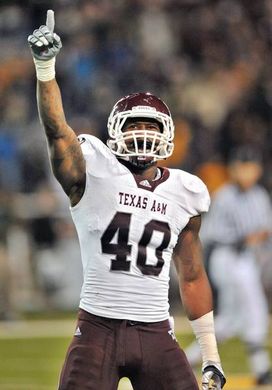 ICONWill Von Miller be No. 1?
1. Von Miller. The Texas A&M linebacker might be the surest thing in the draft, and you want the surest thing possible with the first pick. He is an outstanding pass rusher and an athletic freak. One scout told me Miller is the best outside linebacker pass rusher that he has seen in a decade. One problem with Miller: he will have more value to a 3-4 team. At 6-2, 240, he certainly can play in any defense, but he's a natural outside linebacker in a 3-4. In a four man front, he probably is a Sam linebacker on first and second down and a designated pass rusher on nickel downs. If the Panthers stick with a 4-3, he might not be for them.
2. Da'Quan Bowers. If a quarterback isn't in the equation with the first pick, the next two positions that usually get the hardest looks are offensive tackles and defensive ends. There aren't any offensive tackles who appear to be first pick possibilities. Bowers is the best defensive end in the draft, and he has the kind of elite talent that would merit the top pick. Seeing he was dominant at Clemson this year as a junior should mean he's just starting to reach his potential.
3. A.J. Green. The only thing working against the Georgia receiver is a lot of teams prefer not to take a wide receiver with the first pick, or even in the first few picks. Green has the ability to merit being chosen No. 1 overall. Another thing working against Green is he's only a slightly better prospect than Alabama's Julio Jones. Some teams may even be divided on them. If you can get Jones at, say, pick No. 8, does it make sense to take Green with pick No. 1?
4. Patrick Peterson. His ability is tantalizing. But it's difficult to imagine the LSU junior being taken first overall because cornerbacks never get taken first overall. Champ Bailey was picked seventh. Charles Woodson was picked fourth. Deion Sanders went fifth. Like Green, Peterson also will be compared to another elite player. Teams are almost as high on Prince Amukamara as they are on Peterson.
5. Cam Newton. It's possible Newton won't be taken until the mid to late portion of round one. It's a long shot he'll go first overall. But it can't be dismissed. Newton still has one game to play, Monday against Oregon in the BCS title game. Let's say he lights it up. And then let's say teams get comfortable with the person. Their background checks don't uncover anything they don't already know. Newton interviews well and sells himself. It would take a special team and a special coach to take Newton No. 1. Maybe it wouldn't be the Panthers. But if a team is quarterback-driven, Newton's talent is going to be very difficult to ignore.
Dan Pompei covers pro football for the Chicago Tribune at chicagotribune.com.