March 25, 2012 -
Dan Pompei
Luck or RGIII? Who is No.1?
Click here to read the entire NFP Sunday Blitz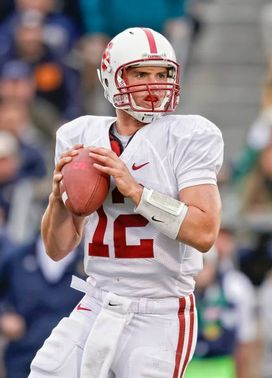 ICONStanford's Andrew Luck.
The buzz about Robert Griffin being chosen ahead of Andrew Luck doesn't fly with a lot of astute NFL front office men.
It's common for a player who has been No. 1 for a long time to start getting knocked close to the draft, however, why do a good portion of talent evaluators like Luck more? He has performed at a high level for four years compared to one for RGIII and is further along. He played a pro style offense whereas RGIII played in an unconventional offense. He shows better ball placement. He is better at avoiding pressure in the pocket, working through progressions and finding open men. He is stronger and sturdier.
The argument for RGII is that he has better arm strength and might have a higher ceiling. But many NFL men think Luck remains the surest bet in the draft, and that matters when the player goes No. 1 overall.
Dan Pomepi covers pro football for the Chicago Tribune.
Follow Pompei on Twitter: @danpompei