November 12, 2013 -
Dan Pompei
Making his mark
Asked following the Seattle Seahawks' dismantling of the Atlanta Falcons on Sunday about the identity of the league's defensive player of the year at this juncture of the season, the guy who many now consider the NFL's premier man-to-man coverage defender didn't even blink before simply nodding to his right.
"There's the guy," Seattle cornerback Richard Sherman, with nary an inkling of the level of fiery rhetoric which sometimes approximates his ability to hang with the NFL's best wide receivers, replied without hesitation.
Two locker stalls down, free safety Earl Thomas, strangely devoid of the kind of media horde that usually surrounds a player of such burgeoning pedigree after a game, sat alone, flicking through the e-mails and tweets on his cell phone. Based on just the numbers alone – a season-low one solo tackle along with one pass defensed, and that's it, on the defensive stat sheet – one might surmise the four-year veteran had a pretty ordinary performance. But just like with Twitter, where you're limited to only 140 characters to articulate your point, Thomas can make an impact by seemingly doing a little.
Not that he has – done a little, that is – for the 9-1 Seahawks in 2013.
"He leads the team in tackles, he's tied for the (league) lead in interceptions (actually, one behind Detroit linebacker DeAndre Levy now), he can play close to the line, back off in coverage, and he's so smart," Sherman said. "You name it, he does it."
Thomas, just 24, has 72 tackles, four interceptions, seven passes defensed, and a pair of forced fumbles. There is no more subjective stat in the NFL than tackles but, according to the league's website (somewhat ironic, since the stat isn't even an official one), only Dallas' Barry Church has more tackles among safeties. A two-time Pro Bowl defender, Thomas is a stat-sheet stuffer, for sure, with four games so far with double-digit tackles.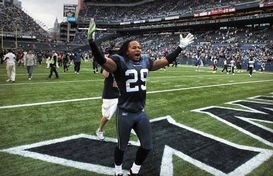 Thomas' five interceptions currently trail only Detroit's DeAndre Levy (5) and Tennessee's Alterraun Verner (5).
A good portion of the Atlanta offensive game plan for Sunday afternoon revolved around keeping the ball away from Thomas. The expectation of the Falcons, and of many pundits examining the game beforehand, was that Seattle would match up Thomas with Matt Ryan's go-to receiver, tight end Tony Gonzalez, much of the time. In fact, it was strong safety Kam Chancellor, often viewed as a coverage liability, who drew Gonzalez more often than not. That freed Thomas to do what he does best, which is a little of everything, against the run and the pass. And if his game was relatively quiet, his presence, Falcons players acknowledged, was not.
"He's one of those guys," said Atlanta wide receiver Harry Douglas, "who you're always aware of, you know?"
Thanks to a bit of recent push from a few television analysts, Thomas—who plays for a team that doesn't garner a ton of national attention and which still isn't very well know outside of the Pacific Northwest, despite its record—is gaining newfound celebrity. He isn't nearly as outspoken as secondary partner Sherman and, at 5-feet-10 and 202 pounds, not especially physically imposing, like Chancellor or corner Brandon Browner. But the former University of Texas standout, the 14th player chosen in the 2010 draft, clearly is making a name for himself these days. Just as the Seahawks' profile is beginning to rise a little, so, too is his.
"To even be mentioned with some of the great defensive players, to have guys on our (unit) talk so well about me, it's (gratifying)," Thomas said. "All I can do is keep working hard and hope it all comes together."
Hard work seems to be what Thomas is all about. He is typically among the first Seattle players at the team facility on most days, and there have been occasions on which he has requested additional video from the tape crew, like a high school kid asking for periodicals from the librarian when doing a term paper. It's probably hyperbole to suggest Thomas peruses as much tape as a quarterback, but he might come close.
Said Thomas in a "knowledge is power" kind of admission: "You want to know as much about (an opponent) as you can. Almost as much, I guess, as they know about themselves."
What opponents seem to know about Thomas is that he can affect a game in a lot of different ways. On the Falcons' opening possession Sunday, he didn't record a tackle on tailback Steven Jackson's first two rushing attempts, not even an assist, but shut down possible cutback gaps on both plays, demonstrating great discipline. On third down, he jumped in front of Ryan's dump-off attempt for Jackson and knocked it away. The seemingly mundane plays set the tone for Seattle's day-long dominance.
"We're a physical team," Sherman said, "and (Thomas) is a physical player. I mean, the guy is a banger. Any way you want to play it, he'll play it that way. You want to go in the alley and rumble? He'll be right there."
There was a time, Thomas suggested, when he wasn't viewed league-wide as being very physical. But he made himself a better tackler – no small feat in a league that frowns on contact during the week and where speed is tough to simulate with so many unpadded practices – more with brain than brawn.
"It's a mindset, plain and simple," Thomas said. "You're right. Even as physical as we like to think we are, you can't practice it much. You just have to do it. Now, I don't think people can (pigeonhole) me anymore. I don't think they can say, 'Well, he can do this, but not that.' I want to be able to do it all. Whatever comes with that, fine."
Whether a defensive player of the year honor comes with it, time will tell. In the 42 seasons in which The Associated Press has presented such an award, safeties have won it only five times. And there are other deserving candidates this season, among them the NFL's sack leaders and some standout linebackers and corners.
But there is this, too: In the last 10 seasons, three safeties – Ed Reed (2004), Bob Sanders (2007) and Troy Polamalu (2010) – have claimed the award. The safety position is being better recognized, as is Earl Thomas.