November 19, 2013 -
Dan Pompei
New kids on the block
Win just 43 percent of your games in the NFL, the consummate results- and production-oriented league, and you're apt to be regarded as a failure. But even with an aggregate record 10 games below .500 at this point of the season – not counting Andy Reid, the lone "retread" among the "new" coaches in the league for 2013, first-year sideline bosses are 31-41 – it's probably not appropriate to characterize this year's freshman class as unsuccessful.
It's at least, it seems, premature.
Including Bruce Arians of Arizona, who led Indianapolis to a remarkable 9-3 record as interim coach for ailing Chuck Pagano last season, there are seven first-time/full-time coaches in '13. Two members of the fraternity, Philadelphia's Chip Kelly and Marc Trestman of Chicago, have the Eagles (6-5) and Bears (6-4) either leading or tied for the lead in their respective decisions. Arians and the Cardinals (6-4) are in the middle of a thick group of NFC wildcard contenders. Only Jacksonville's Gus Bradley (1-9), who inherited an awful situation with the rudderless Jaguars, has a truly abysmal record. And not even Bradley, who figures to require at least three seasons to reverse the franchise's dismal fortunes, has appeared overmatched, even if the wretched Jaguars often have.
OK, so it's inarguably too small a sample size to declare any of this year's rookies the next Don Shula, George Halas, Bill Walsh or Chuck Noll, right? But based on what has transpired to this point, the Class of 2013 could be a credible one. Doug Marrone in Buffalo (4-7) has turned the Bills into a defensively proficient team. Cleveland's Rob Chudzinski has the Browns competitive, despite having used three different starting quarterbacks. Even with three straight defeats, by an average of just six points, San Diego has more direction under Mike McCoy, who has helped to resurrect the career of quarterback Philip Rivers, than it did with predecessor Norv Turner.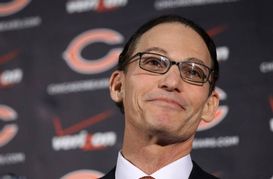 Trestman has guided the Bears to a 6-4 record and share of the NFC North lead.
Asked to rate the rookie coaching class on Sunday night, a veteran and prominent executive from a team that has faced multiple first-year guys in 2013 assessed the group as "pretty solid." Not exactly a ringing endorsement, to be sure, but a passable one. Washington's Mike Shanahan, in his third incarnation as a head coach, has had four games against first-year coaches (two losses to Kelly and victories against McCoy and Trestman), and termed the teams "well coached" after each of the four encounters. An unemployed coach who still hopes to work again acknowledged on Monday morning that the collective work of this year's rookies "will probably keep (owners) from looking at new guys."
And that, perhaps, is part of the point. The trend in the league, once the ultimate good ol' boys network, has veered dramatically in recent seasons from what once was viewed as convention when seeking a new coach. Not all that long ago, the accepted norm in the NFL was to import more retreads than a used tire outlet. Those who still embrace that popular methodology probably point to second-time coaches such as Reid or the currently infirm John Fox of Denver and suggest that the past hiring practices are still valid. But the numbers certainly indicate recycling, while not extinct, is diminished.
Part of the reason is that some former coaches who have been considered for NFL openings—ssuch as Tony Dungy, Bill Cowher and John Gruden—have rebuffed all the overtures from owners interested in them. But the other part of the equation is that owners prefer now to flip the script. "Fresh faces and supposedly fresh ideas . . . that seems to be the perception," former coach Steve Mariucci of The NFL Network said.
Of the 32 current coaches, all but seven are in their first jobs as NFL bosses. Six of the past 10 Super Bowl championships were claimed by teams with coaches who were in their second jobs, but in the last five, Tom Coughlin is the lone "retread" winner. In a league that has all but embraced fresh faces, it's the new guys who are most in demand anymore.
Even if the new guys are actually old guys sometimes.
Arians is 61 and had been an assistant in the NFL 20 seasons before the Cards, in part because of last year's interim success, tabbed him to replace Ken Whisenhunt. "His ideas," said Arizona wide receiver Larry Fitzgerald, "aren't old." Kelly was seen as a bit of a nonconformist during his five-season tenure at Oregon, and there were scores of skeptics who felt his hurry-up offense wouldn't translate to the NFL very well. Indeed, there have been occasions this season when the transitioned seemed to be doomed, but the Eagles are suddenly in first place. And despite the critics, Kelly was actually pursued by multiple teams after the 2012 campaign.
"What's the old saying about how, 'It's still just football?' " Kelly said after a game earlier this season. True enough, but it's a new age as well, and owners seem to be inclined to try something new to excite the fan bases. There's another old adage about the game – "There's nothing new under the sun" – that's being laid to rest by the skew toward first-time coaches. Indeed, there are plenty of new guys, and the relative success of the Class of '13 could ensure there are even more for 2014.