March 04, 2012 -
Dan Pompei
NFL Combine interviews: who passed the test?
Click here to read the entire NFP Sunday Blitz
One of the underrated and often unreported aspects of the combine is player interviews. I asked a handful of NFL front office men who were in on interviews in Indianapolis who left the biggest impressions. Here are some players who stood out, for better or worse.
Vontaze Burflict, Arizona State LB: Multiple front office men were not impressed. One said he was rough around the edges. Another said he was not convincing explaining his lack of on-field discipline.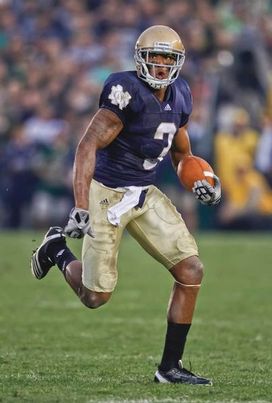 ICONScouts wanted to see more from Floyd during the interview process at the NFL Combine.
Michael Floyd, Notre Dame WR: He didn't interview terribly, but NFL teams would have liked to have seen him be more accountable for his alcohol issues. Floyd didn't help himself in interviews as much as he could have.
Fletcher Cox, Mississippi State DT: He helped himself in the drills, but he also helped himself in the interview room. Cox projected himself as a player who teams would feel comfortable making a big investment in.
David DeCastro, Stanford G: He rates high on the intangible chart based on his interview. DeCastro showed football was important to him, and he has a no-nonsense approach. One personnel man said he liked the fact that DeCastro came across as somewhat ornery.
Coby Fleener, Stanford TE: He didn't participate in drills but still helped his stock by showing he is smart and well spoken.
Robert Griffin, Baylor QB: He was rated an "A plus" interview by one team. He was smart on the board, confident and well spoken.
Cliff Harris, Oregon CB: He had a chance to present a mea culpa for being kicked off the team and having run-ins with the law. Instead he told NFL teams it wasn't his fault.
LaMichael James, Oregon RB: He was able to talk through his arrest for domestic violence, and he sounded remorseful. One NFL man came away saying he thought James was a good kid.
Dre Kirkpatrick, Alabama CB: Representatives from three NFL teams indicated Kirkpatrick did not interview well. One said he did not explain his story well about being arrested on marijuana charges. Another said he came across as difficult to trust.
Luke Kuechly, Boston College LB: His interviews confirmed he is the complete package, impressing numerous teams. One praised him for his leadership. Another said he was smart, well spoken and had an all-American type personality.
Andrew Luck, Stanford QB: His intelligence and ability to connect with people came across.
Brian Quick, Appalachian State WR: One front office man said he thought he was a refreshing young man who is full of energy and life.
Harrison Smith, Notre Dame S: He impressed by knowing the Notre Dame scheme, coverages like the back of his hand. What's more, he came across as bright and confident.
Dan Pomepi covers pro football for the Chicago Tribune
You can follow him on Twitter: @danpompei