March 18, 2012 -
Dan Pompei
NFL Draft: are injuries still a concern for these prospects?
Click here to read the entire NFP Sunday Blitz
Most of the puzzle pieces on draft prospects have been filled in by this point. But a number of players still have medical questions. The good news is almost all of the top prospects are pretty clean medically. I asked several front office men which players still have unsettled medical issues, and these are the names most frequently brought up.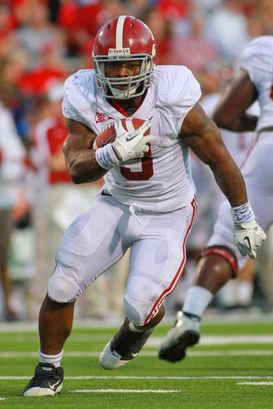 ICONAlabama's Trent Richardson.
Trent Richardson, Alabama running back: Front office men I spoke with are not overly concerned about Richardson's knee, and he is not likely to fall in the draft as a result. However, he has not been able to run for the NFL and interested teams will need to keep a close eye on his progress leading up to the draft.
Markelle Martin, Oklahoma State safety: He is one of the more talented safeties in the draft, but a knee problem could affect his stock.
Omar Bolden, Arizona State cornerback: He has been hurt a lot in his career and has had multiple knee injuries that are likely to affect his draft stock. His knee needs to be checked again before the draft.
Brandon Boykin, Georgia cornerback: He broke his leg in the Senior Bowl, so he hasn't been able to work out. Scouts think he should be OK with continued rehab, but the situation needs to be monitored.
Josh Chapman, Alabama defensive tackle: He has a pretty serious knee issues that could affect his stock.
Paul Cornick, North Dakota State offensive tackle: Anytime a lineman has back issues, it's not a good thing. Cornick has back issues.
Loni Fangupo, Brigham Young defensive tackle. This Southern Cal transfer is big and talented, but has numerous physical issues that could make him a draft risk.
Chase Minnifield, Virginia cornerback: He has a knee problem that has teams concerned. If he checks out, he could go as high as the second round.
Chris Owusu, Stanford wide receiver: His history of concussions is a major red flag that many teams will take into account.
Donte Paige-Moss, North Carolina defensive end: He tore his ACL in the Independence Bowl and his rookie year might be a wash. He won't be able to work out, and his knee needs to be rechecked.
Alameda Ta'Amu, Washington defensive tackle: He has shoulder and knee problems that are of concern to NFL teams.
Fozzy Whittaker, Texas running back: He injured his knee in November and has been on ice since. NFL doctors will want to take another look.
Dan Pompei covers pro football for the Chicago Tribune.
Follow Pompei on Twitter: @danpompei