April 16, 2012 -
Dan Pompei
NFL Draft: Pro Day workouts that created some buzz
Click here to read the entire NFP Sunday Blitz
Pro days can be dangerous because what NFL teams learn in March can clutter minds and distract from the truth of the tape. But in some circumstances, pro days can be very helpful. NFL front office men told me the pro days of these prospects were particularly enlightening.
Justin Blackmon, Oklahoma State WR: It is difficult for a team to justify taking a receiver in the top five unless that receiver has sufficient speed. And there were some questions about how fast Blackmon was. After sitting out at the combine with a hamstring injury, Blackmon answered those questions with a 4.46 40 yard dash at his pro day.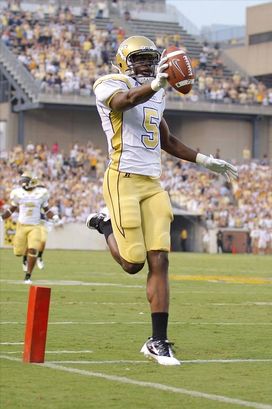 ICONGeorgia Tech WR Stephen Hill.
Stephen Hill, Georgia Tech WR: He followed up an outstanding combine workout by impressing scouts and coaches in his positional drills at his pro day. This was critical for Hill because he was allowed to run pro style routes that he never had a chance to run in Georgia Tech's triple option offense. One front office man said Hill showed an ability to get in and out of breaks that he had never seen on tape.
Brandon Brooks, Miami of Ohio OG: He inexplicably was not invited to the combine, and he showed what a mistake that was by lighting up his pro day workout. At 346 pounds, Brooks showed he is athletic as any guard in the draft.
Vontaze Burfict, Arizona State ILB: He bombed at the combine and failed to help himself at his last chance at redemption, his pro day. Burfict did not appear very athletic in position drills. He refused scouts' request to run another 40-yard dash after running a 5.09 at the combine. At his pro day he bench pressed 225 pounds 16 times, which would have placed him 27th among linebackers at the combine.
Leonard Johnson, Iowa State CB: After running a 4.71 40-yard dash at the combine, Johnson was in danger of falling to the bottom of the draft, or out of the draft. But he saved himself with a 4.51 40 yard dash at his pro day.
Whitney Mercilus, Illinois DE: By moving smoothly in linebacker drills, Mercilus opened up his market to include 3-4 teams as well as 4-3 teams. He also improved his time in the three cone by .14 seconds.
Ryan Tannehill, Texas A&M QB: He created a buzz and showed he can hang with Andrew Luck and Robert Griffin III from a physical standpoint by completing 65 of 68 passes and running a 4.62 40 yard dash. He didn't do anything at the combine, so his pro day undoubtedly inflated Tannehill's stock.
Kendall Wright, Baylor WR: He stabilized his draft stock after his speed came in question at the combine. Wright improved his 40 yard dash to 4.42 seconds at his pro day.
Jerel Worthy, Michigan State DT: With the pecking order of defensive tackles not yet clearly defined, Worthy took full advantage with a solid pro day workout. He might have even cemented a spot in the first round.
Kevin Zeitler, Wisconsin OG: A really strong positional workout probably locked in Zeitler as the No. 2 guard, and even gave him an outside chance of going in round one.
Dan Pompei covers pro football for the Chicago Tribune
Follow Pompei on Twitter: @danpompei