March 11, 2012 -
Dan Pompei
NFL Draft: Who plays fast on tape?
Click here to read the entire NFP Sunday Blitz.
At this time of year, everyone is talking about how fast draft prospects are based on 40-yard dash times. Three months ago, everyone was talking about how fast draft prospects were based on game tape. And there is a difference. With that in mind, I asked front office men to recount who were the fastest draft prospects they saw on tape. Some of their answers might surprise you.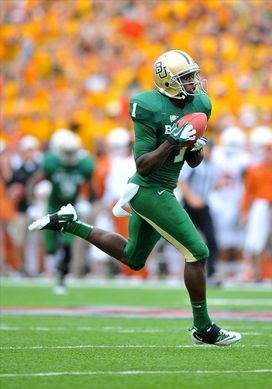 ICONBaylor's Kendall Wright.
Kendall Wright, Baylor WR. 40 time—4.61. His may have been the most misleading 40 time of the combine. Said one scout, "Based on tape, he has tremendous speed, burst and explosion."
Zach Brown, North Carolina LB. 40 time—4.50. He is a sideline-to-sideline, pure speed linebacker. Brown didn't need to run a 40 for the NFL to know he's fast.
Vinny Curry, Marshall DE. 40 time—4.98. His 40 time was puzzling because scouts say he explodes off the edge and shows excellent speed in games. Curry is a player who merits further examination.
Coby Fleener, Stanford TE. 40 time—has not run. If Fleener runs like he plays, he'll run a 4.4.
Stephon Gilmore, South Carolina CB. 40 time—4.40. On tape, he looked like more of a straight line speed guy, according to one personnel man. But the 40 is all about straight line speed.
Robert Griffin, Baylor QB. 40 time—4.41. He played like he runs a 4.41. It really doesn't matter how a quarterback runs in the 40, but it's still an eye-grabber when any quarterback runs that fast.
Ronnie Hillman, San Diego State RB. 40 time—4.45. He did well in the 40, but he played even faster.
James-Michael Johnson, Nevada LB. 40 time—4.68. Despite his 40 time, one front office man said his best quality was his speed.
Luke Kuechly, Boston College LB. 40 time—4.58. He plays really fast, in part because he is fast, and in part because he is instinctive.
Harrison Smith, Notre Dame S. 40 time—4.57. His speed showed up in his range. His ability to diagnose quickly makes him play faster than he is.
Kyle Wilber, Wake Forest DE. 40 time—4.86. He played much faster than his 40 time. At the East West game, he was so fast no one could block him.
David Wilson, Virginia Tech RB. 40 time—4.49. Wilson, according to one front office man is fast through the hole, and he has long speed.
Follow Pomepi on Twitter: @danpompei
Pompei covers pro football for the Chicago Tribune.