April 01, 2012 -
Dan Pompei
NFL Draft: Who will be an impact rookie?
Click here to read the rest of the NFP Sunday Blitz
The best NFL prospects aren't always finished products. But those who are ready to play can enhance their value. Here, with some help from NFL talent evaluators, is a look at one player from each position who could be ready to play at the next level, or close to it.
QB—Andrew Luck, Stanford: Given that he likely will be part of a massive rebuilding effort, Luck may have some initial struggles. But given his pedigree, his experience (four year starter), his success (he went 31-7 with a program that had been struggling before his arrival), his ability to read defenses, his leadership and intelligence, Luck is as ready as a player can be. Honorable mention goes to Brandon Weeden, the player whose maturity can't be questioned.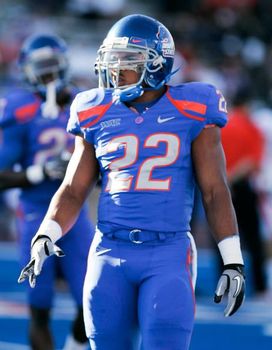 ICONBoise State RB Doug Martin.
RB—Doug Martin, Boise State: This is a mature player who finds the hole and follows his blocks. That should help him acclimate fairly quickly.
WR—Mohamed Sanu, Rutgers: It's always difficult to tell about how ready a receiver is, but scouts think Sanu shows some potential to contribute early. He came out with a year of eligibility remaining, but he'll be 23 this year and he has 37 career starts. He is a mature kid, and he was highly productive at Rutgers. His intangibles are top shelf.
TE—Coby Fleener, Stanford: He spent five years at Stanford and scouts consider him mature, intelligent and productive.
OT—Riley Reiff, Iowa: He has been an offensive lineman for only three years, but already is a sound technician who won't make many rookie mistakes. When you combine his physical gifts with the coaching he's had, you get an NFL-ready player.
G—David DeCastro, Stanford: Playing in the Stanford offense should help him transition to an NFL offense. He is known for his character and hard work.
C—Michael Brewster, Ohio State: He has started for the better part of four years, and his competitiveness and leadership will translate well to the NFL level.
DE—Shea McClellin, Boise State: His hustle and play making ability should help him overcome the transition to the next level. It also will help McClellin that he has lined up in multiple spots.
DT—Kendall Reyes, Connecticut: He has played both end and tackle, and probably will fit either a 3-4 (five technique) or 4-3 (under tackle). Reyes is known as a hard worker and a leader.
LB—Luke Kuechly, Boston College: His top level instincts should serve him well as he transitions to the NFL. Kuechly is the kind of player who makes those around him better because of the way he approaches the game.
S—Mark Barron, Alabama: If he's healthy, he should make an impact quickly. Barron was able to be the defensive quarterback for the Crimson's Tide's complex defense, which bodes well for his future.
CB—Alfonzo Dennard, Nebraska: He plays with sound technique and has been productive since his sophomore season, so Dennard should be a fairly quick study.
Dan Pompei covers pro football for the Chicago Tribune.
Follow Pompei on Twitter: @danpompei