March 25, 2012 -
Dan Pompei
NFL scouts: a look at the top OLB/DE prospects
Click here to read the entire NFP Sunday Blitz.
This draft class features a healthy group of players who could be considered as 4-3 defensive ends or 3-4 outside linebackers. The tricky part is identifying which players suit which defenses best. I asked several front office men about the players who are strong possibilities for both positions. Here are some of their thoughts.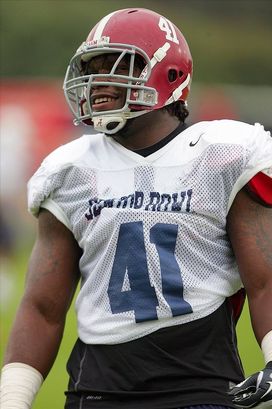 ICONAlabama's Courtney Upshaw.
Courtney Upshaw, Alabama: Multiple scouts said they believe the 6-1, 272 pounder can play outside linebacker or defensive end. Upshaw plays with fine power and leverage. One scout said you wouldn't want to make a living dropping him, however.
Andre Branch, Clemson: At 6-4, 259, Branch has the athleticism to stand up. He can bend, turn and burst to get to the passer. He is similar to Whitney Mercilus, except not quite as dynamic. However, instincts could hold him back at OLB, according to one front office man.
Vinny Curry, Marshall: Physically, there is no doubt the 6-3, 266 pounder can play linebacker in a 3-4. He explodes off the edge and can get under blocks. Curry has speed and is a natural pass rusher. The only issue, according to multiple scouts, is whether or not he can learn a new position and master it.
Melvin Ingram, South Carolina: He moved around a lot in college and has experience playing OLB, but NFL teams have struggled finding a position for him in the pros. At 6-1, 264, Ingram may be too short and compact for outside linebacker. He has 31