August 25, 2010 -
Dan Pompei
NFP Midweek Blitz
*Kamerion Wimbley looks like he is about to resurrect his career with the Raiders and become a double-digit sack guy. He always had potential as an outside speed rusher, and he showed it in his first year with the Browns. After that, he may have become a victim of all the changes in the Cleveland organization. As one scout said, he had "Cleveland-itis." Now, the challenge for Wimbley will be to avoid "Oakland-itis." Actually, the Raiders have had some success with pass rushers looking for second chances. The Wimbley situation smells a little like the Derrick Burgess situation did when he went from Philadelphia to Oakland.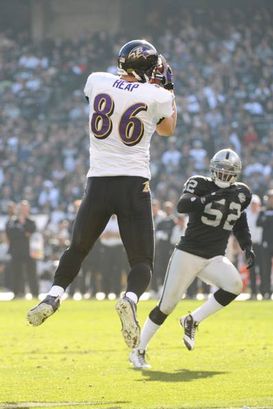 ICONBaltimore TE Todd Heap has had an excellent camp thus far.
*The assumption was that the arrivals of Ed Dickson and Dennis Pitta would coincide with the decline of 30-year-old Todd Heap in Baltimore. But that hasn't been the case. My Ravens peeps tell me Heap has had an excellent camp. Part of the reason may be that he's fresher as a result of having to split reps with the rooks.
*Functional training in general and kettlebell training specifically really is catching on in the NFL. The Packers have done more and more of it in recent years. The beauty of kettlebells is players can meld cardio and functional strength conditioning in one intense session. Among the players who are big into kettlebells are Kyle Vanden Bosch and Cliff Avril of the Lions and Cortland Finnegan of the Titans.
*Mike Neal played three-technique in a four-man front at Purdue, but the Packers front office thought Neal could make the conversion to defensive end in their three-man front for two reasons. The first is Neal is wicked strong. He has a physique like Sampson, and he also has functional strength. The second reason is he is aware and knows what's happening on the field around him. So far the Packers have been very pleased with how Neal has handled the transition.
*Dave Diehl wants to play left tackle for the Giants partly because he's more comfortable there, and partly because he's richer there (his contract gives him another $1 million for playing the position). He clearly has been the Giants' best left tackle. But he might not be playing left tackle on opening day. Because of injuries to Chris Snee and Rich Seubert, Diehl has been getting a lot of work at guard. He hasn't played guard since 2006, and he told me it has taken a little getting used to. If Diehl moves inside, 2009 second-round pick William Beatty will start at tackle.
*No one is talking much about Julian Peterson, and many assumed that Peterson, who is 32 and on his third NFL team, had seen better days. But the Lions see a resurgence in Peterson this year, in part because of the way they are using him. Last year, Peterson was used a lot as a pass rusher. This year, he is strictly a linebacker. He isn't working with the defensive ends in camp anymore. So now when Peterson does get the call to blitz, he has a better chance of drawing a matchup with a running back or tight end as opposed to an offensive tackle. Having less on his plate and more experience in the Lions defensive system also should help Peterson.
Email Dan Pompei your questions at dan.pompei@nationalfootballpost.com