November 28, 2012 -
Dan Pompei
NFP Scout Talk: 2013 Centers
The 2013 draft class offers a lean group of centers, especially if you consider Barrett Jones at guard, as we have done. Scouts say if you judged the centers strictly on talent, production and potential and kept need out of the equation, there might not be a center taken in the first three rounds. Here is how they stack up at this point, according to NFL front office men.
1. Khaled Holmes, Southern California, 6-3, 310. Like the player he snaps to, Holmes came into the 2012 season more highly regarded than he is now. His stock could rebound in the postseason. Scouts can't figure out if his play has declined because of an ankle sprain or because he isn't athletic enough. But more than one has used the word "disappointing" to describe Holmes this year. Holmes overextends at times and is inconsistent. He has good size and plays with power. He uses his hands well and takes good angles. Holmes is scrappy. He also could be considered at guard.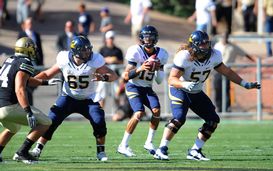 US PRESSWIREBrian Schwenke (No. 57) could be the second center taken in the 2013 draft.
2. Brian Schwenke, Cal, 6-3, 305. This is a solid player whose stock has shot up this season to the point where scouts say he could be the second center taken. Schwenke handles the line of scrimmage well and has solid intangibles. He is fairly proficient on runs and passes. He also has some guard potential.
3. Graham Pocic, Illinois, 6-5, 315. He is a little on the tall side for a center, and also could be considered at offensive tackle or guard. He has played a little tackle this season. If he isn't an NFL starter, he could be a swing man who can substitute at five positions. Pocic is a three year starter with good intangibles. He is smart and tough, and a proven leader. He has decent play strength and bends pretty well for his size.
4. T.J. Johnson, South Carolina, 6-3, 315. He has good size for a center, but he gets knocked off balance a bit and does not have great range. He is tough and competitive. Johnson is an adequate athlete who plays smart.
5. Dalton Freeman, Clemson, 6-3, 285. He is light and plays like it. He will need to find the right system fit in the NFL, and he still will need to get stronger. Freeman is athletic and could develop if he gains weight.
6. Braxston Cave, Notre Dame, 6-2, 305. Cave's stock has risen a bit with Notre Dame's success this year. He has a decent frame for the position. He is a battler. He is limited athletically and overextends some. Scouts say he is on the ground too much.
7. P.J. Lonergan, Louisiana State, 6-3, 305. Lonergan isn't the most athletic prospect and has been tagged an "overachiever" by scouts. He is scrappy and has fine intangibles.
Dan Pompei covers pro football for the Chicago Tribune at chicagotribune.com.