October 17, 2012 -
Dan Pompei
NFP Scout Talk: J.J. Watt
J.J. Watt was the 11th overall pick of the 2011 draft by the Texans. So it's not like he was severely underrated. But he's playing like he should have been the No. 1 pick.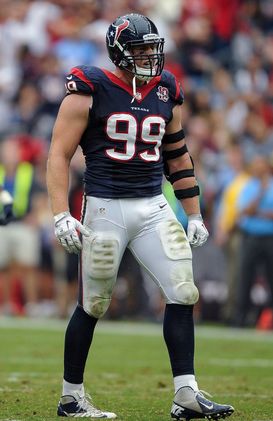 US PRESSWIRETexans' DE J.J. Watt leads the NFL with 9.5 sacks.
You could make an argument that if the draft was held over again today, Watt would be No. 1, ahead of Cam Newton, Von Miller, Marcell Dareus, A.J. Green, Patrick Peterson, Julio Jones, Aldon Smith, Jake Locker, Tyron Smith and Blaine Gabbert. And that isn't to say that each of those players won't do well in the NFL. The large majority of them already could be called emerging stars.
But Watt is a current star, the favorite to be NFL defensive player of the year at this point.
So my question is why wasn't Watt rated as high as Cam Newton and Von Miller, the top two picks in the draft?
Going over my notes from prior to the draft, this is what some front office men were saying about Watt then: One said he was "not a flashy edge rusher." Another said he can rush the passer but "is not a great pass rusher." A third said "on film I wasn't real excited about the way he moves." The evaluators all thought Watt should be chosen between 10 and 20 in the first round, which was pretty much the consensus.
So I asked three front office men how they thought Watt in the NFL was different from Watt in college.
"He is a little better than I thought," one said. "He has no weaknesses. Being a white guy from Wisconsin, I think he was automatically pegged as a try-hard, effort guy."
Another said this, "People talked about stiffness coming out, but his combine workout should have alleviated those concerns."
At the combine, the 290 pound Watt ran a 4.81, vertical jumped 37 inches and broad jumped 10 feet.
Part of the issue with evaluating Watt is teams weren't sure which position and scheme would suit him best. One of the front office men said his question was whether Watt would be best as a 3-4 end or a 4-3 end. A general manager struggled to figure out if Watt could be an outside linebacker in a 3-4, as opposed to a defensive end (he came to the conclusion Watt would make a fine outside linebacker after watching him work out). A second general manager said his 4-3 team was looking at Watt as a defensive tackle, but he thought he would be best as a five technique in a 3-4.
Watt ended up in the perfect scheme for him. He is playing end in the Texans' 3-4, which puts a premium on ends getting upfield. He might not be having the same success in a defense like the Patriots or Packers or Vikings.
"Looking back, he was strong as an ox," a general manager said. "He played with an incredible motor. He showed special athleticism in his workouts. And he was smart. There wasn't anything not to like."
Dan Pompei covers pro football for the Chicago Tribune at chicagotribune.com