September 12, 2012 -
Dan Pompei
NFP Scout Talk: Top RBs
Here are the top senior running backs based on early season rankings from NFL teams.
1. Knile Davis, Arkansas, 6-0, 230. With his combination of power and speed, this is a gifted player in the Darren McFadden mold. At this point, Davis is not seen as a top of the draft prospect, but he could get there with a good season. Davis has durability issues and needs to show he is completely healthy after breaking his ankle last year.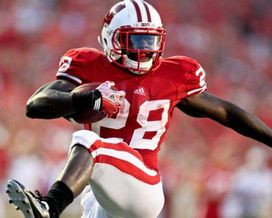 Montee Ball might not be as productive in the NFL as he has been in college, but he still has the makings of a good pro running back.
2. Montee Ball, Wisconsin, 5-10, 215. This is another power runner. Ball has vision and instincts, and enough speed. He has been wildly productive for the Badgers, but NFL scouts say the production is a little misleading because he plays behind a great line. He is more steady than spectacular.
3. Rex Burkhead, Nebraska, 5-11, 210. Assuming his knee injury checks out, Burkhead is a solid prospect. Scouts say he is a tough runner with all around skills. He has quick feet and good balance. Burkhead has been productive.
4. Christine Michael, Texas A&M, 5-11, 215. He does not have exceptional power or speed, but he doesn't have any glaring weaknesses. He is an instinctive runner who finds daylight. Michael has potential to be an NFL starter. Durability and injury history are concerns.
5. Andre Ellington, Clemson, 5-9, 192. This is a very quick back who has run for a lot of yards. Ellington is too small to be an every down player, however. He can avoid tacklers pretty well but can't break tackles. He likely will be a third down back in the NFL.
6. Ray Graham, Pittsburgh, 5-9, 195. Size also is a limiting factor with Graham. And not only is he small, but scouts say he plays small. He probably is strictly a third down back in the pros. He is coming off an ACL injury. On the plus side, Graham has vision, burst and quickness and was off to a great start last year before he got hurt.
7. Onterio McCalebb, Auburn, 5-9, 175. He is yet another undersized back. McCalebb is more of a return specialist than a running back though. He is an excellent returner with speed and moves, but might not have the bulk and girth to be very effective at running back.
8. Stepfan Taylor, Stanford, 5-10, 210. If you drafted strictly based on intangibles and intelligence, Taylor would be a first round pick. He is limited athletically, however, and does not create much on his own. He could find a role as a complementary back and special teams player.
9. Mike Gilsee, Florida, 5-11, 210. Gilsee has had some production and comes at defenses with a good combination of size, quickness and punch. He could move up the draft boards with a solid season.
10. Jonathan Franklin, UCLA, 5-10, 198. He can run away from defenders, and he's done that a lot over a productive college career. But NFL teams have taken note of his fumbling issues, as well as the fact that he isn't much of a factor in the passing game.
Teams in need of running backs are hoping for a good influx of underclassmen. South Carolina's Marcus Lattimore likely will be the first back taken if he enters the draft. Others to watch are Alabama's Eddie Lacy, Arkansas State's Michael Dyer and Louisiana State's Spencer Ware.
Dan Pompei covers pro football for the Chicago Tribune at chicagotribune.com.