April 01, 2012 -
Dan Pompei
NFP Sunday Blitz
There are ways for Tim Tebow to have a diverse role and be a very valuable member of the New York Jets. One of those ways is probably not as a starting quarterback, however.
What Rex Ryan said after acquiring Tebow was right on. "Tim Tebow is our No. 2 quarterback, but he's also going to do other things for this football team," Ryan was quoted as saying. "He's a football player. That's what I keep wanting to put out there. Let's not just look at him as a quarterback. I look at him as a football player."
I spoke with four respected football men—former coach and ESPN broadcaster Jon Gruden, Packers coach Mike McCarthy, a general manager and a high ranking personnel man--to ask how they would use Tebow. This is their cumulative plan.
*Play him situationally. With Mark Sanchez as the regular quarterback, Tebow could come in the game at QB in the red zone, in short yardage and goal line situations, to run out the clock or in the two minute drill. This would take advantage of his athleticism and running ability while making things complicated for opponents.
"He'd be deluxe in that role," Gruden said. "How do defenses prepare for that? He could really be a weapon. With Jets, you have to prepare for Sanchez and the pro style offense, and for Tebow at any point in the game. It would be an ideal role. He could continue to learn and develop, and at the same time provide you with his strength."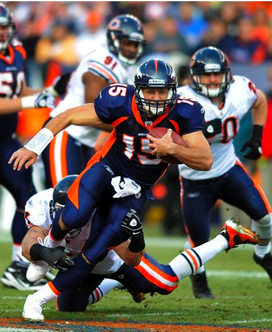 Tebow can help a team if a coach can think outside the box.
*Create a package that uses him in the spread and wildcat. This is what Tebow has done best dating back to his Florida Gator days. And teams won't be able to devote a lot of concentration and resources to it if it's merely a changeup in the Jets offense.
"Give him 10 plays a game in a package and he could have as much success with those 10 plays as he did with 20 if he was a starter and all defenses had to worry about," the personnel man said.
"Every college team I'm watching is running a read option," Gruden said. "It's a proven system that has made its way towards the NFL. You are talking about a guy who takes the punishment that that offense brings upon quarterbacks. You certainly want to run some option with Tim Tebow. You want to move the pocket. You want to do a lot of the things that Mike McCoy and John Fox did in Denver. It restricts the defenses you can play. You have to have somebody responsible for the pitch, somebody responsible for the keep, somebody for the give."
*Line him up as an H-back. The players who have been most successful as package quarterbacks have been the ones who are on the field in other roles. If a player comes off the sideline only when he's part of a package, it's a red flag for defenses.
And Tebow can play H-back. "Look the way he's built," McCarthy said. "He's an athletic, powerful man. He's bigger than people realize."
Tebow could even play a little fullback, although he's going to take a heck of a pounding if he lines up in the I formation and hammers linebackers very frequently. "Nobody saw him as a true Y, the [tight end] on the line of scrimmage," the general manager said. "But the H or F, off the line, a move guy, he could do that well I think. We've seen him run with the ball, but haven't seen him block. With his size, there are things that project for him to be able to play that position."
*Carve out a special teams role. Tebow is built like a linebacker, and he runs like one. Why can't he chase down punts and kicks? "He has enough size and toughness," the general manager said. "You've never seen it, so you don't know for sure, but I think he can play on special teams."
Said the personnel man, "He'd try like heck on special teams."
Gruden suggests using him as a personal protector on the punt team and the holder on the field goal and PAT team. The possibility of fakes would give opponents something to think about. "All the things you'd have to prepare for that would restrict your rush," he said. "You would have a hard time brining an all out rush."
If Tebow was used in all of these ways, he'd probably be on the field almost as much as any other player. And his leadership would likely have a tangible effect on the Jets.
There is one potential problem with this plan. Tebow might see himself as a quarterback. And only a quarterback.
"The key," the general manager said, "is if he embraces it."
If he does, the Jets are going to be happy they made that deal.
Things I Didn't Used To Know
*Some front office men who have seen the medical records of Peyton Manning do not doubt that he can play effective football in 2012, but they do believe his arm strength likely not be what it once was. Manning's arm strength already had started to decline when he last played because of age. It is likely to decline much more now because lingering nerve damage will affect strength in his arm, particularly his triceps. The Broncos may have to take this into account with the types of throws Manning is asked to make. He may struggle with the outs and deep passes.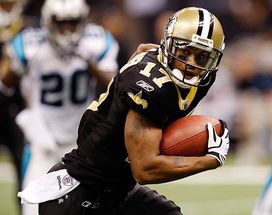 Will Robert Meachem produce like Vincent Jackson in the Chargers offense?
*Fantasy alert: Robert Meachem never has had more than 45 catches and 722 yards in a season, but his new team believes he is capable of much more. In fact, Chargers coach Norv Turner tells me he wouldn't be surprised to see Meachem with between 60 and 70 catches and more than 1,000 receiving yards. "Look at the history of the offense, the things we've done," Turner said. "Meachem is capable of giving us that stat production if he can play a complete season." Why hasn't he done it in five NFL seasons in New Orleans? "He has been in an offense where he's one of five guys, and they spread the ball out," Turner said. "He hasn't been the focal point. I think we try to be balanced, but he will get opportunities to be a big play receiver up the field."
*Despite what Dolphins owner Stephen Ross allegedly told a fan, the Dolphins had no intention of cutting Brandon Marshall without getting anything in return for him. It is true, however, that the team was intent on purging Marshall at some point. Marshall was persona non grata in Miami for a number of reasons. He was perceived as a quarterback killer because of his complaining. New coach Joe Philbin was looking for a different style of receiver. Marshall is high maintenance off the field. And the Dolphins needed cap space. However, if the Dolphins couldn't have traded Marshall in the offseason, it is likely they would have brought him to training camp to see if a trade market might develop for him after teams started losing players to injuries. As it turned out, they received two third round picks from the Bears.
*Jeremy Zuttah played tackle at Rutgers, was made into a guard in the NFL, but his best position may be center. That's why he will be snapping the ball to Josh Freeman this fall for the Bucs. Zuttah has started 79 percent of his NFL games at guard, but also has filled in enough at center to show he has an aptitude for the position. In fact, Zuttah has played his best footb all at center. Bucs coaches believe his intelligence, quick twitch muscles and ability to get to the second level will serve him well as a full time center.
*The Packers want to add another quarterback, probably late in the draft, but coach Mike McCarthy has high hopes for Graham Harrell as primary backup to Aaron Rodgers. McCarthy told me Harrell s very instinctive, even keeled, tough and bright, and he has a good grasp of the offense. He also sad Harrell has improved his strength. McCarthy said Harrell still needs to get reps and be developed, however.
My Sunday Worst: Teams That Lost The Most
Instead of My Sunday Best this week, I bring you My Sunday Worst. I've always maintained teams frequently are hurt more by the players they lose in free agency than teams are helped by the players they add. With that in mind, these are the teams that have been hurt the most so far. We are not considering additions in this judgment, merely losses.
1. Texans. They easily have lost more talent than any other team, including the best young player to change teams in Mario Williams. Three players who could have been considered core guys left in Williams, Eric Winston and DeMeco Ryans, who was traded. The Texans took a hit on depth too.
2. Colts. A lot of big names walked out the door, but many of the players who departed probably don't have much left. Exceptions include Pierre Garcon, Jacob Tamme, and yes, Peyton Manning.
3. Raiders. Like the Texans, the Raiders had to shed some salaries, and like the Texans, the Raiders are hurting because of it. Kamerion Wimbley, Stanford Routt and Kevin Boss—solid starters all—were released. Other losses included Jason Campbell, Samson Satele, Rock Cartwright and Michael Bush.
4. Ravens. This team lost three steady starters in Ben Grubbs, Cory Redding and Jarrett Johnson. Valuable special teamers Tom Zbikowski and Haruki Nakamura also left town.
5. Titans. Cortland Finnegan was the best cornerback on the market, and Jason Jones was the best interior pass rusher.
Scout Talk: Impact Rookies
The best NFL prospects aren't always finished products. But those who are ready to play can enhance their value. Here, with some help from NFL talent evaluators, is a look at one player from each position who could be ready to play at the next level, or close to it.
QB—Andrew Luck, Stanford. Given that he likely will be part of a massive rebuilding effort, Luck may have some initial struggles. But given his pedigree, his experience (four year starter), his success (he went 31-7 with a program that had been struggling before his arrival), his ability to read defenses, his leadership and intelligence, Luck is as ready as a player can be. Honorable mention goes to Brandon Weeden, the player whose maturity can't be questioned.
RB—Doug Martin, Boise State. This is a mature player who finds the hole and follows his blocks. That should help him acclimate fairly quickly.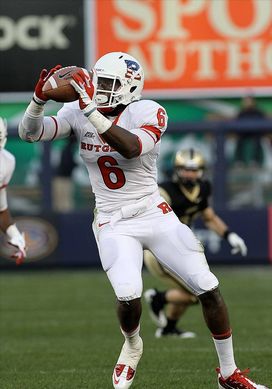 ICONSanu has some qualities that should enable him to contibute to an NFL team fairly quickly.
WR—Mohamed Sanu, Rutgers. It's always difficult to tell about how ready a receiver is, but scouts think Sanu shows some potential to contribute early. He came out with a year of eligibility remaining, but he'll be 23 this year and he has 37 career starts. He is a mature kid, and he was highly productive at Rutgers. His intangibles are top shelf.
TE—Coby Fleener, Stanford. He spent five years at Stanford and scouts consider him mature, intelligent and productive.
OT—Riley Reiff, Iowa. He has been an offensive lineman for only three years, but already is a sound technician who won't make many rookie mistakes. When you combine his physical gifts with the coaching he's had, you get an NFL-ready player.
G—David DeCastro, Stanford. Playing in the Stanford offense should help him transition to an NFL offense. He is known for his character and hard work.
C—Michael Brewster, Ohio State. He has started for the better part of four years, and his competitiveness and leadership will translate well to the NFL level.
DE—Shea McClellin, Boise State. His hustle and play making ability should help him overcome the transition to the next level. It also will help McClellin that he has lined up in multiple spots.
DT—Kendall Reyes, Connecticut. He has played both end and tackle, and probably will fit either a 3-4 (five technique) or 4-3 (under tackle). Reyes is known as a hard worker and a leader.
LB—Luke Kuechly, Boston College. His top level instincts should serve him well as he transitions to the NFL. Kuechly is the kind of player who makes those around him better because of the way he approaches the game.
S—Mark Barron, Alabama. If he's healthy, he should make an impact quickly. Barron was able to be the defensive quarterback for the Crimson's Tide's complex defense, which bodes well for his future.
CB—Alfonzo Dennard, Nebraska. He plays with sound technique and has been productive since his sophomore season, so Dennard should be a fairly quick study.
Hot Reads
*Wouldn't it be something if the Saints used the bounty punishment to their advantage by getting a future hall of fame coach to temporarily take over for Sean Payton?
*My bet is Sean Payton would be at least as good as a Fox analyst as he is a head coach. And that's pretty good.
*Even if Trent Richardson ran a 5.5 40-yard dash, he'd still be the best running back n the draft, and worthy of a top 15 pick.
*The Colts don't know if they will take Andrew Luck or RGIII. And Matt Bowen and I have a bridge we'd like to sell you.
Dan Pompei covers pro football at chicagotribune.com. Follow him on Twitter @danpompei