September 29, 2013 -
Dan Pompei
NFP Sunday Blitz
Since the two franchises don't meet very often, as Monday night's game at the Superdome is the first Miami-New Orleans matchup since 2009, there hasn't been a lot of excuse for dredging up the Dolphins' decision in 2006 to pass on quarterback Drew Brees, who then signed with the Saints as an unrestricted free agent.
But the game offers a tailor-made opportunity to revisit the history of the Dolphins and Brees, and the media from both cities has certainly taken full advantage of it. We're not much into revisionist history here, but it is an interesting, albeit futile, exercise, to consider how the fortunes of the two franchises might have been altered had the Miami medical staff cleared the club to sign Brees.
Lots of fodder there, right? A great storyline/subplot for the game.
Remember, following a grueling physical exam, the Dolphins' doctors advised then-Miami coach Nick Saban and the front office against signing Brees, because of his surgically repaired right shoulder. The Dolphins and Saban subsequently opted to deal for Daunte Culpepper instead, trading a second-round pick for him. He lasted all of four starts – with more interceptions (three) than touchdown passes (two) – before the club released him following the '06 campaign.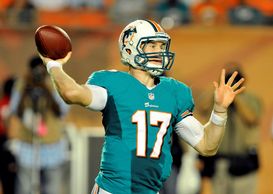 US PRESSWIRERyan Tannehill could put some of the Dolphins past frustrations to rest with a win against Brees and the Saints.
The Miami doctors have absorbed a lot of heat in the intervening years, and their decision obviously came under heavy scrutiny again in the past week. The story has been rehashed plenty in the past week, and Brees, Saban, and Saints' coach Sean Payton all have their own memories of how things came down.In the ensuing years, the Dolphins have used 10 different starting quarterbacks – Culpepper, Joey Harrington, John Beck, Trent Green, Cleo Lemon, Chad Pennington, Tyler Thigpen, Chad Henne, Matt Moore, and now Ryan Tannehill – and posted a record of 48-67. In the same stretch, Brees has started in all but one of New Orleans' 115 games and owns a Super Bowl ring. The only start he missed was in the 2009 regular-season finale, when the Saints had already secured the top seed in the NFC, and Mark Brunell started. Brees has gone on to become a four-time NFL passing champion and potential Hall of Famer; Culpepper, on the other hand, was out of the league altogether after the '09 season.
From old, yellowing notebooks that we keep in the basement, and dug out in recent days, two tidbits, though, looking back at the '06 decision: First, while the Miami doctors have been second-guessed quite a bit, Brees' representative, prominent agent Tom Condon, believed his client might not be able to throw again until camp that year. "If then," Condon told this reporter at the time. Condon has since said that he felt the Dolphins would nix the physical to drive down the contract price. Maybe so, but in the spring of '06, he had his doubts about the timetable by which Brees could rebound from surgery.
That's not to defend the medical staff in Miami, but just to note that even the people charged with finding Brees a new home weren't thoroughly convinced of when he might be able to throw with velocity again.
Second, credit Condon, who was privately told about the failed physical in Miami about an hour before it was made public, for quickly directing Brees to the Saints, and cutting a deal with general manager Mickey Loomis before word about the exam leaked out and some negotiating leverage evaporated.
+AROUND THE NFL
*Since the players haven't really candidly addressed the issue much, it's hard to gauge the sentiments in the Tampa Bay locker room about coach Greg Schiano's switch of starting quarterbacks, from veteran Josh Freeman to rookie Mike Glennon. But it's worth noting that there was some difference of opinion about Glennon last spring, before the Bucs grabbed the former North Carolina State standout with a third-round choice. Looking back on notes gleaned from several NFL general managers and personnel directors prior to the draft, it's clear, in retrospect, not everyone was sold on Glennon. Perhaps most conspicuous in reviewing the notes was a disparity of opinion over his arm strength. For all his size and pocket stature, a few scouts noted, Glennon didn't drive the ball with as much authority as some expected him to do in a few games. Evaluator's like ESPN's Jon Gruden, have said that Glennon has a big arm, but the former NFL coach rarely has anything negative to say about anyone, does he? There was a feeling that Glennon's arm wasn't as powerful as he himself thought it was, and that he sometimes forced the issue a bit too much. "You see a guy with that kind of size, and naturally assume that's he's got rocket (for an arm)," one scout said at the time. "It's a good, strong arm, but not really a great arm." The other issue with Glennon was footwork. But Schiano liked him, which is the only thing that counts, and clearly drafted him with the notion that he would someday be his starter. That "someday" has arrived.
*With nearly $6.5 million remaining on his base salary for 2013, it will be difficult for the Bucs to swap the demoted Freeman before the Oct. 29 trade deadline. Even if there is an injury to another team's starter, spending that kind of money for a "rental" player would be a tough swallow for any franchise. Of course, there is always the possibility Freeman could rework the deal, possibly even sign an extension that keeps him with a club beyond 2013. But word is that the latter of those possibilities, in particular, isn't likely. While he suggested that a trade might be the best thing for all parties, Freeman would actually prefer to go into free agency, where the market figures to be robust, even for a guy who hasn't played well over the past two seasons. Even if it means sitting behind Glennon for three more months, Freeman is said to be prepared to take a step back in order to eventually take one forward, both competitively and financially. By the way, the reports that the Bucs came close to trading for Carson Palmer in the spring only strengthen the belief that Schiano had soured on Freeman long before he pulled the plug on him, a notion well detailed by several Tampa columnists last week.
*Much was made during Thursday night's game, and again on Friday morning, about the San Francisco's offense's return to basics, i.e., hand the ball to tailback Frank Gore, in light of the 49ers' thumping of St. Louis. The 49ers are now 12-2-1 under Jim Harbaugh in games where Gore logs at least 20 carries. But, as usual, the tone was set by the San Francisco defense, more specifically the run defense, a component that had been trashed a bit in consecutive defeats to Seattle and Indianapolis. Playing without several starters, most notably linebackers Patrick Willis and Aldon Smith, San Francisco surrendered a paltry 18 yards on 19 rushes, and the Rams didn't have a run of longer than seven yards. It was certainly a step back in the right direction for a unit that prides itself on its physicality. The 49ers entered the game ranked 29th versus the rush, and having permitted six rushing touchdowns. In the previous two seasons under coordinator Vic Fangio, San Francisco was No. 4 (in 2012) and No. 1 (2011) and surrendered a total of just 10 rushing touchdowns. Last season, in 19 games, counting the playoffs, the 49ers gave up only eight touchdowns on the ground. "We got back to our attitude," said linebacker NaVorro Bowman, who had six tackles (three for losses) and two sacks. "Defend every inch of turf."
*If he has a 300-yard game against Miami on Monday night, Brees will tie his own league record, with nine consecutive 300-yard performances. No other player in league history has more than six, with Rich Gannon, Kurt Warner and Steve Young all tied for that distinction. In his current eight-game stretch, Brees has averaged 358.1 passing yards. Sporting the NFL's 20th-ranked pass defense through the first three weeks, the Dolphins' secondary might seem like easy pickings. But the Dolphins have allowed only one 300-yard passing game – 321 yards by Andrew Luck of Indianapolis on Sept. 15 – in their last 11 outings. In fact, Luck, who's done it twice, is the only quarterback to register 300 yards against Miami in its past 13 games. "We're growing as a unit, but that guy (Brees), when he's in a rhythm, is unreal," said Dolphins' defensive lineman Randy Starks. As noted earlier, since signing with New Orleans in '06, Brees has only faced the Dolphins once, in 2009. The Saints won that shootout, 46-34, but Brees was held under 300 yards (298), had just one touchdown pass and three interceptions, was sacked five times and lost one of his two fumbles. During his San Diego tenure, Brees started against the Dolphins three times, was winless, averaged just 192.0 yards, and had two touchdown passes and five interceptions, while suffering 12 sacks. Said Starks: "(But) history means nothing against him. He isn't going to worry about what happened one play to the next, let alone years ago." Starks, by the way, is the lone Dolphins' starter from the 2009 game against Brees who even still plays in Miami.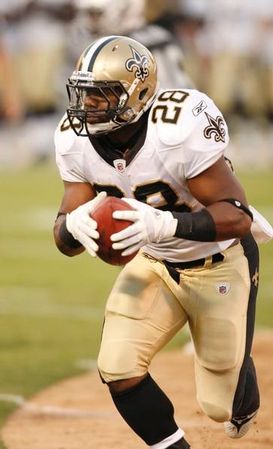 ICONIs Ingram's time in New Orleans coming to an end?
*New Orleans tailback and former Heisman Trophy winner Mark Ingram last week vociferously denied a report that he had requested the Saints trade him. But the team's 2011 first-round choice, who is averaging only 1.8 yards per carry on just 17 attempts in the two games in which he's appeared, is said to be frustrated by the lack of playing time and production. "He doesn't want to be traded, but it would be something, if the Saints decided to do it, that he understands might help (his career)," said a member of Ingram's stable. New Orleans coach Sean Payton favors a tailback-by-committee approach, with Ingram sharing time with Pierre Thomas, Darren Sproles and Khiry Robinson (Travaris Cadet doesn't have any carries yet, but the Saints like him). But the former Alabama star is probably at his best when he is more a workhorse and can get into a rhythm. In his two-plus seasons with the team, Ingram has only five games in which he carried 15 times or more, and a career-best of 21 attempts. In his first two seasons, he averaged only 1390.0 rushes and just 176.5 "touches." With the addition of Sproles a couple years ago, people seem to have forgotten that Ingram, who has zero receptions so far in 2013, is a decent receiver, who had 46 catches as a rookie. The trade of another former Alabama star runner, Trent Richardson, last week, has helped fuel rumors that Ingram could be the next to be dealt. That might not be the case. But his trade denials aside, Ingram could benefit from a change of scenery.
*Part of the reason both Atlanta safeties went to the Pro Bowl last year was because Thomas DeCoud (free) and William Moore (strong) were so good at taking the ball away from opponents, particularly early in the season. Four of DeCoud's seven takeaways for the season came in the first three outings of the year, including half of his six interceptions. In the first three games of '12, Moore had two of his four pickoffs. Those thefts contributed to the Falcons being a plus-10 in turnover-takeaway differential in the first three contests of 2012. After three games this year, Atlanta is "even" in differential, with four turnovers and takeaways each, and two of the team's three interceptions have come on tipped balls, including one pickoff by Moore last week. "(Takeaways) usually come in bunches, so we're waiting for our bunch to come," said DeCoud, who doesn't have a takeaway yet in '13. Perhaps more problematic than the takeaways for the Falcons is the number of missed tackles so far in the secondary, including by the safeties. In advance of Sunday night's meeting with New England, a team whose receivers typically add a lot of yards after catch, the Atlanta staff last week doggedly worked with the safeties about taking better angles to the ball and wrapping up on contact. "Tackle the catch," which essentially translates into making the stop at the spot where the receiver catches the ball, was a recurring theme at practices.
*We've written a lot about Kansas City third-year linebacker Justin Houston the past several weeks and, given his league-best 7