October 03, 2010 -
Dan Pompei
NFP Sunday Blitz
When I was researching Tim Tebow about this time last year, one NFL scout told me Tebow reminded him a little of Vince Young. And certainly, I could see the parallels.
They both had less than ideal mechanics. Their deliveries and releases were causes for concern. Neither was very accurate. There had been talk of moving both to another position. Neither played in a pro style offense and would need some time and coaching before being ready to play.
But these were two unusually gifted athletes with size and running ability rarely seen at the quarterback position. Both had canons for arms.
And their most glaring similarity of all, the scout pointed out: both were winners. Nobody in an NFL front office has figured out quite how to put a value on that. But Tebow (35-6) and Young (30-2) were extraordinary winners at Florida and Texas, respectively.
I asked one general manager how much he valued the fact that those quarterbacks won so often. This is what he said: "Winning is important, but it's not critical. Almost all quarterbacks who have success in this league have done well in college. Vince Young didn't win any more than Colt McCoy. In order to have a great team, the quarterback has to play well and he has to have a lot of others playing well around him. Young and Tebow were driving Cadillacs. You have to be careful not to put too much stock in it. Peyton Manning didn't win a national championship, but Tee Martin did."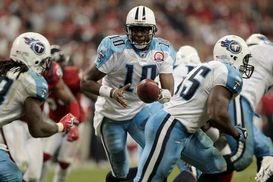 ICONVince Young has won 66 percent of his career starts for the Titans.
The knack of winning games has not left Young. For all of his immaturity and inconsistencies, he has been a winner with the Titans. Since he was elevated to the starting lineup last year, he has won 10 of his 13 starts. He was 18-11 in the three previous years. He now has won 66 percent of his career starts for the Titans.
And, despite his late game benching against the Steelers, Young has shown his head coach that he's making progress. "He's much more comfortable in the offense, seeing things, making better decisions," Titans coach Jeff Fisher said. "The position is not easy to play, especially when you are young. But as you mature and get more experience, you'll have more success consistently. That's what he's done."
Tebow has not had a chance to show that what he did at Florida will carry over into the pros. He's trying to get to where Young is.
Today in Nashville, he'll have a chance to observe Young first hand when the Titans host the Broncos. As the careers of these two legendary college passers play out, it will be interesting to see if they continue on similar paths.
Things I didn't used to know
*Brian Urlacher is 32-years old and sat out almost all of last season, but he's playing some of the best football of his life. Even he acknowledges he is playing better now than he did in 2008, the last time he had extended playing time. The Bears middle linebacker believes he is moving better, is more powerful and more confident in the defensive scheme. And here's the interesting thing: he told me he weighs 257 pounds, about 10 pounds more than he did in 2008. He has played most of his career in the upper 250s, but once he turned 30 he thought he should lose weight. He's more comfortable heavier. "This is my natural weight," he said. "And I can eat whatever the hell I want."
*On the subject of the Bears defense, their resurgence under Rod Marinelli can be traced to a return to their roots. They have played Cover 2 on 105 snaps this year, or on 77 percent of opponents' dropbacks. And they haven't blitzed much at all—only 27 times or on 20 percent of opponents' passes.
ICONSean Weatherspoon of the Falcons has impressed as a rookie.
*A strong early candidate for defensive rookie of the year is Sean Weatherspoon, who is leading the Falcons in tackles. Weatherspoon has been able to acclimate to the pro game quickly because he's smart and fast—which means the speed of the NFL game hasn't been a problem for him. Weatherspoon learned both outside linebacker positions in training camp and coaches didn't settle on playing him at Will until the week before the season. Had he honed in on one position earlier, he might have even been further along than he is.
*Corey Williams might finally be in the right place to excel in Detroit. Last week he intercepted his old teammate Brett Favre. This week he'll try to inflict more damage on old teammates when the Lions visit Green Bay. My Lions peeps tell me Williams is a perfect fit in Gunther Cunningham's attacking four man front. When Williams played in Green Bay, they were a read 4-3 team. In Cleveland, he played in a 3-4 front. His skills are much better suited for how he's being used with the Lions.
*How has the Lions offense changed since Matthew Stafford went down? They have been less inclined to attack the vertical zones and deep part of the field without Stafford's strong arm, according to one coach. But they have been attacking defenses' weaknesses more consistently with the veteran Shaun Hill under center.
*The Seahawks have made 205 roster moves in 257 days since John Schneider has taken over as general manager. Result: a more competitive environment, with a locker room on pins and needles. But the Seahawks won't keep making moves at this pace. Seattle sources say they don't want to make moves just for the sake of making moves, and they expect things to calm down soon.
*The Titans are not overly concerned about rookie Alterraun Verner peeing down his leg when he makes his first start today against the Broncos in place of injured Jason McCourty. In fact, they have "complete confidence" in the fourth round pick after Verner had a solid training camp. "He doesn't play the game like a rookie," Fisher said. "He had a 4.0 grade point average in math at UCLA. And on top of that, he's a very, very instinctive player."
My Sunday Best: Quarterbacks who can move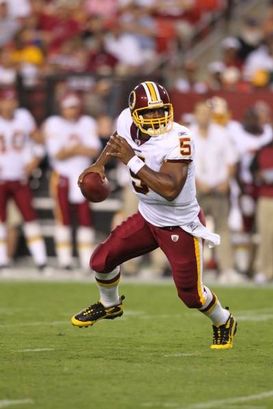 ICONFormer Eagle and current Redskin Donovan McNabb
The showdown in Philly today pits Michael Vick against Donovan McNabb—two of the best quarterbacks in the league from the waist down. Here are the starting quarterbacks who have the best movement skills.
1. Michael Vick, Eagles. He's in a class by himself. Nobody in the league moves like this guy, and nobody ever has. He forces defenses to compromise their scheme. Vick has tremendous instinct as a runner.
2. Vince Young, Titans. He is part-quarterback/part running back. Young is fast, big and hard to take down. Once he gets in the open field, look out.
3. Ben Roethlisberger, Steelers. He isn't the same kind of threat as a scrambler as some of these quarterbacks, but Roethlisberger has a great knack of getting outside the pocket and creating second chance passing opportunities. In that manner, he has made many big plays with his feet.
4. Donovan McNabb, Redskins. He was faster when he came into the league, but at 33 and with a little thicker midsection, McNabb still can move. As he has aged, he has become very adept at avoiding the rush and keeping his eyes downfield.
5. Aaron Rodgers, Packers. This is not a quarterback who is looking to beat you by running, but he can. Rodgers probably helped contribute to his high sack total last season, but he's gotten better at knowing when to bail. He can throw with amazing accuracy after leaving the pocket.
6. Jay Cutler, Bears. His judgment sometimes leaves something to be desired, but he is very athletic and very tough.
7. Tony Romo, Cowboys. He's not a track star, but Romo is his most dangerous when he's on the move. Romo has excellent improvisational skills, and he remains poised when he leaves the pocket. Some teams are hesitant to blitz him because they would rather see him throw from the pocket than get out in space.
8. David Garrard, Jaguars. A nice combination of speed and size makes him a threat to take off.
9. Josh Freeman, Bucs. He's still learning how and when to use his feet, but Freeman is very mobile for such a big man.
10. Peyton Manning, Colts. He's on this list for one reason—his ability to avoid sacks. We all know Manning isn't a runner. Some would say he has cement shoes. But he's excellent at sidestepping the rush, or making subtle movements to buy time in the pocket.
Numbers games: McNabb vs. Vick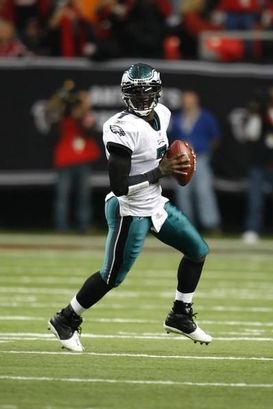 ICONFor Michael Vick, it's his time in Philly.
The Eagles thought they were getting rid of McNabb to play Kevin Kolb. But they really got rid of him to play Vick. In some ways, McNabb and Vick are similar quarterbacks. There are some interesting statistical comparisons to be made between their considerable bodies of work, thanks to Stats Inc. These are all career numbers.
First, let's look at a number of areas in which the two players have achieved similar results.
Yards per attempt
Vick 6.7
McNabb 7.0
Interception percentage
Vick 2.8
McNabb 2.1
Third down passing
Vick 79.2 rating
McNabb 80.7 rating
Now let's look at the one area in which Vick clearly has the upper hand—running. Vick and McNabb, interestingly enough, each have 576 career runs. But Vick has taken off once for every 3.1 times he's thrown the ball, compared with McNabb running once for every 8.4 times he's passed.
Yards per carry
Vick 7.2
McNabb 5.7
Runs of 10 plus yards
Vick 164
McNabb 129
Finally, let's look at where McNabb has been better.
Interception percentage
Vick 2.8
McNabb 2.1
Sack percentage
Vick 9.2
McNabb 13.3
Red zone passing
Vick 81.9 rating
McNabb 94.1 rating
Fourth quarter passing
Vick 71.8 rating
McNabb 83.9 rating
Passing versus the blitz
Vick 81.3 rating
McNabb 88.1 rating
Throwing to the opposite side of the field
Vick to his right 72.7 rating
McNabb to his left 90.6 rating
As you can see, McNabb has the statistical edge in many important areas. But he's also 33 years old compared to 30 for Vick. And you can make the argument that despite Vick's age, he is still an ascending player.
So what these players have been isn't necessarily what they will be when they meet today at Lincoln Financial Field.
Scout Talk: QB Class of 2011
The pecking order of quarterbacks for the April draft remains very much in flux, but the early season tape provides some interesting fodder.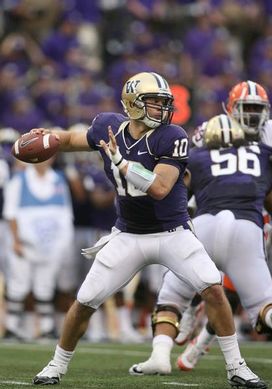 ICONWashington QB Jake Locker
Washington's Jake Locker and Florida State's Christian Ponder, the two highest ranked passers going into the season, have slid a bit up to this point. That means the top spot is up for grabs.
The player who looks like he might claim it, should he decide to leave school with two years of eligibility remaining, is Stanford's Andrew Luck. Scouts love his anticipation, feel for the game and intangibles. He also has the size and strong arm NFL teams desire. Whether or not Luck decides to go pro could be tied to whether or not his coach Jim Harbaugh decides to go pro.
As of now, it looks like Luck, Locker, Ponder and Arkansas' Ryan Mallett all could be first rounders. Mallett is a prototype pocket passer who might not appeal to every team, but his size and deep ball will wow some talent evaluators.
A number of other quarterbacks have gained the attention of scouts, but as of now are considered a notch below the top tier. Delaware's Pat Devlin continues to draw comparisons with Joe Flacco and continues to rise. The Penn State transfer could rise more as the season goes on.
The success of Boise State has put the spotlight on Kellen Moore, but scouts are split on him. Some think Moore has the potential to develop into a Drew Brees type of quarterback. Others think he's no more than an NFL backup who is the beneficiary of being in a great spot. Right now, he looks like a solid second round pick.
Two quarterbacks known mostly for their athleticism also have created a buzz this year. Terrelle Pryor of Ohio State might be a better NFL prospect than many thought he would be. But the jury still is out on Pryor. He needs to show he can make good decisions consistently. Nevada's Colin Kaepernick is probably a more accurate passer than Pryor, and he has similar athleticism.
The draft stock of Arizona's Nick Foles also is pretty high. Foles is a solid player who doesn't make a lot of mistakes, but he hasn't been helped much by the players around him.
One Man Yelp: Find a Way
I've always liked Merrill Hoge. I liked watching him as an all-around fullback for the Steelers. I've liked watching him on the NFL Matchup Show on ESPN. And I've liked him as a person.
I like him even more after reading Find A Way: Three Words That Changed My Life, the autobiography he wrote with Brent Cole. It's an inspirational story about what Hoge has overcome (a negligent father, losing his mother at an early age, concussion problems and cancer, among other things), and how he has done it.
When Hoge was 12, he writes, he tacked a note card onto the corkboard behind the headboard on his bed. It read, "I will play in the NFL." He thought about it for a minute, and about all the people who would tell him he couldn't. And then he made another note to tack on the board. It read, "FIND A WAY."
Hoge's indomitable spirit comes though on every page, including when he talks about his idol Walter Payton. He writes about remembering an interview with Payton he saw when he was a teenager. Someone asked Payton what made him better than the rest. He said, "It's really simple. I want it more than they do on Monday, Tuesday, Wednesday, Thursday, Friday, and Saturday. You just see Sunday."
After Payton had died, Hoge learned that Payton had told a friend that Hoge was one of the players he enjoyed watching most in his retirement.
Hoge can make us laugh too. He writes about wanting to show up the great Eagles defense of Reggie White, Jerome Brown and Seth Joyner. On one carry, he writes, "I took two steps and threw myself full force into Joyner and his giant battlemates. What happened next had never happened to me before. The moment we collided I lost all control of my bodily functions . I filled my pants like a one-year old."
A lot of people would not tell that story. But Hoge shares it all with us, and that's what makes his book work so well.
*This month's issue of Muscle and Fitness has the 2010 NFL Strength Team, which includes Joe Flacco, Adrian Peterson, Vernon Davis, Anquan Boldin, Mario Williams, Dwight Freeney, James Harrison, Patrick Willis and Ed Reed. The magazine also features workout tips from Flacco, Davis, Peterson, Harrison, Freeney and a feature on cover boy Miles Austin. The Cowboys star does not look like your father's wide receiver, by the way. Dude is big, and ripped.
Hot reads
*All incoming rookies take note: it would have been a lot less painful for Dez Bryant to carry veterans' pads than to pick up a $55,000 dinner tab.
*Nice move by the Jaguars to pick up Trent Edwards. You don't often find a talent like him on the waiver wire, even if he is a reclamation project.
*It's too early for bye weeks. Nobody appreciates a bye yet.
*I hope you can join me and my colleagues for the NFP Chalk Talk Seminar at the University of Chicago School of Business on Oct. 22. Andrew Brandt, Matt Bowen, Jack Bechta, Greg Gabriel and Brad Biggs will give you an inside look at how the NFL and its satellite businesses work.