August 18, 2013 -
Dan Pompei
NFP Sunday Blitz
As noted here several weeks ago, and as has become pretty obvious to everyone by now, the injury to Rob Gronkowski and the release of murder suspect Aaron Hernandez has left the New England Patriots woefully thin at tight end. But the Patriots also appear perilously inexperienced at wide receiver, as coach Bill Belichick and his offensive staff opted to dramatically turn over the depth chart at the key position, and to rely of an influx of youngsters.
The takeaway, though, on the remaking of the New England wide receiver corps: The change basically was a conscious one, the conclusion to go younger, and potentially more explosive on the outside, largely a decision that was arrived at relatively early in the spring, after an extensive evaluation of the passing game. Unlike the situation at tight end, over which New England had no control, it's hardly coincidence that the Patriots have so many fresh faces at wide receiver.
Yeah, maybe the changes wouldn't have seemed quite as extensive had slot receiver Wes Welker stuck around instead of defecting to Denver. But even had Welker agreed to an extension, New England coaches and officials had essentially decided to get serious about the development of younger, quicker, more vertical outside receivers after several seasons of utilizing veteran stop-gaps and striking out on some young prospects.
Notable is that the last "home-grown" wide receiver to have more than 40 catches in a season – not counting Deion Branch, who notched 51 in 2011, but in his second tour of duty with the Pats – was in 2006. Belichick hadn't invested heavily in the wide receiver position during his tenure until this year. But when he had, players such as Chad Jackson, Brandon Tate, and Taylor Price had bombed out.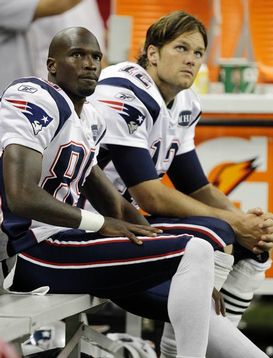 Chad Johnson flopped during his one season in New England, just before veteran Brandon Lloyd failed to meet expectations.
"We had been filling in, kind of 'patch-working' things (at wide receiver), because that's the way the chips fell," one team official told the NFP. "So maybe it was time to take some guys and develop them. . . . By and large, the (young wide receivers) have done pretty well, mentally and physically, so far. (Tom) Brady is going to make a lot of people look better. But these guys look like a pretty good bunch."
Statistically, the Patriots ranked No. 4 in the NFL in passing offense in 2012, so the easy call might be that there wasn't much room for improvement. But there were also some "numbers within the numbers" that definitely caught the attention of club insiders. New England averaged 12.05 yards per reception, and only nine teams were better than that, but that group included both Super Bowl franchises. The team's yards-per-attempt mark – a stat far more critical to coaches and scouts than to most fans – was 7.56 yards. That was the lowest for New England since 2008 (when it was 7.10 yards), the season in which Brady suffered a knee injury in the opener and Matt Cassel started 15 contests. In the seasons in which Brady started more than just one game, it was the Pats' lowest since 2006, when the number stood at a miniscule 6.81 yards. New England rated high in receptions of 20 yards or more, so-called "explosive plays," but was middle-of-the-pack in 40-yard catches. Tampa Bay, for example, which rated 10th in passing offense but had nearly 700 fewer yards than New England, had double the number of 40-yard plays.
It's convenient to suggest that the Pats aren't as concerned with yards per attempt, since they are designed to be a chain-moving offense, one that controls tempo and pace with its intermediate passing game, and that they don't necessarily gun the ball up the field. But Belichick, who has now gone eight seasons since his third Super Bowl championship, has never been about maintaining the status quo. His hackneyed axiom about "turning the page over" every season? He actually believes it. And he doesn't believe in just standing still. While the conventional wisdom is that Belichick eschews playing youngsters, that isn't really the case.
New England's personnel department, as usual, was just trolling for talented players in the draft. But if some of those players just happened to be wideouts, well, that wouldn't hurt. The club snatched a pair of wide receivers, Aaron Dobson of Marshall (second round) and TCU's Josh Boyce (fourth round), in April. It also added three undrafted wide receivers, most notably Kenbrell Thompkins of Cincinnati. All three rookies have flashed big-play prowess in training camp, and probably rate among the team's top five players at the position (even counting slot receivers, like Danny Amendola, who will replace Welker inside) halfway through the preseason.
All of the cases are interesting, but Dobson's kind of exemplifies the manner in which the Pats perhaps dug a bit deeper. A big receiver (6-feet-3, 210 pounds) with sub-4.4 speed, Dobson was projected by several teams to be a third- or fourth-round prospect. At Marshall, he played primarily in a "spread" offense, but his yards per catch were reduced every season. He caught a lot of "slip" screens and slants, but not a lot of deep balls. One reason, a few teams, including the Pats uncovered: While his quarterback, Rakeem Cato, had a sterling 69.5-percent completion rate in 2012, he didn't throw the deep ball particularly well. What stood out about Dobson in part, people saw on tape, was that he was often open when he ran deep, but rarely got the ball. The other stat that jumped out was that Dobson put the ball in the end zone with regularity. Not only did he register 12 touchdown receptions in 2011, but he averaged a score every 6.9 catches for his college career.
"You can't miss that," said an area scout for an NFC team that probably would have jumped on Dobson in the third round, had he lasted.
The Pats, who have missed on too many wide receiver prospects over the years, seem confident at this point that Dobson and the other rookies will be very solid contributors to their revamped passing game in 2013. The kids are going to have to be good, because there isn't much beyond them.
The release of nine-year veteran and former first-rounder (albeit well traveled) Michael Jenkins last week left 10 wide receivers on the roster, five of them rookies, and six of whom have never played in a regular-season game. Counting two-year veteran Kamar Aiken, seven of the group have played in three games or fewer. The only wideouts with much experience are newcomer Amendola and holdovers Julian Edelman and Matthew Slater, and the latter has principally been a special teams player during his five seasons, with only three career starts. Amendola accounts for 196 of the receptions, 1,726 yards and seven touchdowns from the group's cumulative 266 catches, 2,486 yards and 11 scores. Jenkins had 354 receptions, 4,427 yards and 25 touchdowns, while appearing in 130 games, with 79 starts. The Pats' current 10 wideouts have an aggregate 168 appearances and 33 starts. Still, the team knew exactly what it was doing when it overhauled the position. There are, to be sure, a lot of subplot reasons to watch the Patriots closely this season. But the conscious design to green up the wide receiver corps, and to finally draft and then develop talent there, is certainly one of them.
+AROUND THE LEAGUE
*First-round draft choice Sheldon Richardson of Missouri, the 13th player chosen overall in April, is getting solid reviews in the New York Jets' camp. And while the Jets still hope that second-year veteran and former first-rounder Quinton Coples (5.5 sacks as a rookie) grows into the edge rusher that Rex Ryan has yet to develop in his previous four seasons on the job – despite the perception that Ryan's defense creates sacks, the Jets have never registered more than 40 in his tenure and never had an outside linebacker net more than eight – Richardson seems to be continuing the club's estimable track record for developing active linemen in the 3-4. All three of the team's presumptive starters – Muhammad Wilkerson and Kenrick Ellis, in addition to Richardson – have come in the past three drafts. Wilkerson and Ellis were first- and third-round choices, respectively, in 2011. The ability to choose and then grow down linemen, for which Ryan probably doesn't get enough credit, has enabled the Jets to overhaul their three-man front while few were paying attention.