October 10, 2010 -
Dan Pompei
NFP Sunday Blitz
Did anyone think we'd ever see the day when Randy Moss would be back in purple? Well, tomorrow is that day.
More than five seasons have passed since Moss last played for the Vikings. When he left Minneapolis back then, a lot of people in the organization and in the stands were thrilled to see him go.
So much had happened. There was the "I play when I want to play," comment in 2001. He was rude to a group of sponsors on a team bus and fined $15,000 by the team. Moss was arrested on two misdemeanor charges for knocking down a female traffic officer with his car in 2002. He walked off the field early in the last regular season game with the Vikings, drawing the anger of teammates. Then, in a playoff game at Lambeau Field, he pretended to moon the crowd. He was fined ten large by the league.
Moss wore out his welcome in Minneapolis, just as he subsequently has in Oakland and New England. But that was then.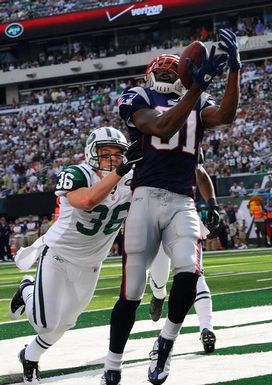 ICONRandy Moss will have a chance to burn the Jets today as a member of the Vikings.
Now, all has been forgiven, if not forgotten. "This is America, isn't it?" said Mike Tice, who was Moss' head coach for his last five years with the Vikings. "People love people who do good things. It's easy to jump on bandwagons in this country."
Tice certainly harbors no ill will for Moss. He said he gets a text message from Moss every Father's day. And they talked a number of times last offseason.
"Randy has still got some play in him," Tice told me. "I know he wants to continue to play, and I knew he wanted to get paid. Maybe he's going to a place he thinks he can get paid. He just wants to win. He's always been like that."
Tomorrow at New Meadowlands Stadium against the Jets, Moss will get a chance to show how much he wants to win.
Things I didn't used to know
*The most dominating defender in the NFL this year so far is Haloti Ngata. The Ravens defensive lineman always has been a beast against the run, but he's taken his pass rush to a higher level this year. Ravens coaches have brought out the best in Ngata by allowing him to get on the edge of blockers instead of straight two-gapping, and by playing him more at the defensive end position.
*Sam Bradford's new BFF is Joe Flacco's old BFF. Mark Clayton quickly has become Bradford's go to guy and has been one of the most productive receivers in the league through the first quarter of the season. His rapid acclimation to the Rams system has amazed even the guy who traded for him, Billy Devaney. The Rams G.M. points out Clayton only had a few practices before his first game to learn a completely different offense, and Clayton has made few mistakes. Devaney acquired Clayton and a seventh round pick from the Ravens on Sept. 6 for a sixth round pick.
*It looks like Sedrick Ellis finally is starting to play like a top 10 pick in the draft, which he was in 2008. Saints general manager Mickey Loomis tells me he thinks Ellis has followed what is a typical evolution for a defensive tackle. Ellis has improved his technique and is playing within Greg Williams' scheme better in his third season. It also helps that Ellis finally is healthy.
*Another young defensive tackle in the NFC South, Peria Jerry, is making steady progress coming back from his ACL injury. The 2009 first rounder is being brought along slowly by Falcons coaches, and his snaps are being limited. His speed and quickness have flashed a few times, but the Falcons figure he won't be completely back until next season.
*In order to replace Kyle Vanden Bosch, the Titans are taking a committee approach, and it's working pretty well. Vanden Bosch used to play almost every snap because he refused to come off the field, according to coach Jeff Fisher. But now the ends, as well as the tackles, are rotating every four or five snaps. The team has used essentially used two defensive lines, or two platoons. Fresh pass rushers have been productive pass rushers for the Titans. Through four games, the Titans have a dozen sacks from their ends, with Dave Ball and Jason Babin leading the way. They are going to miss injured first round pick Derrick Morgan, however. The rookie end who had two sacks. went on injured reserve last week.
*One of the Panthers who is being charged with replacing Julius Peppers grew up as a fan of Peppers. When Carolina end Everette Brown was a kid, his father took him to watch Peppers' high school football and basketball games. "I thought he was going to be the next Michael Jordan," Brown told me. Brown also watched Peppers at North Carolina and when he got the Panthers. They were teammates for a year before Peppers bolted to Chicago in the offseason. Even though Peppers and Brown have completely different styles, Brown said he learned from Peppers. He'll have a chance to show Peppers what he learned when the Bears visit the Panthers today.
*I'm hearing Dolphins ownership is becoming more involved and demanding of team management. Things could get ugly if the Dolphins struggle this year.
My Sunday Best: Stadiums in the East
I've visited two NFC East stadiums this season for the first time this year—Cowboys Stadium and New Meadowlands Stadium. I now have attended NFL games in 56 stadiums, by my best count.
Here is how I rank the stadiums in the NFC and AFC East.
1. Cowboys Stadium. This place is spectacular, like no other building I've ever seen. It's enormous, and it seems like everything about it is first class, from the fixtures to the artwork. Everything about Cowboys Stadium screams "BIG EVENT." The adjustable seating feature is pure Jerry Jones genius. The hole in the ceiling, the fountains and the Party Pass area provide wonderful ambiance. The enormous video screen is almost too captivating—you want to watch the video instead of the live action on the field.
2. Lincoln Financial Field. This stadium reflects its city well. You can see downtown Philly through the open corners of the north end zone, and the vertical design make this a noisy, intimidating place to play.
3. Gillette Stadium. Getting there is hell, but being there is heaven. Gillette is the most difficult stadium to get to and from in the NFL. There are nice local touches—the signature lighthouse and a map of New England made of granite from each of the six states. The adjoining Patriot Place, with a hotel, shops and team museum, make this a destination as much as a stadium.
4. New Meadowlands Stadium. I have to tell you I was disappointed because this place has little charisma or personality. With its aluminum exterior and gray seats, it has a very cold feel to it. This is a very functional stadium, and there is nothing really wrong with it. But there is nothing distinct about it either. What I liked best? The video boards in the corners. And the urinals. Great urinals.
5. Sun Life Stadium. The Dolphins share their home with baseball's Marlins, which makes for a terrible playing surface and a below average seating configuration. There isn't much to distinguish this place, unless you like spiraling ramps.
6. Ralph Wilson Stadium. This is a stadium only Buffalo could love. It's old, it's cold and it's not very comfortable. It's most distinguishing feature probably is the swirling, biting winds that always seem to be blowing.
7. FedEx Field. RFK Stadium had style and charm. This place has no soul. It's a monstrous stadium with a massive corporate presence—America at its worst. There is even a Hooter's on site. The stadium is in the middle of nowhere, and traffic is a nightmare. Parking is atrocious.
Numbers games: Pass rusher efficiency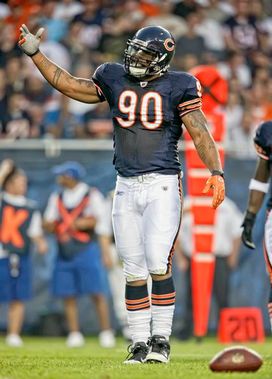 ICONThe Panthers didn't always appreciate Peppers, but he's been one of the most productive pass rushers in football.
Julius Peppers makes his return to Carolina today when the Bears visit the Panthers. In Carolina, Peppers was sometimes criticized for not doing enough. But the numbers show he has been one of the most productive pass rushers in the NFL.
In order to evaluate a pass rusher's production, I use a formula I call pass rusher efficiency. I give two points for a sack or a forced fumble, one point for a pass defended or hurry or quarterback knockdown, as defined by Stats, Inc.
From 2006 through the first four games of 2010, Peppers has been the third most productive pass rusher in the league according to this formula. Here are the top 10, with point totals.
1. DeMarcus Ware, Cowboys—358
2. Jared Allen, Chiefs/Vikings—337
3. Julius Peppers, Panthers/Bears—292
4. Trent Cole, Eagles—269
5. Dwight Freeney, Colts, 267
6. Mario Williams, Texans, 253
7. Aaron Kampman, Packers/Jaguars 249
8. John Abraham, Jets/Falcons—239
9. James Harrison, Steelers—226
10. Terrell Suggs, Ravens—215
Some interesting points:
*Four of the top 10 players have switched teams over the last five years. You wouldn't think teams would allow great pass rushers to leave.
*Ware had more sacks, more combined hurries and knockdowns than any other player.
*Suggs led the pack in passes defended with 28, which makes sense because he drops in coverage more than most of these players. Of the players who are strictly down linemen, Allen has the most passes defended with 27, followed by Peppers with 24.
*Harrison has more forced fumbles than anyone with 44.
Scout Talk: Bradford versus Stafford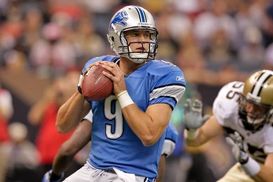 ICONMatthew Stafford's strong arm and great athleticism made him the top pick in the 2009 draft.
The first pick of the 2009 draft and the first pick of the 2010 draft will be on the same field today when Matthew Stafford's Lions take on Sam Bradford's Rams. Stafford won't play because of a shoulder injury, however.
There was a time in 2008, before Bradford hurt his shoulder, when many thought both he and Stafford both would be available in the 2009 draft. Bradford of course decided to return to Oklahoma for another year. But had he come out, the Lions would have had an interesting decision to make with the first pick of the 2009 draft.
Back then, three scouts I spoke with had Bradford as a higher rated prospect. One scout liked Stafford better, mostly because he suspected Bradford had succeeded at Oklahoma in part because of all the talent around him. He also pointed to Stafford's superior arm strength.
On the one hand, you had the strong armed, athletic passer in Stafford who was everything you looked for physically. But he gave scouts pause because his accuracy was inconsistent, he tended to force balls and he threw too many interceptions.
On the other hand, you had the instinctive, poised quarterback who always seemed to do the right thing with the ball in Bradford. But he wasn't as athletic as Stafford. His release wasn't the quickest. And he didn't have the same kind of canon for an arm.
Bradford may have been a safer pick. Stafford may have more potential.
As they develop, the quarterbacks may provide a litmus test for scouts. Which one would you have picked if you had to choose?
One Man Yelp
*A growing number of NFL players, including Drew Brees, LaDanian Tomlinson, Aaron Rodgers and Reggie Bush, are spending some of their offseason training with Todd Durkin in San Diego. He shared some of his "secrets" with Men's Health Magazine.
Among them: Tempo of the workout is key, meaning he wants an elevated heart rate throughout the workout. He is an advocate of high intensity interval training.
He focuses on speed, agility and quickness, and says too many athletes focus on lifting big weights. For instance, he has his athletes catch tennis balls while sliding.
Durkin says everyone should be doing three exercises: pull-ups, pushups and lunges.
*If you love reading about the NFL, you probably are familiar with the work of Len Pasquarelli. A longtime fixture at ESPN.com and one of the best in the business, Pasquarelli recently jumped ship and joined The Sports Xchange. You can read him at cbssports.com. His Friday Tip Sheet is a can't miss.
Hot Reads
*Even though Kyle Orton is on pace to shatter Dan Marino's record for passing yards in a season, he won't do it. Someone will at some point soon, but throwing the ball all over the field isn't the way the Broncos want to play. And the Broncos probably aren't adept enough to sustain their production pace throughout 16 games.

*When Shawne Merriman was on top of his game, he was one of the best outside linebackers I've ever seen. But he hasn't been on top of his game in three years. He's still not healthy, but he has a healthy salary. This is not a good time to trade him.
*The trade of Randy Moss could not have gone over well in the Patriots locker room. It's difficult for anyone to say the Pats are a better team without Moss—even if he did have a reduced role.
*It used to be the only time assistant coaches would be fired was right after the season. Last year, we saw a few go down in training camp. Now, we've seen the Dolphins fire John Bonamago in season. It's all part of the pressurization of the NFL. There are two choices: win now, or fire someone.
*I hope you can join me and my colleagues for the NFP Chalk Talk Seminar at the University of Chicago School of Business on Oct. 22. Andrew Brandt, Matt Bowen, Jack Bechta, Greg Gabriel and Brad Biggs will give you an inside look at how the NFL and its satellite businesses work.