September 23, 2012 -
Dan Pompei
NFP Sunday Blitz
Youngsters aren't the only ones who look up to big receivers like 6-5 Calvin Johnson and 6-4 A.J. Green. So do NFL cornerbacks.
Out of the 169 cornerbacks who were on NFL rosters as of last Tuesday, only 53 of them were 6-0 or taller.
It's not because NFL teams don't want tall cornerbacks. They do. They just can't get them.
"Those six foot corners are hard to find," one AFC personnel director said. "Other than quarterback, cornerback has become one of the most important positions on the field, and everybody wants them, especially the tall ones."
Everybody wants them because so many receivers have to duck when they go through doorways. There were 106 receivers on NFL rosters last week who were 6-0 or taller, or exactly twice the number of 6-0 corners.
Some teams emphasize height at the cornerback position more than others. The Steelers, for instance, are tall cornerback hogs with four corners who are six footers, and their fifth, Curtis Brown, is a shade under six foot tall. Other teams with multiple tall corners include the Seahawks, Jaguars, Eagles, Packers, Bills, Giants, Rams, Ravens, Bengals and Panthers.
When Nick Saban was coaching the Dolphins, he wasn't interested in a cornerback who wasn't at least 5-11.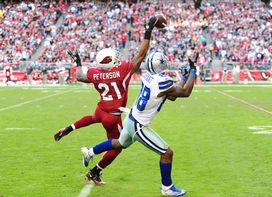 Patrick Peterson has height, reach and ball skills--which is why he is the ideal cornerback.
An NFC personnel man pointed out that if a corner is tall and has speed, change of direction skills, willingness to tackle and ball skills, he is a top 10 pick—like Patrick Peterson of the Cardinals. But there aren't many like him.
"We've been trying, but how many come out every year?" Seahawks general manager John Schneider said. "Guys who can really drive, there's maybe three or four. There are a lot of taller guys who can't break on the ball that well."
So teams look for different ways to acquire tall corners. Schneider found Pro Bowler Brandon Browner in the Canadian League. The Eagles tried a varied approach, drafting Curtis Marsh, trading for Domique Rodgers-Cromartie and signing Nnamdi Asomugha as a UFA. The Jaguars drafted Rashean Mathis and Derek Cox from schools that were off the beaten path, Bethune-Cookman and William & Mary.
Every team prefers height at the position. But it's not as necessary for some, depending on the techniques they ask their cornerbacks to play. Teams that press a lot need bigger corners. Zone teams can get away with having quicker, smaller cornerbacks as long as they are tough and can play the ball in the air.
Some teams prefer a combination of taller and shorter corners so they can use different coverages and match up with different types of receivers. For all the benefits of taller cornerbacks, the large majority of them can't mirror, change directions and burst like shorter ones.
"You can't expect a corner who is over 6-0 to move like a 5-8, 5-9 guy," Jaguars general manager Gene Smith said. "They aren't going to have the same fast twitch, so there is some give and take. We are looking for bigger corners, but we don't want to compromise speed in doing so. Sometimes the bigger corners aren't as fast and are tighter in the hips."
It is no coincidence that four of the five corners who had the most defensive holding penalties in 2011 were tall ones: Stanford Routt (6-1) had eight, Antonio Cromartie (6-2) had five, Browner (6-3) had four and Ike Taylor (6-1) had four. The only cornerback with at least four holdings who is not 6-0 is Orlando Scandrick, at 5-10.
Many teams are willing to live with a tall cornerback's deficiencies because they can neutralize wide receivers. "They force the quarterback to be more accurate because they cover up some of the receivers," Smith said. "There are some big receivers out there, but in general there is less surface for the quarterback to throw at with a big corner. Bigger players present a bigger obstacle to throw around."
This is particularly beneficial in the red zone. "Shorter corners tend to play fairly well between the 20s, but when you get in the red area, the bigger corners can be more of an asset with jump balls and things of that nature," Smith said.
One front office man said his team is fine with 5-10 corners as long as the player has long arms. Having long arms enable a cornerback to play taller than he is. "They can reach for balls downfield, reach for balls coming back and compete better for contested balls," Schneider said.
Long arms help a corner in press coverage too. It's difficult for a short-armed corner to get a good jam and then turn and run because he has to get too close to the receiver.
A cornerback with 32 inch arms is ideal. Trumaine Johnson is 6-1