August 15, 2010 -
Dan Pompei
NFP Sunday Blitz
When Panthers coaches learned weakside linebacker Thomas Davis would be out awhile, they asked middle linebacker Jon Beason if he wouldn't mind changing positions.
Beason was a Pro Bowler at Mike, and the leader of the Panthers defense. He was comfortable there and felt his skills were best suited there. But he also is a good soldier. So there he is at a new position in his fourth season.
And this isn't the first time Beason has switched. At the University of Miami, he started out at safety. Then he was asked to switch to offense. He became a fullback. Finally, he settled in at weakside linebacker.
After the Panthers drafted him in the first round in 2007, they lined him up at weakside linebacker. But on a Thursday in Week 5 of his rookie season, Beason was asked to switch to middle linebacker. He started at the position three days later, and was a Mike all the way up until this offseason.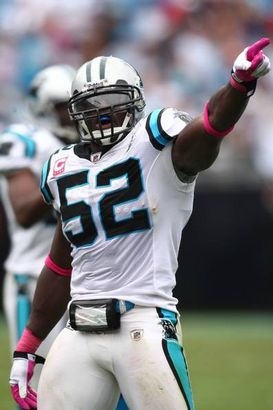 ICONHe may not be at the Mike spot, but Jon Beason is even more of a leader now.
"You can look at it like--I am only a Mike linebacker--or you can be selfless and give whatever it takes to help the team win, which is what my high school coach taught me," Beason said. "That has made it easier for me to make transitions."
Beason knows in his new position that he'll be challenged in coverage more, sometimes even by wide receivers. So in the offseason, he got in the best shape of his life by following a strict diet tailored to his needs. His portions were each weighed. He trained twice daily and got his body fat down to 4.7 percent.
And even though Dan Connor now is the middle linebacker for the Panthers, Beason still carries a little of the position with him. Beason has the green dot on his helmet—meaning the coaches give him defensive calls in an earpiece and he relays the information to teammates.
Beason isn't any less of a leader because he's not a middle linebacker anymore. He's more of one.
Things I didn't used to know
*Ndamukong Suh might be a better player for the Lions than he was at Nebraska. Lions coaches tell me they hope that's the case because Suh fits so well in there scheme. With the Huskers, Suh played with his feet even and his body balanced in more of a read scheme. With the Lions, he will play with his feet staggered and his rear end up in more of an attacking scheme. That should play into Suh's strength, quickness and athleticism. Lions defensive coordinator Gunther Cunningham, a veteran of 28 NFL seasons, told me he never has seen a man Suh's size as athletic as he. How athletic? Suh, a former track, baseball and soccer star, recently nailed a field goal from about 40 yards at a practice, and word is it would have been good from 60.
*Learning a new offense does not appear to be a big deal for second round pick Jimmy Clausen. The Panthers' offense is 80 to 85 percent the same as the offense Clausen played in at Notre Dame. Panthers offensive coordinator Jeff Davidson was an assistant on the same Patriots staff with former Notre Dame coach Charlie Weis for four years, and both use derivatives of the offense that was in play in New England. What's more, Panthers head coach John Fox tells me Clausen is "as sharp a quarterback as I have been around."
*He may be a safety now, but Chris Harris of the Bears could be a future defensive coordinator. Harris, who is known for his ability to read offenses and get teammates in proper position, aspires to be a coach. He often will draw up plays and offer suggestions to his coaches. His presence should be a big boost for the Bears, who have not had a defensive quarterback anywhere near his level since they traded Harris three years ago.
My Sunday Best: Tough guys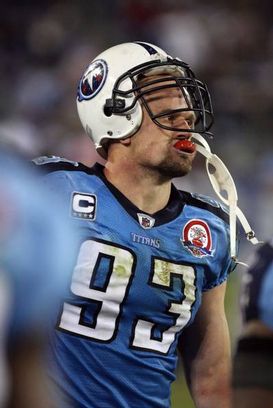 ICONKyle Vanden Bosch is one of the hardest workers in the league.
When I visited the Lions recently, coach Jim Schwartz told me in his opinion defensive end Kyle Vanden Bosch might be the hardest worker and toughest player in the history of the National Football League. It got me thinking about some of the toughest players I have been around. That disqualifies the Jack Lamberts, Jack Youngbloods, Ray Nitschkes and Dick Butkuses of the world. Here is my list, alphabetically, and I preface it by saying anyone who lasts in the NFL is tough. They have to be, or they would wash out. But some stand out.
Mark Bavaro. When you think about players who refused to go down, Bavaro is at the top of the list. He could have played in any era.
Chuck Cecil. The term "reckless abandon" comes to mind. Has his face stopped bleeding yet?
Earl Campbell. One of the most physical runners in history. When a defender collided with Campbell, it was going to hurt them more than him.
Brett Favre. Who starts 285 straight games? And who does it at the quarterback position? It may be the most incredible football record ever.
Doug Flutie. At 5-8, 180 (maybe), he played 21 years and 241 games in professional football before retiring at the age of 43. You don't think that's tough? He also separated his shoulder in training camp while playing for the Chargers, kept playing and didn't tell anyone about it for two weeks.
Rodney Harrison and John Lynch. These were the two most intimidating safeties of an era. What they shared in common was a natural ability to hit harder than almost anyone else on the field.
Dan Hampton and Steve McMichael. The defensive tackles were the heart of the best defense I've ever seen, playing through knee injuries, sacrificing for the team and then clearing out taverns when they were done. When they would stand in the middle of the field on a frigid day, bare arms on their hips, staring down the opponent, everyone knew they meant business.
Ray Lewis. I'm not sure I've ever seen the will of one man transform games as routinely as I've seen it with Lewis.
Ronnie Lott and Mike Singletary. They are a package in the finger category. Of course they were two of the hardest hitting defenders of an era, and both were leaders of men. But they also each are known for how they dealt with finger injuries. Lott had the tip of his pinky amputated after it was crushed in a game. Singletary lost the tip of his middle finger in a game and was told he was done for the day. He refused to be held out of the game—his hand was bandaged up and he went back out.
Peyton Manning. With 192 straight starts, Manning is a younger version of Favre in terms of toughness and durability. He once played with a broken jaw.
Walter Payton and Emmitt Smith. With 8,247 carries between them, they never stopped coming. These two showed why durability is next to godliness in running backs.
Hines Ward. How many wide receivers have ever broken a linebacker's jaw? Ward did it to Keith Rivers. It's one thing for a receiver to scare defensive backs with speed or moves. Ward does it with physical play.
Kurt Warner. No quarterback I've seen ever has stood as tough in the pocket as this guy.
Numbers games: Replacing Darrelle Revis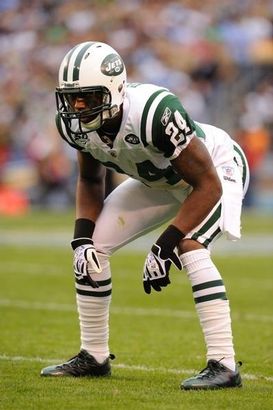 ICONThe absence of Darrelle Revis would be tough for the Jets to handle.
Hardly anyone expects for the Jets to be without holdout cornerback Darrelle Revis for very l ong. But the Jets would be hurting without him.
Consider this. Last year opponents did not shy away from throwing at Revis. According to Stats, Inc., Revis had 108 passes thrown his way. Only four corners—Bryant McFadden of the Cardinals, Ike Taylor of the Steelers, Jonathan Joseph of the Bengals and Domonique Rodgers-Cromartie of the Cardinals—had more passes thrown to receivers they were covering.
It's what Revis did with those pass attempts that illustrate his value. Opponents completed 37 percent of their attempts against Revis.
Without Revis in the lineup, Antonio Cromartie would be the Jets' shutdown corner. Chargers opponents last year completed 56 percent of their attempts against Cromartie.
And Revis managed to get a hand on the pass or an interception 34 percent the time—easily the highest percentage in the NFL. Cromartie, by comparison, had a pass defensed or interception only 17 percent of the time.
Now let's compare Revis to the other corners who saw more action than he did. Opponents completed 16 percent more of their attempts against McFadden than Revis; 20 percent more of their passes at Taylor than Revis; 13 percent more of their passes at Joseph than Revis and 10 percent more of their passes at Rodgers-Cromartie than Revis.
McFadden and Taylor defended or intercepted passes thrown at them 13 percent of the time. Joseph did it 24 percent of the time, and Rodgers-Cromartie did it 28 percent of the time.
So now we see why Revis thinks he's worth more.
Scout talk: Preseason games
Preseason games typically draw fewer fans than regular season games, but more scouts. Pro scouts usually cram press boxes to get a look at players on expanded rosters. Some scouts will travel to three preseason games in a weekend.
What are they looking for? Well, typically, they have a number of players circled on their rosters who they think might be cut. They think those players might be better than players on the bottoms of their rosters. After the games, they write up reports comparing players they have seen to players on their own rosters.
They scrutinize bubble players on other teams, making notes about their body types, their temperament on the sideline, how they prepare in the pregame, whether or not their mind is in the game and how they interact with teammates. They are looking for things they can't see on game tape.
The other value for pro scouts is to get an early look at regular season opponents. They time offenses to see how quickly they get back into the huddle between plays. They get a feel for how long it takes for them to change personnel and to get the play in from the sidelines.
But scouting preseason games mostly is about finding personnel to poach.
One man yelp: Bigger Than The Game

Michael Weinreb's book Bigger Than The Game talks about how sports in America changed in the 1980s. He tells the unconnected stories of Jim McMahon, Bo Jackson, Len Bias, Michael Jordan and others to explain how athletes took celebrity to a new level and came to dominate pop culture.

Some of the anecdotes are amusing (there isn't much new here), but ultimately this is kind of a sad story. It's about how individuals have become bigger than their teams, and about how popularity has become a substitute for victory. I couldn't help but wonder if sports wouldn't be better off if the phenomenon that Weinreb writes about had never happened.

Really, wasn't it a better sports world in the 1960s and 70s than it is today?
*The realization really hit me 14 years ago this month, a few days after my dear mother passed away. She was a bit of a pack rat, and as I went through her things I thought, "You really can't take it with you."
I've gotten better about collecting things since then, though, like most of us, I still have too much junk and am more materialistic than I'd like to be. I recommend this interesting read about how possessions do not enhance quality of life.
Hot reads
*Happy trails to retiring Derrick Brooks, one of the best and classiest players the league has known. Brooks helped define a new style of linebacker, and left a big footprint on the NFL.
*If all anyone is talking about the day after the premier of Hard Knocks is what a potty mouth Rex Ryan has, I think NFL commissioner Roger Goodell should have something to say about future shows.
*Lions rookie cornerback Amari Spievey doesn't get it. First he reported to camp overweight and out of shape, ticking off coaches. Then he predictably got hurt. And to top it off, he asked Hall of Fame tight end Charlie Sanders if he used to be a running back for the team.
*Does anyone really believe Mike Williams is going to become a force at wide receiver for the Seahawks just because he is reunited with Pete Carroll? I need to see that before I believe it.
*I'm not sure losing 15 pounds was the best thing for Cowboys halfback Marion Barber, who has made his living trying to punish defenders. A lighter Barber could be a less effective Barber.
Email Dan your questions at dan.pompei@nationalfootballpost.com
Click here to purchase the Total Access Pass/ Fantasy Draft Guide from the NFP and receive a free Deuce Brand watch while supplies last.