April 28, 2013 -
Dan Pompei
NFP Sunday Blitz
Second round picks aren't supposed to be the stars of the draft. But no player generated more buzz over the three day draft than Manti Te'o.
His profile was so high, in fact, that the Chargers felt they had to trade up seven spots to the sixth spot in the second round in order to secure him. They gave up a fourth round pick to do the deal. But he was well worth it in the mind of new general manager Tom Telesco because he valued Te'o as a first round pick.
"When he didn't go off in the first round, I came in Friday morning and started making some calls to people in front of us to see if anyone was willing to move down," Telesco told me. "Just by looking at that second round, I didn't know if there were many teams in front of us who would take him. I was more concerned about teams behind us that may have come up to get him. Especially because he was more high profile. We were able to get up and get him and I'm really happy about it."
Telesco's knew more about Te'o than most GMs, and he subsequently felt more comfortable with him. He was hired by the Chargers three months ago. Previously, he worked as the personnel director for the Colts, where his office was about a two hour drive to Notre Dame. He watched Te'o play a game in person every year of his college career, and maybe saw six college games of his live.
What's more, he went to college and played football with the Notre Dame assistant who knew him as well as anyone. Telesco and former Irish special teams coach Brian Polian, son of Bill, were teammates at John Carroll University. They even knew each other when they were in high school.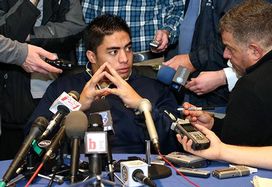 Te'o won't face the same kind of scrutiny in San Diego that he did in South Bend.
"We get to spend some time with these kids, but the college coaches are with them every day," Telesco said. "The coaches who recruited them knew them in high school. They know the families well. If you have people you trust and you know they are giving you the real thing, you feel a lot more comfortable. Brian was the point guy in recruiting him. He was making trips every other week to Hawaii in the recruiting process. When they have been around the kid for a number of years, they have a feel for the kid. There was no smoke out there at all. We knew he loved football."
So the Chargers had no misgivings about Te'o's girlfriend who never was. "You do your research on it," Telesco said. "All I can come up with is he got duped by somebody. It happens. He handled it really well in the aftermath, which is key. We did our research. We're fine with it."
They also were not scared off by the 4.81 40 yard dash he ran at the combine. "I never thought he was a 4.55, 4.60 linebacker," Telesco said. "I wasn't expecting him to run fast. I think his pro day time (4.71) was more reflective of what he is. What stands out to me with him is his instincts, block awareness, feel for the game and preparation. He's a 4.72 or 4.75 guy who plays more like a 4.6 guy. He has all those things in his head that can compensate for that."
It helps that the Chargers scheme will not often require Te'o to sprint downfield. "If we were a Tampa 2 team and he was asked to carry down the middle of the field, it would be different," he said. "It's going to be more zone drops. He has incredible awareness in the passing game. I think he'll be a three down linebacker."
The Chargers believe Te'o will play faster because of how he sees the field. Telesco raved about his instincts, passion and football IQ—which he says is one of the highest he's ever been around.
How does he judge football IQ? "From tape, conversations with him, having him watch tape with us. Explain what's going on. What's the call here? What are your responsibilities? Our coaches would teach him something and ask him to redo it an hour later on the board. His recall was like clockwork. He nailed it all. He almost has a quarterback type mind."
Other NFL execs were congratulating the Chargers on drafting Te'o because many believe Te'o landed in the perfect spot. San Diego doesn't have the kind of intense media spotlight that many other NFL cities do, and Te'o should be surrounded by a warm fan base, given the large Polynesian community around San Diego.
The Chargers might be perfect for Te'o. And Te'o might be perfect for them.
My Sunday Best: Teams That Helped Themselves Most
There isn't a team in the league that wasn't popping figurative, if not literal, champagne corks Saturday night. Every roster is improved, every draft was a hit. But these are the teams that might have helped themselves the most.
1. *Vikings—It's difficult not to have a great draft when you have three first round picks. They arguably chose the best defensive tackle, the second best cornerback and the second best wide receiver in the draft. Vikings general manager Rick Spielman told me he never envisioned Sharrif Floyd dropping to 23, and no other front office man I spoke with did either. If there was a reason for the fall, I can't figure it out. He was maybe the best value pick of the draft. By the time the Vikes dealt for their third No. 1 at 29, they were, in the words of one front office veteran, "playing with house money." So they took a chance on wide receiver Cordarrelle Patterson, who could be the biggest boom or bust guy in the draft. Liked the seventh round gamble on Penn State linebacker Michael Mauti too.
2. 49ers—The rich get richer. I'm not sure any team added more high end talent than the 49ers. They took gambles on two players with medical issues with Tank Carradine in the second and Marcus Lattimore in the fourth. But they were wise gambles at those points in the draft. Eric Reid was a riser who could be an impact player quickly. Vance McDonald could be lethal in combination with Vernon Davis.
3. Eagles—The first two picks, Lane Johnson and Zach Ertz, were right on. And the Eagles selected three players who each could have easily been chosen two rounds earlier in Matt Barkley (fourth), Earl Wolff (fifth) and Jordan Poyer (seventh). Said one personnel director, "No way should Barkley have fallen that far."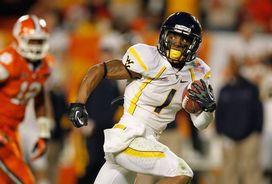 ICONTavon Austin should help the Rams.
4. Rams—They continue to cash in from the RGIII trade. I wasn't crazy about the trade up for Tavon Austin. A number of personnel men thought No. 8 in the draft was too high for him. But it's probably where the Rams had to be to select him. And there is no doubt they added the most dynamic receiver and the most dynamic linebacker in Alec Olgetree. They added seven players who could make their roster. And even fourth round pick Barrett Jones and fifth round pick Brandon McGee could be eventual starters.
5. Cardinals—In Steve Keim's first draft, the Cardinals picked up maybe the best player at any position—Jonathan Cooper--with the seventh choice. Give Keim credit for not being timid about taking a guard. Every pick was solid, including Kevin Minter in the second round. Regardless of what you think of Honey Badger, the Cardinals got him in the right spot—third round. Liked the sixth round flyer on Ryan Swope.
6. Titans. Ruston Webster chose four players who should be starting in Chance Warmack, Justin Hunter, Bli di Wreh-Wilson and Brian Schwenke. Between signing Andy Levitre and drafting Warmack and Schwenke, the Titans have turned their offensive line weakness into a strength. Zaviar Gooden was a third round gamble, but it's OK to take a shot for the fences in the third round.
7. Steelers—This was a typical Steelers draft. Jarvis Jones, perfect Steeler. Le'Veon Bell, perfect Steeler. Markus Wheaton, perfect Steeler. Shamarko Thomas, perfect Steeler. None of them are flawless prospects. All of them are good system fits who will be producers. I even liked the fourth round gamble on Landry Jones. He was the most underrated quarterback in the class.
8. Jaguars—New GM Dave Caldwell capitalized on being near the top of every round with one sound pick after another. Luke Joeckel was picked second overall, but easily could have been first. The Jags' first three picks (Joeckel, John Cyprien and Dwayne Gratz) should be quick starters, and Ace Sanders and Denard Robinson could give the team big plays off the bench quickly.
9. Saints—Considering they were docked a second round pick for the bounty scandal, the Saints did alright. Terron Armstead and John Jenkins, both of whom they picked up in round three, had second round value. A lot of teams were interested in Kenny Vaccaro, and he can have a big impact on their defense.
10. Colts—This wasn't a flashy haul, but it was a solid haul. It's drafts like this one that build the foundations around great quarterbacks like Andrew Luck. Hugh Thornton and Khaled Holmes should be blocking for Luck for years. And Bjoern Werner could be a fiber guy for the Colts' defense.
Things I Didn't Used To Know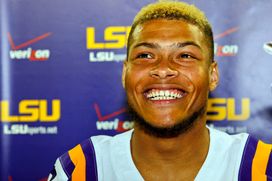 The Honey Badger had Prime Time in his corner.
*Tyrann Mathieu should send Deion Sanders a thank you card. One of the reasons Mathieu's draft stock rebounded is Sanders was pushing him hard. It started at the combine, where Prime Time sought out team executives with the intent of selling the Honey Badger. He was going from suite to suite during workouts at Lucas Oil Field, even talking to team owners and vouching for the Badger's character.
*The Vikings are well aware of the questions about Cordarrelle Patterson's ability to acclimate to the NFL quickly, and have a plan in place to get Patterson up and running. They had four pre-draft visits with Patterson, so they feel they know the kid about as well as possible. Part of those visits were aptitude tests. They are encouraging veteran free agent pickup Greg Jennings to take Patterson under his wing, and they will lean heavily on wide receivers coach George Stewart, who the Vikings consider one of the best in the business. The Vikings also believe the culture in their locker room will be good for Patterson. If all goes as they hope, the Vikings think Patterson can be a contributor on offense as a rookie, as well as a return man.
*The Bucs were out of the first round with the trade for Darrelle Revis, but it would have been quite a different first round had they kept the 13th pick. As it was, the Jets selected defensive tackle Sheldon Richardson in that spot. The Bucs likely would have taken cornerback Xavier Rhodes, who fell 12 picks to the Vikings.
*Numerous front office men say there were not surprised to see Eddie Lacy fall to the Packers at the end of the second round. The more NFL teams looked at him, the more faults they saw. Lacy was knocked for poor work habits, lack of speed, durability concerns, a limited body of work and running style.
Hot Reads
*The Jaguars needed a quarterback in the worst way. They found one Blaine Gabbert has to be pleased with, if not Jaguars fans.
*It wasn't a bad weekend for Aaron Rodgers, who walked away with two running backs, two offensive linemen and $110 million.
*Chris Kluwe may learn the hard way that it's better for a punter to be known for the sound of your kicks than the sound of your voice.
*All that will be missing from Jets training camp will be elephants, a high wire and the human cannon ball.