November 18, 2012 -
Dan Pompei
NFP Sunday Blitz
None of the 31 NFL team owners is a threat to win Mr. Olympia, but many of them seem to be doing a little more muscle flexing these days.
Cowboys owner Jerry Jones recently said he will always be the general manager of his team, no matter how badly he performs. Jones, Bengals owner Mike Brown and Redskins owner Dan Snyder remain the most heavy-handed owners, but others are taking more prominent roles.
In Philadelphia, Jeff Lurie seems more intent on taking control of the Eagles, having wrested power from Joe Banner and putting Andy Reid on notice. Titans owner Bud Adams recently let everyone in the organization know their jobs were on the line after an embarrassing loss.
Some of the aging owners such as Adams and Jerry Richardson of the Panthers, who fired his general manager midseason, may be less patient than ever.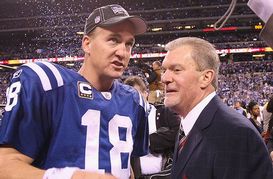 It was Jim Irsay's decision to allow Peyton Manning to leave.
Colts owner Jim Irsay has taken on a higher profile role since the end of last year, when he made the bold decisions to fire Bill and Chris Polian and Jim Caldwell. "I really felt we needed to have an overhaul," he said.
He also decided to send Peyton Manning packing, as well as many of his veteran teammates who had helped the Colts win the 2006 Super Bowl. Irsay said before he did, he studied how the great Cowboys, 49ers, and Packers teams dismantled as stars aged.
Irsay believes an owner can be a vital part of a strong franchise. "An owner has to be able to see the bigger picture and help your general manager or your coach," he said. "Only an owner sometimes can really have that macro vision and see the direction you need to go."
Jaguars owner Shahid Khan recently said he will review his organization after the season. Khan and Jimmy Haslam are two new players in the game. Neither appears to be a wallflower in terms of ownership style. Khan was behind the Jaguars' offseason pursuit of Tim Tebow, and it seems like it is only a matter of time before he gets his QB. Haslam has had a large presence with the Browns since taking over, and has talked about making numerous changes, including to the team's uniforms and stadium.
George McCaskey, who took over as Bears chairman of the board in 2011, has been more active behind the scenes than the man he replaced, his brother Michael.
More active owners could mean more coaching and front office changes. People in the know are bracing for a torrent of change this offseason. "I've had more feelers this year about coaches and general managers than I've ever had before," one high ranking team official said.
One prominent agent said he anticipates approximately ten coaching changes and six general manager changes. He believes among the teams that could be doing some housecleaning, in some form or another, are the Jets, Bills, Browns, Jaguars, Chargers, Chiefs, Cardinals, Cowboys, Eagles and Panthers. And there could be others.
His theory: "It goes back to the fact that owners have been empowered through their CBA victory. They will be living high on the hog for ten years. They are flushed with cash, and money equals power. So they are wielding that power."
It might make for a more tumultuous NFL. But also a more interesting one.
Things I Didn't Used To Know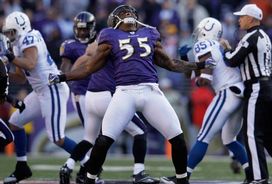 Terrell Suggs is not playing like someone coming off an Achilles injury.
*The return of Terrell Suggs five months after Achilles surgery has been one of the incredible comebacks anyone can remember, and there is a good story behind it. For years, surgeons have been treating Achilles tears by cutting straight up and down on the leg. Suggs had a new surgery, in which the cut is across his leg. The new surgery is supposed to lead to a quicker recovery, and could be good news for athletes who suffer the injury in the future. It also should be noted that those who have been around Suggs will tell you he has worked like a demon to come back. He is not as explosive as he was before the injury, but he has put pressure on the quarterback. His run defense has been outstanding and his instincts have lifted the Ravens defense.
*Cowboys coaches don't mind Tony Romo taking risks with the football—they just want him to take those risks at the appropriate times and in the appropriate situations. Dallas QBs coach Wade Wilson told me he does not want to coach Romo's creativity out of him and make him a robot. "He does such a great job of creating and has saved us a ton of times," Wilson said. "He plays basketball so he sees things like a basketball player at times. He has a great feel, great vision in the pocket. But sometimes he gets a little too reactionary. The reactionary throws in the middle of the field are the ones I get concerned about. There is a time and place. Early in the game, you don't need to be making those high-risk, reactionary throws. When the game is on the line, if you need a play later in the game, you allow for creativity. That's what we talk about."
*The Broncos struck out in their attempt to sign Ryan Clady to a contract extension before the season, but that does not mean the left tackle could leave the team as a free agent in 2013. Those who should know say there is no way Clady will hit the market. If the Broncos need to, they will franchise him. Clady is having an outstanding season and is much more comfortable in the Broncos' new passing scheme, blocking for a pocket quarterback. He was less comfortable blocking for the scrambling Tim Tebow.
My Sunday Best: Uniforms
There is talk that the Browns may be changing their uniforms under new owner Jimmy Haslam, though team president Joe Banner has been dubious about getting it done before next season. You have to respect and admire a traditional look, but the Browns uniform may be a little too drab for 2012. Here are my Sunday best uniforms.
1. Raiders. The silver and black set the tone for the team. They wear old fashioned jerseys without the new collars. It's an old fashioned look, but it will fly in any era. New teams, or teams seeking new uniforms, often want a heavy dose of black in their color scheme, just like the Raiders.
2. Cowboys. There is something special about a Cowboys uniform. The blue, silver and white make a fitting display for America's Team.
3. Chargers. Lightning bolts. Very cool. If they wore their powder blues on a regular basis, the Chargers would easily be No. 1. But even the white jerseys make for one of the sports' best looks.
4. Bears. Their uniforms have not changed much in recent eras, and that's a good thing. The navy blue and orange brings us back to another time, but remains vibrant today. Extra credit for the striped socks.
5. Packers. The uniform tradition is strong here. Green and gold normally would be a combination that could make people sick, but it's pure class in Green Bay. They have not made any significant changes since the switchover to Nike, which is a good thing.
6. Dolphins. No teams' colors better reflect its' home than the Dolphins' aqua blue and orange. Stripes on the helmet, pants and socks give the Dolphins a classy look.
7. Vikings. I could do without the new collars, but the purple and gold remains a great color combination. The helmets also are among the NFL's best.
8. Redskins. Their different uniforms make them look almost like different teams, but the Redskins looks all are pretty good. The gold pants stand out—i n a good way.
Hot Reads
*With fewer players remaining on the field after they have been "dinged," this might be a good time to consider roster expansion. Instead of 46 active players, how about 50?
*NFL teams are getting smart about shuteye. This story about it won't put you to sleep.
*Given how the Chiefs have performed this year, does anybody really think we have to be concerned about them doing too much celebratory dancing?
*Here is some great insight from our old pal Andrew Brandt on the pitfalls of various front office structures.
*If the Jets had no intention of playing Tim Tebow in the situation they are in, my only conclusion has to be they acquired him was to create headlines.
*Hey Chris Kluwe. You need to show some respect for a process you know nothing about. You also should have been taught a long time ago that you can disagree with people without insulting them.