August 22, 2010 -
Dan Pompei
NFP Sunday Blitz
"Vanilla" and "preseason" are words that often go together, like "vanilla" and "shake."
But not everything has been vanilla this preseason. A number of defensive coordinators have seen fit to turn up the heat with their pressure packages. Among the teams that have been blitz happy have been the Giants, Jets, Chargers, Vikings, Browns, Colts and Saints.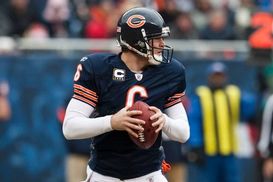 ICONJay Cutler was pulled early because of the Chargers' blitzing attack.
The Chargers were blitzing so much that Bears coaches decided to pull starting quarterback Jay Cutler after one series because they didn't want to risk getting him hurt.
Giants defensive coordinator Perry Fewell acknowledged calling 24 pressures in his team's preseason opener.
What's the advantage of blitzing in the preseason? "For me, I would just say I was trying to set a mentality," Fewell told me. "I'm going to be very aggressive. Yes, we want to play base, fundamental defense and we want to see people take on a block, shed a block, that kind of thing."
The other advantage to blitzing in the preseason is it allows coaches to see who can blitz well and who can't before the games mean anything. And it enables teams to get their blitz timing down. Bears defensive coordinator Rod Marinelli sees a value in preseason blitzing only if he can get his blitzer lined up with a blocker — then he can find out if the blitzer can beat the block. But if the blitzer comes free, what's the point?
The old school way of thinking says don't show your cards in the preseason and work on the basics. Packers defensive coordinator Dom Capers is one who plays it conservatively this time of year.
"Sometimes you can cover up some ills by blitzing all the time," he said. "If you feel like you have nothing to lose, that's fine. But if you go into the season feeling you have to rely on the blitz all the time, sooner or later it catches up with you. Now is the time when we can see if we can play base, fundamental football. And if we can't, and do it well, the blitzing might disguise it for a little bit. But it's not going to disguise it for long. People figure you out too much in this game. For us it starts with stopping the run. If we can stop the run, then we can do a lot more things."
Whether or not this trend will make defenses better prepared for the regular season is hard to say. But it has made the preseason more lively.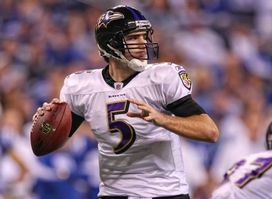 ICONJoe Flacco is ready to make big strides with the Ravens.
Things I didn't used to know

*Ravens quarterback Joe Flacco looks like he's ready to take his game to another level. Flacco has learned how to throw to spots on timing without seeing the receiver break free, perhaps by watching veteran Marc Bulger. It's particularly evident in the red zone.
*Two of the most difficult defensive coordinators to play against are Mike Nolan of the Dolphins and Greg Manusky of the 49ers, according to Mike Martz. The Bears offensive coordinator told me both of them, like the late Jim Johnson, are adept at exposing offensive shortcomings with game plan wrinkles.

*Former Jaguars first-round pick Reggie Nelson is struggling this summer, and the safety could end up being traded if any team is interested. Nelson has struggled to play the ball in the air and has blown coverages.

*Second-year Lions quarterback Matthew Stafford thinks he can go farther by throwing shorter. Specifically, by throwing the checkdown more frequently and efficiently. After studying each of the 20 interceptions Stafford threw in 2009, he came to the conclusion that he tended to try to do too much in third and long. Only 12 percent of his snaps came in third and eight or longer, but 40 percent of his interceptions came in those situations. So the checkdown has been a big point of emphasis in Lions camp.

*In an attempt to improve his quickness after being moved from nose tackle to defensive end, Ryan Pickett of the Packers has dropped about 10 pounds from his previous playing weight of 347, and he plans on dropping another 10. Pickett, who hasn't played outside since high school, feels reborn outside because he's not getting as many combination blocks. He told me, "It's a big difference, but it's a good big difference."
My Sunday Best: Offseason veteran additions
A number of quality players switched teams in the offseason. Based on their histories and what we have seen so far in camp and preseason, these are the best.
1. Julius Peppers, Panthers to Bears. There probably is not a more gifted pass rusher in the game. If anyone can get all of his talent out of him, it's Rod Marinelli. Peppers has been unblockable in camp.
2. Anquan Boldin, Cardinals to Ravens. The Ravens are building some of their passing game around Boldin's unusual talents, and so far it looks like he is going to have a major impact on their offense.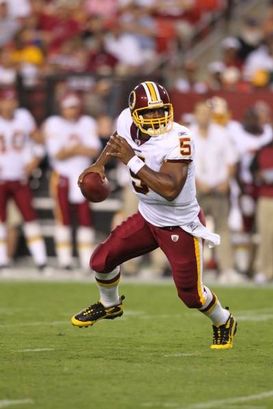 ICONDonovan McNabb as a Redskin?
3. Donovan McNabb, Eagles to Redskins. He remains one of the most talented quarterbacks/athletes in the game. It's highly unusual for a quarterback of McNabb's ability to be traded, especially within a division.
4. Brandon Marshall, Broncos to Dolphins. He would be rated higher if we knew the Dolphins could depend on him. His history says he will short-circuit a time or two during the course of the year.
5. Antrel Rolle, Cardinals to Giants. Rolle is what every team is looking for — a safety who can cover. He will impact their defense by giving defensive coordinator Perry Fewell the freedom to take risks.

Numbers games: QBs with skins on the wall
Everyone knows there aren't enough good quarterbacks to go around, right? It's difficult to dispute the lack of depth at the position when you consider some of the passers who remain in the league as backups.
But there are some interesting numbers that paint a different picture. Did you know that there are 22 quarterbacks on NFL rosters who have been invited to play in a Pro Bowl? That number is likely to be 23 soon when Jeff Garcia joins a team. Those are shocking numbers, don't you think?
Being invited to play in a Pro Bowl might not mean a quarterback is a superstar, especially because real superstar quarterbacks often back out of the game, creating opportunities for lesser players. Last January, for instance, Matt Schaub, Vince Young and David Garrard represented the AFC after Peyton Manning, Tom Brady and Philip Rivers couldn't make it. But you still have to do something right to make the Pro Bowl.
Let's look at this another way — by using passer rating. A passer rating of 90 is considered excellent. There are 18 quarterbacks on NFL rosters who have had a passer rating of 90 or better for at least one season. And there are 11 quarterbacks who have had a passer rating of 100 or better for at least one season.
So maybe quarterback play around the league isn't quite as bad as we think.
Scout talk: Slipping through the cracks
ICONWho exactly is Victor Cruz again?
Players like Victor Cruz always intrigue me. Despite the millions of dollars and thousands of hours every team spends on scouting college players, there are always players like the Giants rookie who look better in the pros than anyone thought they would.
Cruz was undrafted, uninvited to the combine and not asked to play in any all-star games. He didn't have exceptional size (he's a shade under six foot, and weighs 205) or speed (he was timed at 4.51 in the 40-yard dash). He wasn't anything to get excited about as a returner. He played against a lower level of competition at Massachusetts.
There was no reason for NFL teams not to know about Cruz, however. Even though a Massachusetts player had not been drafted in 11 years, Cruz' teammate Vladimir Ducasse (who went in the second round to the Jets) was drawing scouts to UMass from every team in the league. There wasn't a single NFL team that was not represented at the school's pro day to see Ducasse and Cruz work out.
Cruz had some academic problems and another off the field issue earlier in his college career. But players with a lot worse backgrounds than his were drafted.
A team that ranked Cruz as a priority free agent had this in its report on Cruz: "Two-year starter. Speed deficient, but is quick. Quickest player on the team. Is best against zone. Ball skills are very good, but sometimes doesn't come up with the ball in a crowd. Doesn't give much effort as a blocker."
Three Giants scouts who wrote him up agreed he had natural hands, he was quicker than fast and he was smart. They rated him as a good local free agent.
But Cruz is a football player, and he has been proving it in Albany, N.Y., where the Giants hold their training camp. He clearly is good enough to have been drafted.
Cruz didn't have a single camp offer other than from the Giants, and they only invited him because he was from their backyard — Patterson, N.J. "If he was from California, I guarantee he wouldn't be here," general manager Jerry Reese told me. "We wouldn't have paid for the flight with the reports we had on him. You get stupid lucky sometimes."
One man yelp: Coming Back Stronger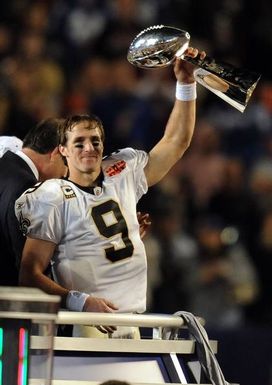 ICONSuper Bowl champion Drew Brees.
Drew Brees' new book, Coming Back Stronger, is all about overcoming adversity, and imparts valuable life lessons through the lens of football. You probably like Brees already — most of us do. But you'll like him even more after reading this book.
Brees leaves himself vulnerable by sharing intimate feelings and stories, including a moving section about his fractured relationship with his mother and his feelings after her suicide. And the story of his life demonstrates how important perseverance has been to almost any success he has experienced.
Along with co-author Chris Fabry, Brees writes about how dislocating his shoulder in 2005 when he was with the Chargers seemed like the worst thing that could have ever happened to him. But it set the stage for his greatest achievements — because it resulted in him leaving San Diego for New Orleans.
"Here's the thing," he writes. "I truly believe that God can use anything — even an injury — for good. I believe that God has a plan for people's lives, even when the plan doesn't work out the way we think it should. I don't think God dislocated my shoulder, but in the normal processes of life, he allowed that to happen. And I have the faith to believe there was a reason for it."
He subsequently believes going to New Orleans was a "calling" that has enhanced his life much more than he has enhanced the city.
Brees also writes about the birthmark on his right cheek. He used to get teased a lot as a kid, and doctors offered to remove it. He chose to keep it because he saw it as something that made him unique, and he felt it was a part of him. "In some ways," he writes. "I guess you could say it was a charter builder that helped me develop an inner toughness and an ability to shake off jabs and criticism. Not a bad trait to have as a quarterback in the NFL — or any job, for that matter."
In many ways, Brees is a throwback to another era. He's a clean-cut, virtuous athlete who does things for the right reasons. And we are better for having read his story.
Hot reads
*It's starting to look like the Rams are not going to be able to protect Sam Bradford. With that offensive line, he stands a good chance of getting injured and shellshocked. Jason Smith is really struggling at right tackle.

*I think Panthers ownership is leaving coach John Fox and his team out to dry a little bit by not extending Fox's contract and cutting the budget. And I don't like it.

*I have no problem with Glenn Coffee not wanting to play football, but his timing was inconsiderate. He left the 49ers in a lurch — but they were fortunate to find Brian Westbrook available.

*Now that the league has upheld the suspension of Brian Cushing, from this point on I would like to refer to Clay Matthews as "the 2009 defensive rookie of the year." Cushing, by the way, got my initial vote for the Associated Press award. In the re-vote, I chose Matthews.
*Welcome back, No. 4. The NFL wasn't the same without you.
Email Dan Pompei your questions at dan.pompei@nationalfootballpost.com