December 12, 2010 -
Dan Pompei
NFP Sunday Blitz
Of course the world underestimated Danny Woodhead. He's 5-7, 195 pounds — too small. He played against Division II competition at Chadron State — not enough of a test. And he's white — the wrong color for a running back, according to the stereotype.
Leave it to Bill Belichick to find his value. Woodhead bounced around on the Jets for more than two years after they took him as an undrafted free agent. He spent 2008 on injured reserve, and was moved to wide receiver in 2009. This year, it appeared the Jets made the decision to cut Woodhead in the fourth round of the April draft when they drafted Joe McKnight. Even though Woodhead clearly outplayed McKnight in the preseason, they kept the draft pick and cut Woodhead on Sept. 14.
Later that week, one day before the Patriots came to town, Woodhead was picked up by the Jets' primary rival. The Patriots had an opening for a back after trading Laurence Maroney. During that first Patriots-Jets game, Kevin Faulk suffered a season ending injury. And opportunity's door swung open wide for one Danny Woodhead.
Since that time, Woodhead has established himself as the Patriots' nickel running back. He has 355 rushing yards, an average of 5.4 per carry, and 334 receiving yards — 104 of which came against his former team last Monday.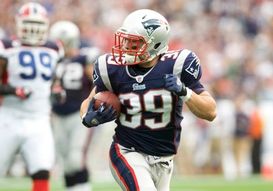 ICONBill Belichick finds ways to get the most out of players like Danny Woodhead.
While the Patriots certainly have shown they know how to use the former Harlon Hill winner, Belichick maintains Woodhead could be productive in any system. "He's a good third down back," he told me. "He'd do everything Mewelde Moore does for Pittsburgh, or [LaDainian] Tomlinson does for the Jets on third downs. He'd play for any team that uses a third down back."
Woodhead will get another opportunity to prove that Sunday when the first place Patriots travel to Chicago to take on the first place Bears. On a day when extreme cold and high winds are expected, and on a playing surface in which less than ideal footing is expected, a player like Woodhead could play a significant role.
Woodhead rushed for more yards than anyone in the history of college football, but he'll probably never be a league-leader at the NFL level. What he can be is an outstanding role player, the kind of chess piece that Belichick uses in spots with a high degree of effectiveness. He really is the perfect replacement for Faulk.
"There are a lot of similarities between Woodhead and Faulk, which is what we saw when we took him," Belichick said. "We kind of thought we were getting a younger Kevin Faulk with a lot of receiving skills, and even though he is an undersized guy, he has some interior run skills. He's also a tough kid like Kevin."
This is what one defensive coordinator who has tried to stop Woodhead this season told me about him. "Woodhead is the real deal. He must be about two feet tall, but he's tough as nails, catches the ball and makes yards after the catch. He will block any linebacker on a blitz and I haven't seen him show any fear at all. He can and does run the ball well inside and you better be ready when be ready when you attempt to tackle him. I could go on and on about this kid. He puts his helmet on and lays it on the line on every snap and that is how we used to play the game. This kid is a throwback, God bless him."
It's easy to see all that now. It wasn't so easy to see it in April of 2008. "The issues with him coming out were his size and the competition," Belichick said. "We liked him, but obviously not enough, and we were wrong on that."
The Patriots were one of 32 who got it wrong with this kid.
Things I didn't used to know
*After playing in only 11 games last season because of an ankle injury, Michael Turner has come back in a big way for the Falcons this year. He already has more than 1,000 yards rushing, and figures to be a key player in the Falcons' stretch run. Falcons coaches attribute Turner's comeback to his dedication in the offseason. He worked harder last offseason than he did the year before, lost 10 pounds and cut significant body fat. The result is a quicker, more efficient athlete.
*Don't be surprised if the Broncos go cheap for their next head coach. Owner Pat Bowlen still is paying Mike Shanahan, and unless he gets out of paying Josh McDaniels by saying he fired him for "cause," he'll be paying him as well. Word is Bowlen's bank account isn't quite what it once was.
*One NFL executive I spoke with last week speculates there won't be many coaching changes in the offseason because of CBA uncertainty. He believes coaches like Jeff Fisher, Marvin Lewis, Les Frazier, Jason Garrett and Gary Kubiak may be retained in part because a new coaching staff may not have the necessary time to install new systems if a new CBA is not agreed upon until the summer.
*On the subject of the CBA, a wildcard in the talks between the league and the NFLPA is union executive board member Domonique Foxworth, according to sources familiar with the negotiations. The Ravens cornerback ran for the office of NFLPA president in March but was beaten out by incumbent Kevin Mawae. Still, Foxworth is given a lot of respect by NFPLA executive director DeMaurice Smith, and is believed to have a powerful voice in the negotiations. Foxworth has a very good chance of being the PA's next president, as Mawae is retiring.
*Assuming the reports are correct about what Patriots linebacker Brandon Spikes was taking, he could have easily avoided his suspension for performance enhancers. Spikes reportedly took a medication to control ADHD. Sources say other players in the NFL take the same or similar medications. They don' t get suspended because they have received clearance to take the medication, which also is a stimulant. Spikes was suspended because he didn't tell league officials what he was taking. Every player knows they need to inform the NFL about new medications. Spikes appears to have put himself and his team in a bad position by being careless.
*The press releases said 49ers assistant to the head coach and DBs coach Johnnie Lynn resigned for personal reasons. The word on the street said he was fired.
*Bears tight end Brandon Manumaleuna is listed as a tight end, and he meets with the tight ends and stays with the tight end group all through practice. But he has played about 65 percent of his snaps at fullback this year. He's played about 80 percent of his first and second down snaps at fullback, as he's almost always at tight end in nickel. Bears offensive coordinator Mike Martz, who drafted Manumaleuna when he was with the Rams, tells me Manumaleuna is unlike almost any tight end in the league because of his ability to handle pass rushers and clear out linebackers in the run game. Manumaleuna has come on strong in recent weeks in part because his knee, which was surgically repaired in May, is allowing him to do more.
*Toby Gerhart started out slowly this season for the Vikings, but the big rookie is coming on. The reason? The Vikings say it's all about opportunity. Gerhart is the kind of back who needs to get a lather going to be effective. He's an inside power runner who really can't get in a groove with five carries a game. In the last two games, he's had 34 rushes for 130 yards. The plan is to keep Gerhart in the mix moving forward, which also should help keep Adrian Peterson fresher.
My Sunday Best: Defensive tackle combinations
John Henderson was a bit of a sacred cow in the Jaguars locker room, but the Jaguars released the big DT in the offseason because they believed they would be better with Terrance Knighton and Tyson Alualu as their starting defensive tackles. Henderson will see just how strong the Jaguars' are at defensive tackle this week when he returns to Jacksonville as a member of the Raiders. The Jaguars young DTs have become one of the best combos in the league. Here is how I rank them (with a little help from some pro scouts).
1. Haloti Ngata and Kelly Gregg, Ravens. Bit of an asterisk here because the Ravens play a 3-4, but they use quite a bit of four down as well. Ngata and anyone would be a dominating combination, but Gregg is an ideal complement with his all out style and determination.
2. Kevin Williams and Pat Williams, Vikings. They started out slowly this year but have come on in recent weeks. Kevin Williams remains the best interior rusher in the game, though Pat Williams may be slowing down some at the age of 38.
3. Ndamukong Suh and Corey Williams, Lions. Everybody knows what a dominating player Suh is against run and pass. What a lot of people don't know is that Williams is having his best season and is one of the better unheralded players in the game. What's more, the Lions also have a third tackle in Sammie Hill who can create havoc.
4. Terrance Knighton and Tyson Alualu, Jaguars. It looks like these were two outstanding draft picks in back to back years by Gene Smith. He took heat for taking Alualu on draft day. Now opposing quarterbacks are feeling the heat.
5. Tony Brown and Jason Jones, Titans. These two play hard — really hard. It's tough to find two tackle teammates who offer as much pass rush as Jones and Brown.
6. Chris Canty and Barry Cofield, Giants. Interior defense is the main reason the Giants are allowing only 98 rushing yards a game. They are helped by the fact that the Giants have an excellent outside pass rush, but their tackles hold their own.
Numbers Games: Billy Long Ball
Move over Sebastian Janikowski. The NFL has a new strongest leg. It belongs to Billy Cundiff of the Ravens, who has done one thing — kicked off — better than any other player in the NFL has done any other one thing.
Cundiff has 34 touchbacks this season. There are three things remarkable about that. The first is his touchback percentage of 58.6 is miles ahead of the percentage of the next closest kicker, Janikowski, who is at 40.9. The second is that he is six shy of tying the record for touchbacks in a season — which was set by then-Viking Mitch Berger, who played his home games in a domed stadium. The third is that in the first 70 games of Cundiff's career, he had only 11 touchbacks.
He has made some slight technique adjustments and gotten stronger over time. And the Ravens believe he has benefited from being in an offseason program. An itinerant, the 30-year old is on his ninth NFL team, and he hasn't had many chances to allow a program take root.
Cundiff may be kicking the ball farther more consistently than any kicker ever. He has had 43 kickoffs that have traveled 70 yards or more, best in the league according to STATS. His kickoffs have reached the end zone on 81 percent of his tries. The next closest player, Carolina's Rhys Lloyd, has reached the end zone 73.7 percent of the time.
Cundiff has been truly dominant — even if hardly anyone has noticed.
Scout Talk: Cam Newton
There seems to be little doubt Heisman winner Cam Newton will be a top 15 pick if he comes out, based on the buzz among scouts. The only question is where in the top 15 will he fall?
The Auburn product would be the most gifted quarterback in the class. It would be a surprise if he leapfrogged Stanford's Andrew Luck, who is more accurate, is cleaner and had the benefit of playing in a pro style offense. But Newton might not be taken far behind.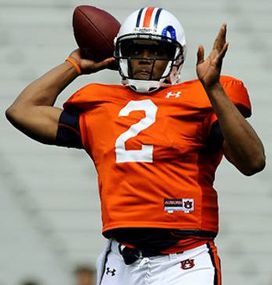 There is a lot to like about Cam Newton, but there also are some things that give NFL scouts pause.
This is what scouts like about Newton: He is a tremendous clutch player with an "it" factor. He plays with a great deal of poise. At 6-5, 250, he is an elite athlete with a rocket arm and quick feet. He makes some throws that very few players in the NFL can make. He is very difficult to bring down. He can make second chance plays.
And this is what scouts question about Newton: His accuracy is good, not great. His decision making is a little inconsistent. He has a funny release. He would be best served sitting and learning for a year, in part because he played in a pretty simple offense at Auburn. He is a transfer from Florida and only had success for one year. There are some concerns about his maturity and character, given the recruiting scandal he is at the center of.
Scouts have compared Newton to a number of players in my conversations with them. I have heard Vince Young, Ben Roethlisberger, Daunte Culpepper, Josh Freeman, Michael Vick and Akili Smith.
But there is still a lot teams don't know about Newton. Any team interested in taking him has a lot of homework to do.
One Man Yelp: Get Coached
I had a chance to review a motivational set of DVDs put out by Victor 1 entitled Get Coached featuring Mike Ditka, Sean Payton, Rex Ryan, Mike Singletary and Bobby Bowden. What struck me about the five DVDs (each one featured a different coach) was how the personalities of the individuals come through in the way they motivate.
Ryan, as you might expect, takes an aggressive stand. He talks about sending messages. "If you have to react, don't do it half ass," he says. "Send a strong message. If the other guy keeps pushing you, don't just push back, go all the way and break his fricking nose. Quick, forceful response. Guess what, end of pushing."
Beautiful. Just don't do it on the football field or you'll be out 40 large.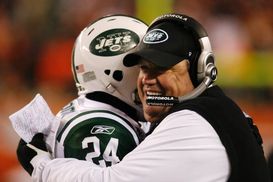 ICONThe coach of the Jets shares some pearls of wisdom on a new motivational DVD.
Ryan also talked about the coach whose team beat his team last week. "When I became head coach, I said I wasn't going to bow down and kiss Bill Belichick's rings," Ryan said. "I guess that surprised some people, because the Patriots had been a virtual dynasty. But I wanted to let our guys know we weren't going to be intimidated by anyone, and we expect to beat everyone. Set your sights on the top guy. That's the guy you want to knock off."
Ditka, who always has been an armchair philosopher, is typical Ditka in his video — animated and forceful. Have the remote control ready so you can turn the volume down a bit. I liked this line. "Don't point fingers, unless you are pointing at yourself. Cowards blame other people. Real character means saying, where did I go wrong?"
My favorite DVD may have been the one featuring Payton. He talks about how there can be no tolerance for complacency — an appropriate subject for the defending Super Bowl champion coach to discuss. "When complacency does set in, it is up to the leader to light the fire under the team, to motivate," he says. "You may find it necessary at times to find a crisis, one that will disrupt any false sense of security. If you have to take a small issue and blow it up in order to make your point, then so be it. Coach [Bill] Parcel ls had a saying for when it becomes necessary to create a sense of discomfort. Put a rock in your shoe. That will remind you there's no time for complacency."
Payton also says we should learn from the best. "My go to guy is always Bill Parcells," he said. "He possesses so much knowledge and experience that I'd be an idiot if I didn't try to learn everything I could from him."
The videos are aimed at business leaders and sports teams, but each of the five videos features advice we all could apply to our daily lives.
Hot Reads
*It would not be surprising to see Josh McDaniels resurface as a head coach down the road, and be a successful one. He wasn't ready this time; next time he could be.
*Anyone who knows Eric Studesville knows he will be a breath of fresh air for the Broncos. It's too late to salvage a season, but Studesville will change the atmosphere and give the team direction.
*Does anyone really believe Troy Calhoun would turn down the Broncos if they offered him the head coaching job?
*The NFL needs to fine players on a sliding scale based on salary. No way Ravens linebacker Jameel McClain should have to pay about 15 percent of his take home pay--$40,000--for a hit on Steelers tight end Heath Miller.
*Albert Haynesworth needs a new address, but not as badly as he needs a new attitude. He demonstrates perfectly that talent is only a small part of the equation.
Dan Pompei covers pro football for the Chicago Tribune at chicagotribune.com