September 30, 2012 -
Dan Pompei
NFP Sunday Blitz
Change has been invigorating for the Atlanta Falcons. It's not wholesale change or even considerable change. It's mostly subtle change, which was probably the perfect prescription for a team that won ten games but bowed out in the wildcard round of the playoffs last season.
The Falcons could have just sat back and counted on internal improvement. Instead, they decided to attack. They attacked by hiring offensive coordinator Dirk Koetter and defensive coordinator Mike Nolan, and then they have attacked by dictating to opponents on both sides of the ball.
The new mentality has brought out the best in maturing players such as Matt Ryan, Julio Jones, Jacquizz Rodgers, Sam Baker, Thomas DeCoud, William Moore and Sean Weatherspoon.
This was all part of head coach Mike Smith's plan. He hired two coordinators who were willing to work with the foundation the team had already put in place, as well as with the assistant coaches on staff. Smith knew what he was getting into with Koetter and Nolan because he had worked with both previously.
Koetter even has given Ryan a hand in designing the offense. The main difference in the Falcons' offense is their gameplans are based more on identifying and exploiting opponents' weaknesses. "Dirk has put together a really aggressive game plan," Smith told me. "He wants to be attacking. That's what he did as a college head coach. Now what we're doing is more predicated on how people are trying to defend us."
People are not defending the Falcons very well. They have scored touchdowns on each of their three opening drives and are averaging 31.3 points per game—third highest in the NFL.
Of course none of that would be possible if Ryan wasn't being protected so well. Protection was an issue a year ago, but he has been sacked only four times this year. Smith attributes this to better play from the returning offensive linemen and to Ryan improving both his pocket awareness and his strength so he is able to step into throws better.
Ryan has taken care of the football exceptionally well, throwing only one interception. He is a big reason why the Falcons are plus-10 in the takeaway department.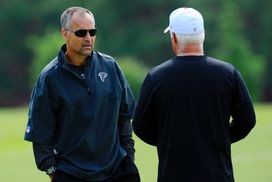 Mike Nolan and Mike Smith plot their next move.
Another big reason is Nolan's scheming. Nolan has coached 3-4 fronts for seven years, and he has coached 4-3 fronts for seven years. He has combined both principles in his most recent defenses. The Falcons often have four down linemen in base, but become very unpredictable in nickel, coming at quarterbacks from all angles.
"When I hired Mike, I knew Mike wants to get opponents in third down," Smith said. "Mike always has one of the best third down teams in the league, year in, year out. He is very creative, especially on third down. And that's the money down."
The other thing Nolan has done is let players play. "He's done a very good job of identifying what are players are capable of doing and putting them in position to do what they do best," Smith said. "He's been a new set of eyes for us. That's refreshing. You can become where you don't see the trees because of the forest."
Weatherspoon is a perfect example of a player who seems to be moving faster this year, playing to his full athleticism. "We've been very encouraged with how Mike has worked with the defense, Smitty and the other coaches to create a defense that is appropriate for the talent we have," Falcons general manager Thomas Dimitroff said. "He has taken fast, athletic players and created a defense that plays with confidence and an edge."
The season is young and things are likely to keeping changing. But so far, the change has been all good in Atlanta.
Things I Didn't Used To Know
*The Jaguars anticipated Maurice Jones-Drew would take a couple games to get rolling, and weren't surprised when he broke out in the third game of the season. Initially after Jones-Drew's holdout, it was clear he needed reps from a mental standpoint. He needed to get in sync with blockers and get completely familiar with new schemes against various defensive fronts. Jones-Drew was more tentative than usual in the early going. But his coaches noted rapid improvement prior to last week, as his technique and footwork became more second nature to him. It has helped that Jones-Drew is being helped along by esteemed running backs coach Sylvester Crooms.
*The Cowboys did not sign Brandon Carr to play safety on a regular basis, but now that they have him their eyes have been opened to the possibility, and they like what they see. The plan is to use Carr to his strengths at the position. That means he won't be banging helmets with guards very often, even though he is willing to hit. Instead, Carr will be used basically like a glorified cornerback, covering receivers and tight ends. With the way the game has evolved, defenses can get away with having safeties like Carr, especially on nickel downs. As a cover safety, Carr might even be better than as a cornerback, because as a corner he has to play with his back to the ball more—and that is not his strength.
My Sunday Best: Controversial Calls
We will be talking about the Golden Tate--M.D. Jennings Hail Mary play for many, many years. Given the unusual circumstances and the scrutiny, it could down in history as the most controversial call in NFL history. Here are my other most controversial calls. Any you'd like to add?
*The Immaculate Reception. This was the first step in the Steelers' dynasty. In this 1972 playoff game, Oakland's Jack Tatum broke up Terry Bradshaw's pass to Frenchy Fuqua, sending the ball flying in the air. The Raiders began celebrating, but Franco Harris picked it up just before it hit the ground and ran it to the end zone. The officials weren't certain if it was a touchdown because the rule at the time said if the ball touched Fuqua, a second Steelers player could not have caught it. After consulting with a league official, referee Fred Swearingen called it a touchdown.
*The Tuck Rule Call. Charles Woodson, then of the Raiders sacked New England's Tom Brady in the snow during this 2002 divisional playoff game. It was ruled he forced a fumble, and the Raiders recovered with 1:43 remaining and a three point lead. But after reviewing the play, referee Walt Coleman, citing the tuck rule, called it an incomplete pass. The Patriots tied the game with a field goal before winning in overtime and eventually becoming Super Bowl champs.
*The Jerry Rice Non-Fumble. In a 1998 wild card game between the 49ers and Packers, Rice clearly fumbled late in the game. Officials ruled he was down by contact, however, and the 49ers continued to drive for the game-winning score.
*The Ed Hochuli Call. Late in a 2008 game between the Chargers and Broncos, Hochuli ruled Jay Cutler threw an incomplete pass, when he really fumbled. Hochuli knew it and apologized afterwards. The Chargers had recovered the ball and the call probably changed the outcome of the game, which Denver won.
*The Renfro No-Catch. In the 1979 AFC championship game between the Steelers and Oilers, Mike Renfro appeared to make a third quarter catch for the Oilers in the end zone that would have tied the score. But officials ruled he failed he get both feet in bounds. The Steelers won and went on to their fourth Super Bowl victory.
*The Bert Emanuel Game. Emanuel appeared to make a diving catch in a tight game that would have kept the Bucs alive in the 1999 NFC Championship game in St. Louis. But after a replay review, Bill Carollo said the n ose of the ball had hit the ground, and he overturned the decision that it was a catch. The Rams won, but in the offseason the NFL adopted what has become known as The Bert Emanuel rule. Under the new rule, Emanuel's catch would have counted.
*The Super Bowl Mistake. In the 2006 Super Bowl, referee Bill Leavy called Seattle quarterback Matt Hasselbeck for an illegal low block that helped the Steelers win the game. Leavy later acknowledged he was wrong.
One Man Yelp: Best of Rivals; Team of the 80s
Best of Rivals was a good book waiting to happen, and author Adam Lazarus did a nice job of putting together a complete, authoritative study of the Joe Montana-Steve Young quarterback controversy/competition. It was a unique dynamic--two future hall of famers competing for the most important job on one of the greatest teams of all time.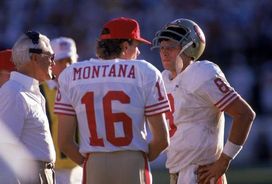 The tension began as soon as Young arrived in the 49ers locker room after being traded from the Bucs. He didn't have cleats to wear, so he was given a pair of Montana's to borrow. Young worked out wearing the shoes with No. 16 written on them. Then he and Montana chatted for awhile. Finally, Montana said, "Steve, when you're finished, just throw the shoes back in my locker."
Young described the rivalry years later thusly: "People always think that we fought. We never had a cross word, never had an argument, and I've always said to people that it went as well as it possibly could with two hypercompetitive people. But it wasn't easy, it was difficult, difficult for both of us."
Montana's take: "We're friends, Steve and I. But out on the practice field, if he doesn't hate me as much as I hate him, then there's something wrong."
Lazarus writes that Montana tipped off a Bay Area reporter that Young had covertly erased portions of practice film in which Young threw a bad pass or made the wrong read. And within a week, Young pulled aside the same reporter to refute what he heard Montana had said.
In 1991, Montana was hurting before the regular season, and Young was eyeing his starting job. He told reporters, "[George Seifert] said he is not going to have a controversy at all but would look to keep us both sharp. I don't know how he's going to do it, but I'm going to be much more involved throughout the season."
Responded Montana: "Wishful thinking."
Lazarus mixes extensive research with interviews of Montana, Young, Jerry Rice, Eddie DeBartolo, Mike Holmgren and others to put together a fine read.
*The 49ers might have had the most interesting dynasty of all the dynasties, depending your perspective. At the very least, I think it's fair to say their dynasty had a greater impact on the NFL than any other dynasty. Bill Walsh's stamp on the game remains a bold one nearly a quarter of a century after he coached his last game for the 49ers.
That's why I enjoyed watching the DVD San Francisco 49ers: Team of the '80s. This is an NFL Films production, so I knew it would be good. There are plenty of clips from Walsh's personal library of his speeches to the team.
The documentary gives you a good feel for Walsh's mastery. His goal for the 49ers was to be a "precision machine." It was a concept he borrowed from Paul Brown. But Walsh perfected it.
"Our system of football sustained itself and refined itself further and further until at some point it might have even been an art form," Walsh said.
His players bought in completely. "It was easy to believe Bill Walsh because he would tell you things that would happen," Dwight Clark said. Randy Cross added, "We believe he knew something nobody else knew."
There is no question, it seems, that he did.
Hot Reads
*Enjoy the applause while it lasts, NFL refs. You will be the subject of scorn and ridicule by next weekend.
*Something tells me Lovie Smith, Jim Schwartz and Leslie Frazier would have been very much in favor of T.J. Lang's idea about having the Packers protest replacement refs.
*Strikes me that high def, flat screen televisions sold in the Tampa area should be going at a discounted rate, seeing the residents rarely get to see the home team.
*Adam Jones has had to shell out some big money for indiscretions recently, but, hey, what's a little money to this guy?
*Since when did Mike Tyson start playing for the Broncos defense?
*Is it just me or is Andrew Hawkins playing at a different speed than everyone else in the NFL?
*Let's just keep one thing in perspective, both for replacement officials and permanent ones: they have an extremely difficult job and they all deserve some respect.
Dan Pompei covers pro football for the Chicago Tribune at chicagotribune.com.