April 03, 2011 -
Dan Pompei
NFP Sunday Blitz
The late, great Jim Finks would tell you this is the way it should be: owners own, coaches coach, scouts scout, players play.
But lately, it seems, players are coaching more than ever. Nine of the NFL's 32 head coaches are now former NFL players. Mike Munchak, Jason Garrett, Leslie Frazier, Ron Rivera and Jim Harbaugh all became head coaches this year.
So former NFL players becoming head coaches unquestionably is a trend. But it may be kind of an accidental trend as opposed to a premeditated one. I don't believe NFL owners and general managers are consciously trying to hire former players because they feel it gives their team an advantage.
Former players do have one advantage—they bring instant credibility to the locker room. And in this era, where salesmanship might be as important as game planning, that's worth something.
One general manager who has hired a former player as head coach put it this way, "I think having NFL playing experience may be a factor initially. Players know he played, so they give him some respect. But you have to win in order to maintain it. There have been a lot of coaches with playing experience who haven't been very successful."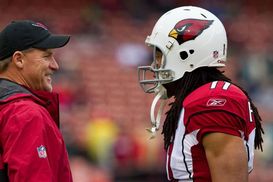 Cardinals coach Ken Whisenhunt is known for his ability to relate to NFL players.
Cardinals head coach Ken Whisenhunt, who played tight end in the league for nine years, sees it the same way. "It gives you some credibility that you played the game, but it only goes so far," he told me. "Players want to know their coaches are giving them the best chance to win. I don't care what kind of player you were, if you aren't helping them, it's not going to make a difference. It gives you some respect coming in, but you still have to be able to coach."
The credibility of being a former player might get players to pay attention when they otherwise would dismiss a coach as someone who doesn't know what they are talking about. Leslie Frazier, a former NFL cornerback, has found his playing resume helps him similarly to how it helped him when he was a position coach. "When I stood up in the room as an defensive backs coach for the first time with the Eagles, talking to Troy Vincent, Al Harris, Bobby Taylor or Brian Dawkins, they sensed this guy has gone through what I'm going through," Frazier told me. "You have to be able to have them be successful in order to maintain the credibility you have."
The other advantage coaches like Frazier have is they understand the complete experience of the NFL player in a way a coach who didn't play never could.
"There is a common denominator on the ground floor," said former 49ers head coach Mike Singletary, who now coaches linebackers for the Vikings. "You understand what a player is feeling when he comes of the field and just got the crap kicked out of him. You are looking at him, you see in his eyes he is doubting. Is this going to work? As a guy who sat on that bench, you know what you have to do. So you have a little more affinity with the guy."
Whisenhunt talked about how he has a sense for how his players are feeling physically and emotionally at different points of the season and in training camp. "From my standpoint, I think it helps me be a better coach from having experienced a lot of what they are going through," he said.
NFL playing experience can be a double-edged sword for would-be coaches. Many former players have flopped as coaches because playing can be a lot easier and enjoyable than coaching. "There is a bad side for guys who have played the game," said Singletary, who was a hall of fame middle linebacker. "There is an entitlement with a lot of former players. They don't understand the work it takes."
Former players, especially great ones like Singletary, can become frustrated with athletes who have less talent than they did. They don't understand why players they are coaching can't do things the way they did them.
"Sometimes, if you've played, you can feel you have all the answers, and that's not the case," Frazier said. "It's a lot more difficult becoming a coach if you played, especially if you were a very good player and things came easily to you. You expect players to perform the way you did. Everyone is not as gifted. That's probably why more guys don't coach. They get frustrated with the teaching, the hours it takes."
An NFL owner has to look at playing experience as a bonus for a head coach. But it never should be the reason gets hired.
Things I Didn't Used To Know
*Warren Moon isn't the only person who thinks race may be a factor in the way the NFL world is perceiving Cam Newton. A high ranking NFL executive, who is white, came to the same conclusion before Moon made his comments. "If Newton were white, he'd be the first pick in the draft," he said.
*Da'Quan Bowers looked out of shape at his workout, according to NFL scouts who were witnesses. One said he probably would have been better served not working out at all prior to the draft. But the workout won't hurt Bowers in the draft. What is a much bigger threat to hurt Bowers is NFL teams believe he has a serious knee issue. Unless his physical exam at the combine recheck next weekend shows a healthier joint, Bowers could drop in the second half of the first round.
*While Bowers could be dropping, another defensive end could be rising, according to the buzz in scouting circles. Purdue's Ryan Kerrigan appears to be making a move and could be picked somewhere in the 20-to-30 range. What's the reason for the jump? Kerrigan is perceived as safe. He might not have the top end potential some of the pass rushers have, but he isn't as risky, either.
*Mike Florio's report about one highly regarded prospect failing a drug test at the combine is spot on, according to front office men I've spoken with. But some of those men also have told me the player who flunked might not be hurt much by the test. Other high profile players—reportedly Percy Harvin, Brandon Tate and Aqib Talib, among others--have failed tests at the combine in recent years and did not fall precipitously in the draft. Many, many other players have failed tests at their schools. It's a little different at the combine when they know the test is coming. But NFL teams believe so many kids are smoking grass that they can't beat them up too badly for it.
My Sunday Best: Head Coaches Who Played In The NFL
NFL playing experience might not always make for a better head coach, but it undoubtedly has been beneficial to a number of head coaches. Some who played in the league are among the best coaches ever. Here is my list of best head coaches who played.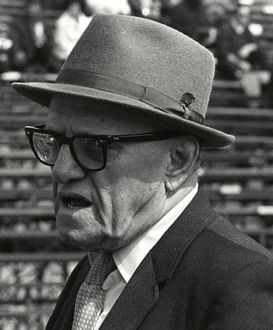 Papa Bear George Halas was the king of players turned coaches.
1. George Halas. Papa Bear was one of the most influential figures in NFL history, coaching for 40 seasons and winning six NFL titles. He was a player (he played end), coach and owner for the Bears.
2. Chuck Noll. This hall of famer has more Super Bowl rings than any coach in history. He previously was a guard and linebacker in an eight year career for the Browns.
3. Curly Lambeau. A halfback as a player, the namesake of the Packers' stadium was a head coach for 33 years, won six titles and retired with a winning percentage of .631.
4. Don Shula. This former defensive back won 328 games—more than any coach in history. He also had a pair of Super Bowl victories and coached the only team to have a perfect season in 1972.
5. Tom Landry. This was a very good defensive back and a great coach. Landry is credited with inventing the 4-3 defense and the flex defense, and he also won two Super Bowls and five NFL titles.
6. Tony Dungy. The former defensive back and Noll prodigy has the 12th best winning percentage of all time (.668) as a head coach.
7. Bill Cowher. He was a better coach (.623 winning percentage, a Super Bowl win and two AFC titles) than he was a player (linebacker who mostly played on special teams).
8. Mike Ditka. He was a better player (hall of fame tight end) than head coach, but his head coaching credentials, including going 26 games above .500, are pretty impressive as well.
9. Marty Schottenheimer. He's mostly known for his playoff flops, but this former linebacker is sixth all-time in head coaching victories.
10. Tom Flores. A backup quarterback, Flores one won championship as a player and two as a head coach with the Raiders.
Honorable mention goes to Jeff Fisher, Dan Reeves, Raymond Berry and Joe Schmidt. Did I miss one of your favorites?
Scout Talk: No QB Consensus
The draft is nearly upon us, and you would be hard pressed to find two teams that agree on the order of the top eight quarterbacks. There really isn't a consensus No. 1, as most like Blaine Gabbert, but some prefer Cam Newton.
And the third quarterback really is up for grabs. Newton will be the third on some boards. On other boards, he'll be lower still. Other players who will be ranked third by various teams include Jake Locker, Ryan Mallet and Christian Ponder.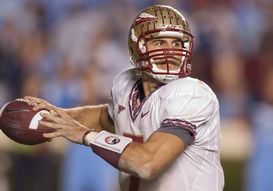 ICONChristian Ponder could be the third quarterback drafted -- but that's far from a lock.
On draft day, some of those players could be jumped by Andy Dalton, Colin Kaepernick, or maybe even Ricky Stanzi.
"The all have holes in them," an NFC director of college scouting said. "So it will be beauty in the eye of the beholder."
Despite the fact that all of them have holes in them, they aren't supposed to last long on draft day. It's starting to look like all eight could be gone by the end of round three. "Teams that think they'll get the quarterback they want in the second round could be in for a rude awaking," the director said. "Teams could be trading up to late first round for those guys."
Because no league-wide consensus has been reached on these players, what happens late in the process is likely to carry a lot of weight. That means quarterbacks coaches and offensive coordinators could be more influential than usual. And these late visits with teams could be the deciding factor in a lot of cases.
"Smart teams will have a playbook with them on the visits with these guys," an AFC personnel director said. "They'll see how much these guys know and how quickly they can figure things out, and they could base decisions on that if things are close."
One Man Yelp: Affirmed -- The Last Triple Crown Winner
If you have an appreciation for the sport of kings, you will want to read my friend Lou Sahadi's new book Affirmed – The Last Triple Crown Winner. Sahadi, who has written about Willie Mays, Johnny Unitas, Hank Stram and Don Shula in previous books, turns his attention to the greatest thoroughbred rivalry ever, between Affirmed and Alydar. Through in-depth reporting and gripping narratives, he recreates a romantic period in the sport's history that unfortunately is gone forever.
Some of the best passages are about Steve Cauthen, the precocious jockey who rode Affirmed to the Triple Crown. Cauthen provided much of the meat in this book. The stories of trainer Laz Barrera and owner Louis Wolfson also provide color.
Affirmed's victory in The Belmont was Affirmed's crowning achievement. "Once Alydar nudged in front of the midpoint of the stretch, only he couldn't sustain the lead," Sahadi wrote. "Both came thundering down the stretch almost as one. Affirmed and Alydar showed no signs of yielding. Stride for stride, nose to nose. It would continue this way in front of a widely vociferous gathering until the end of an exhausting journey. With the finish line fifty yards away, the crowd was one collective chorus: cheering for Affirmed. Yelling for Alydar.
"In one Herculean effort, Affirmed lunged forward from a final urging from Cauthen and made history by a head. It was the most beautiful head in racing in what was the greatest stretch run in turfdom's annals. Cauthen the ultimate maestro. It was Leonard Bernstein at the Philharmonic, Cauthen's left hand at the baton. It was a photo finish, but Cauthen knew after he crossed the finish line that he had won, raising his stick like a magic wand high with his left hand to signal the victory to everyone."
Good stuff from Lou.
Hot Reads
*Which players decide to show up at the draft never has been particularly interesting or significant in the past, but the NFLPA inadvertently has made it a much bigger story than ever.
*NFL players should not be playing pickup basketball games if their football careers are important to them. Basketball is a dangerous game. Just ask Chad Pennington.
*If the UFL coaches (Jim Fassel, Jerry Glanville, Denny Green and Marty Schottenheimer, among others), and the NFL coaches had a coach-off, might the UFL win?
Dan Pompei covers pro football for the Chicago Tribune at chicagotribune.com.