October 13, 2013 -
Dan Pompei
NFP Sunday Blitz
No linebacker has ever led the NFL in interceptions for a season, and none probably ever will, but Buffalo rookie middle linebacker Kiko Alonso certainly has a pretty good chance to top his position in pickoffs in 2013.
A second-round choice in April, the 46th prospect taken overall and the fifth linebacker selected in this draft, the former University of Oregon star already has four interceptions, twice as many as any other 'backer in the league, in his first five starts. In fact, no other NFL rookie linebacker yet has a single interception. The four interceptions tie Alonso with a pair of cornerbacks, New England's Aqib Talib and Alterraun Verner of Tennessee, for the NFL lead.
At this point, Alonso, who was named the league's defensive rookie of the month for September, has accounted for 13.3 percent of the 30 total linebacker interceptions league-wide. At a time when some of the players chosen ahead of Alonso six months ago are having solid but not spectacular seasons, the Buffalo rookie has thrived.
"He's just got great straightline speed," Bills' strongside linebacker Manny Lawson said of the rookie. "He explodes to the ball."
There have been other rookie linebackers, however, who timed quicker than Alonso entering the NFL, and several possessed similar burst in their physical skills-sets. He didn't run at the combine, but clocked a 4.72-second time at his pro day, which was bettered by 10 linebacker prospects at the combine.
So what has made the Bills' rookie, who has registered four passes defensed in addition to the interceptions and also has a forced fumble, so immediately effective in coverage? Baltimore quarterback Joe Flacco, who tossed five "picks" to Buffalo defenders a couple weeks ago, including a pair to Alonso, cited the first-year star's "length" as a factor and said he is difficult to throw over. Granted at 6-feet-3, Alonso is taller than a lot of the 4-3 middle linebackers in the league, but there are also a few in his height range. His arm length at the combine workouts in February was 32 1/8 inches, and there were 29 of the 35 linebackers at the Indianapolis sessions who measured longer reaches.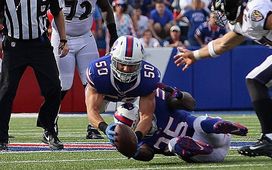 Alonso has already notched four interceptions through his first five NFL games.
It should be noted that Alonso also has 44 tackles, among the top 10 in the NFL, and the most for any rookie defender. It is his coverage skill, though, that clearly has caught the eye of coaches around the league. Not only can Alonso get out into the shorter "flat" and "swing" zones, but he has been very adept at getting depth in the middle of the field and sitting in passing lanes.
To Bills' defensive coordinator Mike Pettine, it is Alonso's football instincts and the fact he's been forced to "play fast," which have helped set him apart. "His (football) awareness is great," Pettine said. "He's got great feel for what's going on." Another element that Philadelphia assistant secondary coach Todd Lyght, who was part of the Oregon staff during Alonso's two seasons as a starter, noted was the fact that the 'backer practiced every day against an up-tempo offense that threw a lot of looks at the defenders. "He's seen a lot already . . . and he's lined up against about everything that you can imagine," Lyght said.
In his two seasons as an Oregon starter, Alonso demonstrated solid coverage ability, with six interceptions, including four in 2012. But even those impressive numbers didn't unanimously sell league scouts on his abilities to drop and cover. Yet just a month into his professional career, Alonso is only the fourth linebacker in history to post four September interceptions. He is only the second linebacker in franchise history to have at least four interceptions in a season. In the past 10 seasons, there have been only 10 linebackers with more than four thefts in a year.
There was some uncertainty about where Alonso would project when league scouts evaluated him in the spring. Scouts were split about whether Alonso would be best utilized on the outside or in the middle. But the Bills' staff pretty much projected him quickly as a "Mike" candidate. Said one team official: "He's everything you want in (a middle linebacker), really. A lot of guys at the position are two-down players who come off the field on third down. If you get a player who can play there and stay there (on third down), it's a bonus."
Notable is that all but one of the linebackers in league history with 30 interceptions or more were middle linebackers for most of their careers. In recent seasons, guys such as London Fletcher and Brian Cushing led the NFL in interceptions by 'backers from middle or inside spots. It's awful early in his career to compare Alonso to some of those defenders, but he's definitely making a splash right now.
+AROUND THE LEAGUE
*The Atlanta tag-team of general manager Thomas Dimitroff and coach Mike Smith has garnered rave reviews, and deservedly so, during its stint of five-plus seasons together. When the pair arrived, after all, the Falcons were still reeling from the Michael Vick and Bobby Petrino disasters, and were essentially irrelevant even in their own town, and the two piloted the Falcons to playoff berths in four of their first five seasons. But with a 1-4 start, it's probably fair to nit-pick a bit, even considering the rash of injuries that has beset the team.
Earlier this year, the "Sunday Blitz" noted the failure of the team's brass to draft and develop a viable pass-rush threat, and to have to rely instead on trade and free agency to supply rushmen. So far this season, the offensive line should merit the same kind of scrutiny. There have been some nettlesome constants with the Falcons – the injuries, "red zone" and third-down conversion failures, not finishing drives or winning close games – but the problems on the offensive line might trump them all. And, frankly, are likely responsible for some of the shortcomings. Dimitroff and Smith made a conscious decision to release right tackle Tyson Clabo and to not try to talk center Todd McClure out of retirement, the way they did tight end Tony Gonzalez. McClure suggested this week that he would have come back for a 15th season, but that he was nudged toward retirement, as the team opted to go with younger players on the line.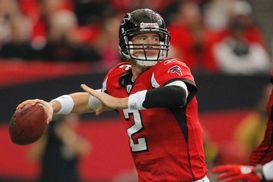 ICONQuarterback Matt Ryan has been under fire through the first five weeks of the season.
But the younger players haven't worked out. Former second-rounder Peter Konz, who moved over from right guard to replace McClure, has struggled against some of the league's stronger tackles. Right guard Garrett Reynolds, who lost the starting job each of the past two seasons, likewise has been bullied at times. And second-year tackle Lamar Holmes, a third-round pick in 2012 whom the Falcons appear to have over-drafted, clearly isn't ready yet for prime time. Holmes, who played only seven snaps as a rookie, began the season at right tackle, then switched to the left side when Sam Baker was injured. To shore up the tackle position, the team was forced to sign journeyman Jeremy Trueblood. The resul t of the mess: Matt Ryan, the club's $100 million quarterback has been hit way too often (despite being sacked only eight times), a reality that must make owner Arthur Blank blanch.
In six drafts, Dimitroff and Blank have chosen seven offensive line prospects, and only Baker has played passably well. And some locals would argue that the six-year, $40.85 million extension to which the club signed Baker in the offseason was misplaced largesse.