December 29, 2013 -
Dan Pompei
NFP Sunday Blitz
There is the usual number of worthy contenders for the NFL's "Comeback Player of the Year" award for the 2013 season, but Julian Edelman probably isn't one of them. After all, while the five-year veteran New England wide receiver was a serviceable player during much of his previous four-season tenure, he hadn't enjoyed a singular standout year, followed by a slump, and then the requisite "comeback."
Truth be told, there wasn't much memorable about Edelman from 2009-2012, except perhaps for his three punt return touchdowns or his Troy Brown-like rescue duty on defense when the Patriots were perilously thin in the secondary a few years ago.
Not much on his resume to come back from, right?
But if you want to debate unappreciated players or unsung heroes or any manner of those kinds of figurative titles for this season – the NFL doesn't officially recognize such imaginary honors – then Edelman clearly belongs in the discussion.
It would be hard not to cite quarterback Tom Brady, who has led New England to another AFC East title with most of his prolific pass-catching corps from a season ago either released, defected, injured or in jail on murder charges, as the team's most valuable player. But it would likewise be pretty difficult to imagine the Pats securing another division title, their fifth straight championship and 10th in the past 11 seasons, without a significant Edelman assist.
The guy flat-out rescued Brady and the New England passing game.
"Obviously, he's had a tremendous year for us," coach Bill Belichick told area reporters last week. "There are a lot of things to like about Julian: his toughness, his speed, his quickness, his ability to run with the ball after he catches it, and break tackles, and be elusive and have good run skills in the secondary. He's a tough kid who can come in and block. He's smart. He's got versatility."
He's also got 96 receptions and, barring an injury on Sunday or uncharacteristically tight coverage from the Buffalo secondary, he will finish with 100-plus grabs. If you had Edelman tabbed in the preseason as a guy who might catch 100 balls, or you scrambled to snatch him for your fantasy football team, raise your hand.
Uh, yeah, we thought so.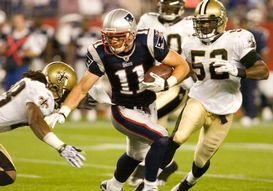 ICONEdelman currently ranks fourth in the league in receptions, with 96.
Edelman came into the 2013 season with 69 total receptions, had 20 or more just twice previously in his career, and hadn't approximated the 37 he registered in '09 as a rookie. And so he's already caught nearly 40 percent more passes in one season than he did in his first four.
He's also got 991 yards after entering '13 with 714; and six touchdown catches, two more than he'd managed his first four years. Heck, he'd had almost as many scores on punt runbacks (three) as he did on receptions prior to this year. Edelman has six catches of 20 yards or more and two catches of 40-plus yards; his first four seasons, he registered nine of the former and two of the latter. And he has four 100-yard performances, something Edelman hadn't accomplished since the final game of his rookie season in the league.
OK, the former Kent State standout isn't Calvin Johnson, but there's a reason that Brady has dubbed him "Minitron." For starters, Edelman isn't particularly big (5-feet-10 and 200 pounds) or physically imposing, and certainly big things were not expected of him this season. But he's come up huge in a season when the Patriots needed him the most.
"It's been gratifying," Edelman said. "It feels good to have people rely on you and be able to contribute."
Remember, Belichick and the New England front office had remade the wideout corps in the offseason, cutting ties with Brandon Lloyd and allowing Wes Welker to defect to Denver as an unrestricted free agent. Deon Branch wasn't re-signed. The Pats drafted wideouts Aaron Dobson (second round) and Josh Boyce (fourth) and signed undrafted free agent Kenbrell Thompkins. The trio of youngsters, plus unrestricted free agent Danny Amendola, signed to supplant Welker in the slot, were supposed to comprise the new wide receiver group. They would presumably buttress a receiving corps that featured tight ends Rob Gronkowski and Aaron Hernandez.
But then Hernandez got arrested and Gronkowski got hurt. Amendola did what he always seems to do, which is sustain injuries, too. Thompkins, Dobson and Boyce, while contributing, suffered the usual rookie breaking-in struggles, and each had a case of the "dropsies" at some point. Shane Vereen, who was supposed to take the place of departed third-down tailback Danny Woodhead, was injured as well. And that pretty much left Edelman, who had started 13 games his first four seasons. He responded by becoming not just Brady's familiar security blanket, but his go-to guy.
"He's been tremendous," Brady said. "He stepped up. The opportunity was there and he obviously made the most of it."
And now one would think that the 27-year-old Edelman, who was a quarterback at Kent State, although drafted as a potential wideout in the seventh round in 2009, will make some money as well. As a free agent after the 2012 season, Edelman attracted scant attention in the unrestricted market, and ended up re-signing with New England on a one-year, $765,000 contract. He received a roster bonus of just $40,000 and a $10,000 workout bonus, with a base salary of $715,000. None of it was guaranteed. It should be fairly noted that Edelman has earned a $250,000 performance bonus, because of his 96 receptions (the bonus maxed out after his 70th catch), but his contract has topped out now at $1.015 million.
After missing an average of four games per season 2009-2012, Edelman, who had been plagued by foot injuries, demonstrated in 2013 he could stay healthy. That has been, Belichick acknowledged, a major factor in his success.
"A lot of times (because of injuries), you're just kind of playing catch-up there, whereas this year I think he's really been able to continue to build on all those practices and games, and it's gotten ahead and gone to much higher ground," Belichick said.
"Fundamentally, I think he's still the same player, but the consistency and the ability to build on where he's been has really been impressive this year."
And while Edelman's average of 10.32 yards per catch could be one of the lowest ever for a wide receiver with 100 receptions in a year– just T.J. Houshmandzadeh (10.2 yards in 2007) and Hall of Famer Cris Carter (10.29 yards in 1994) are lower among wide receivers – one would think there should be some team out there willing to pay, and to offer a multi-year contract in unrestricted free agency. Edelman has led New England in receptions seven times and in receiving yards in four games. He has caught five or more passes 11 times in 2013, seven or more passes on eight occasions.
Not only has Edelman been one of the most unappreciated players in the league, but also one of the most underpaid as well. Both distinctions should end soon, given his clutch performance this season.
+AROUND THE LEAGUE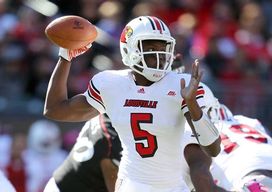 Louisville standout Teddy Bridgewater should be one of the first signal-callers to hear his name announced this spring.
*It's a fairly astounding number, but there could be as many as 11 teams—more than a third of the league—with different quarterbacks in 2014 than the ones who started the 2013 regular-season openers for those clubs. At a position that once was all about creating stability, that's a lot of potential turnover. So many changes figures to have an impact on the 2014 draft, because five of the franchises potentially seeking new quarterbacks currently hold choices in the top 10 of the lottery. That could mean that, for the first time in history, there might be four quarterback prospects among the first 10 selections. That's especially true since teams no longer are concerned about putting young quarterbacks on the field immediately. The old "it takes three years to develop a quarterback" mindset is pass