December 03, 2011 -
Barry Dorey
NFP Sunday Blitz
A young player in Denver has been the source of much attention. He has been dominant in one phase of his game, but a little sketchy in another phase of his game.
Von Miller should be able to relate to his Broncos teammate Tim Tebow. Like Tebow, Miller has excelled at one thing. In the case of Miller, it's rushing the passer. In the case of Tebow, it's running the ball. And whereas Tebow hasn't been much of a passer, Miller has had some struggles when he's had to drop.
But Tebow and Miller are the primary reasons the Broncos have turned around their seasons and have a legitimate chance to win the AFC West. The Broncos are hoping Miller, who had surgery to repair thumb ligaments last week, can play Sunday against the Vikings. Without Miller, even Tebow might find it difficult to win.
The presence of Tebow on the Broncos' roster is one of the reasons the Broncos chose Miller with the second pick of the April draft. They could have had Jake Locker, Blaine Gabbert or Christian Ponder, but the Broncos wanted to see what Tebow could do before they drafted another quarterback.
Broncos vice president John Elway, general manager Brian Xanders and coach John Fox loved Miller from the start. They love him more now. "He's a gifted guy--we knew that," Fox told me. "Great kid. Not afraid to work. Good teammate. Tough. It's not too big for him. Sometimes when rookies get a little success it goes to their heads. He's been very grounded."
Miller has had more than a little success. His 10.5 sacks are tied for third most in the NFL, his 23 knockdowns are most in the NFL as per Stats, Inc., and he is clearly the leading candidate for defensive rookie of the year.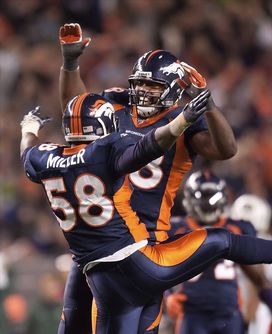 Von Miller knows how to rush the passer.
One of the reasons he has remained grounded and on course is he's had some excellent role models, according to Fox. In particular, Elvis Dumervil has taken him under his wing. Batman and Robin, they call Dumervil and Miller. Champ Bailey and Brian Dawkins also have helped shown Miller the way.
Miller didn't stay down long after he was pulled from the base defense in an Oct. 9 loss to the Chargers after busting a couple of coverages. Fox said Miller has improved since then, and in subsequent games the team also has tried to use Miller more to his strengths. That means more pass rushing assignments and fewer complicated coverage assignments.
"Much like we've done with Tim, we're trying to put him in positions where he's had success," Fox said.
In the Broncos' 4-3, Miller has been playing Sam linebacker on first and second down and rushing the passer on third down. He's been a fine run defender from the start because of his powerful lower body and long arms.
Miller is a little different from Tebow in that he has the ability to do anything well. He just hasn't had the experience.
His coverage is a work in progress. "It's like Tim--with young players, the more you do it, better they get," Fox said. "If you just say, 'You got that guy,' he can cover him. He has extremely good speed, flexibility, and is a good bender. There is just a lot to pass coverage in the National Football League. In pro ball there are way more personnel groups, way more formations, more nuances to pass coverages. He's coming along fine. He'll get better at it. He hasn't done it a lot, but he's kind of natural at it."
He also has been kind of a natural at getting after the quarterback. Jeff Legwold does a nice job of explaining Miller's pass rush ability here.
Fox compares Miller's pass rush style to Dwight Freeney's. "He is explosive and can transfer speed to power as well as anybody I've ever had," he said. "A bunch of people are winging it around, so he's a real asset."
Given the Broncos' style of play, Miller is more than an asset for his team. He's a necessity.
Things I Didn't Used To Know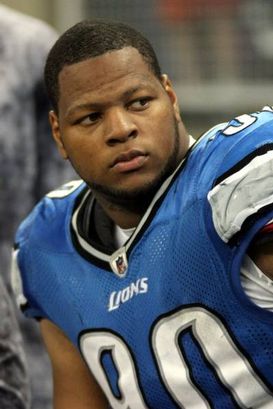 ICONNdamukong Suh will remain a target for officials and opponents.
*If Ndamukong Suh has been slow to apologize to Packers guard Evan Dietrich-Smith for his infamous stomp, there is a reason for it. According to a source from the Suh camp, the Packers were goading Suh, and there were more than 15 instances in the game in which a Packers blocker either grabbed his facemask, gave him a shot to the face or held him around his neck. Those instances were undoubtedly pointed out to NFL official Art Shell, who heard and rejected Suh's appeal last week. Despite the alleged extra-curricular on the part of the Packers, no one was arguing that Suh's response was justified, however. And Suh better get used to it. When he returns, he will be targeted not only from officials, but also from opponents.
*No matter what they chant at the Linc or how badly the Eagles play, it appears that Andy Reid is safe, according to those who are close to the situation. There appears to be only one scenario in which Reid could be let go: if Eagles ownership tries to force Reid to make a staff change he does not want to make (hello, Juan Castillo), Reid could refuse and put the target on his own back.
*The Colts' decision to fire defensive coordinator Larry Coyer does not mean Jim Caldwell is safe. In fact, Caldwell, from what I've been told, is the opposite of safe. It's likely there will be more changes coming your way in Indy.
*NFL owners see the Packers as the model franchise, so now they are looking at their coaching staff to see who could help them replicate the Green Bay way. Two names coming up as head coaching candidates are assistant head coach Winston Moss and quarterbacks coach Tom Clements. Both are likely to be sought for interviews in the hiring season.
*If Oregon coach Chip Kelly wants to give the NFL a try, he likely will have an opportunity. NFL teams are buzzing about Kelly as a head coaching candidate for a number of reasons. The success the Broncos are having offensively makes Kelly's unconventional offense more sellable. And the success Jim Harbaugh is having with the 49ers lessens the stigma about college coaches being unable to make the transition to the NFL.
*It comes as no surprise to that the Bengals lost the game in which A.J. Green missed with a knee injury, and the game he missed three quarters of. The Bengals won last Sunday with Green back in the lineup. Green has become that important that quickly. Green has had a fast impact in part because of his unusual ability. But another part of it, according to Cincy coach Marvin Lewis, is Green was coached well at Georgia. He came to the NFL understanding coverages, how to play with leverage, how to get separate and how to run good routes. He was ahead of the large majority of rookie wide receivers as a result. It will be interesting to see if Green can make a difference Sunday against the Steelers.
*Losing Mario Williams obviously has hurt the Texans, but there has been a silver lining—they have become less predictable defensively. Whereas opponents could always count on Williams rushing from his weakside outside linebacker spot when he was playing, now the Texans are more likely to drop the weakside outside linebacker—usually Connor Barwin--at times. Because opponents can't be sure who the fourth pass rusher will be, both Barwin, who never has stood up before, and Brooks Reed have been more effective in their rushes. Barwin, in fact, had four sacks against the Jaguars last week and was named AFC defensive player of the month in November. It probably wouldn't have happened if Williams had stayed healthy.
My Sunday Best: Receiving Running backs
Some running backs help their teams with catches almost as much as with handoffs. These are my best receiving running backs.
1. Ray Rice, Ravens. Since he came into the league in 2008, he has more receiving yards—2,068—than any running back. Rice is outstanding at making tacklers miss in the open field. He leads all running backs this year with 510 yards after the catch, according to Stats, Inc.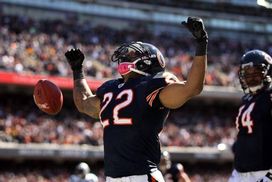 ICONMatt Forte is as dangerous on pass routes as he is on handoffs.
2. Matt Forte, Bears. He has accounted for 20.1 percent of his team's receiving yards—the highest percentage by any running back. Forte has excellent hands.
3. Arian Foster, Texans. This big target has three 100 yard receiving games this year. No running back has done that in a season since Richie Anderson did it 11 years ago.

4. Fred Jackson, Bills. He's hurt now, but the resourceful Jackson was averaging 12.85 yards after the catch.
5. Darren Sproles, Saints. He's a matchup problem who has averaged nine yards per catch for his career. This season in Sean Payton's offense he already has a career high in catches with 62.
6. Maurice Jones-Drew, Jaguars. He's dangerous in the open field because he can run through tackle attempts by defensive backs, and he can avoid linebackers.
7. LeSean McCoy, Eagles. The Eagles consider a short throw to him the equivalent of a run, and he has caught 160 passes over the last three seasons.
8. Reggie Bush, Dolphins. He has scored 13 touchdowns as a receiver.
Scout Talk: Cornerbacks in the 2012 Draft
In scouting circles, the 2012 cornerback class is becoming known for quantity, but not necessarily quality. Three underclassmen who could bolster the quality and be among the top five corners taken are Louisiana State's Morris Claiborne (he would be No. 1), Alabama's Dre Kirkpatrick (at 6-2, he has the kind of height many teams covet), and Florida State's Xavier Rhodes (corner-safety tweener who will only fit a zone scheme as a corner).
There also is a solid group of five seniors who figure to be off the board by the end of round two from the way things look pre-workouts. If Janoris Jenkins had left Florida last year, he likely would have been the second cornerback taken. After a year at North Alabama, he remains highly regarded. Alfonzo Dennard of Nebraska lacks ideal height at 5-9, but he is physical and athletic enough to warrant an early second round pick. Vanderbilt Casey Hayward has improved his stock as the season has gone on, though he might not run as fast as some of the other corners in the class.
Scouts have had to make special visits to Montana and Furman to check out Trumaine Johnson and Ryan Steed, both of whom have NFL ability. Johnson is big and athletic, and has ball skills. Steed is a former basketball player who has developed into a good player at his level, but he needs to show he can handle big time competition.
On the next level (third to fourth round) is a group of ten corners. How they fall will depend on preferences of individual teams. In the group, according to scouts, are Georgia's Brandon Boykin, Texas A&M's Coryell Judie, Virginia Tech's Jayron Hosley, Virginia's Chase Minniefield, Oklahoma's Jamell Fleming, Boston College's Donnie Fletcher, Florida State's Greg Reid, Iowa's Shaun Prater, Arizona State's Omar Bolden and Notre Dame's Blanton Robert.
One Man Yelp: Steve Jobs
The brilliantly timed Steve Jobs biography by Walter Isaacson is well worth a read because of the significance of Jobs' accomplishments. I never really comprehended the extent to which Jobs affected our culture. This was a flawed man but a great American who started a company in his parent's garage and built it into the world's most valuable business, and one of the world's most influential companies. His big picture vision was so rare.
As the book points out, Jobs gave us, among other things, the IPhone, the IPad, ITunes, the IPod, Apple stores, The App Store, the Mac, Toy Story and other Pixar classic movies. He brought the Beatles to your pocket and changed the way we listen to music. He might have saved the music industry. He tried to save the newspaper industry, and the education system.
His commitment to excellence was inspiring. Jobs took almost as much pride in the packaging of his products and in the products themselves. He thought of himself as an artist, and he once took his design team to see an exhibit of Tiffany glass at the Metropolitan Museum in Manhattan because he thought they could learn from Tiffany's example of creating great art that could be mass produced.
He gave the author a statement before he died. I loved this part of it. "I hate it when people call themselves "entrepreneurs" when what they're really trying to do is launch a startup and then sell or go public, so they can cash in and move on. They're unwilling to do the work it takes to build a real company, which is the hardest work in business. That's how you really make a contribution and add to the legacy of those who went before. You build a company that will still stand for something a generation or two from now. That's what Walt Disney did, and Hewlett and Packard, and the people who built Intel. They created a company to last, and not just to make money. That's what I want Apple to be."
Couple of great tidbits:
*Near the end of his life Job met with President Obama. He told him he is headed for a one-term presidency, and the administration needed to be more business friendly. He also offered to help Obama.
*Jobs never believed in surveys to find out what people wanted. He believed in showing them what they wanted. On the day he unveiled the Mac, a reporter asked what type of market research led to the computer. Said Jobs, "Did Alexander Graham Bell do any market research before he invented the telephone?"
A few hundred years from now, some great American may be asking a similar question about Jobs. Given his bizarre way of manipulation, I'm pretty sure I would not have wanted to work for Jobs. He often made Apple a miserable place. But he also made the world a better one.
Hot Reads
*Very sad to hear about the passing of Allen WIlson of the Buffalo News.