March 03, 2013 -
Dan Pompei
NFP Sunday Blitz
The quarterback every NFL general manager would like to find in the 2013 draft is Russell Wilson.
In that regard, Wilson is having an impact on how teams are evaluating quarterbacks. Front office men from two teams told me they have been asked to be more in tune to a quarterback's intangibles this year. "Our front office wants to know who the Russell Wilson is in this group," one high ranking scout said. "Intangibles have become more important because they can overcome everything else."
The public focus of the combine is on physical traits. If you judged quarterbacks strictly by how hard they threw the ball, Tyler Bray of Tennessee might be the first one chosen. His peak ball speed of 59 was best of any quarterback. But it won't matter if he doesn't have intangibles.
"The reason quarterbacks have success is because they are leaders," one NFC general manager said. "Russell Wilson absolutely reinforces that. You have to feel comfortable with that. Did Christian Ponder have everything you look for? No, but he had some leadership to him. I'm not surprised he went in the first round. Minnesota got comfortable with the leader. That's a valuable trait, over the arm strength."
Leadership isn't the only intangible that matters. Instincts, work ethic and intelligence all play a part.
"I remember watching JaMarcus Russell's workout and then going to Matt Ryan's workout at Boston College," said Vikings general manager Rick Spielman. "The skill set was at a different level, but Ryan had the intangibles and intelligence. That's a huge part of the quarterback position. Wilson reinforces that. You still need enough talent. But all of the quarterbacks who excel have leadership and intelligence."
Russell, like many of the biggest quarterback busts in history, was a bit off intangibly. So were Ryan Leaf and Akili Smith and Art Schlichter and Cade McNown.
"We've all been a part of investing in a human being who had a certain level of physical talent, but because of intangibles, he didn't reach his potential or produce consistently," said Rams general manager Les Snead.
Clearly, to succeed in the NFL a quarterback needs to have a combination of top intangibles and skill. If all it took were intangibles, Canton would already be carving Tim Tebow's bust.
"With any player, maybe especially quarterbacks, God, mom and dad gave you talent, but intangibles usually are what takes that talent and produces fruit, and big fruit," Snead said. "It's always been the combination. It takes a certain amount of talent to play in this league, it takes a lot of intangibles to succeed in this league."
But it's too easy to be sucked in by the physical and ignore the intangibles. Pete Carroll, Wilson's coach in Seattle, has always tried to stress qualities beyond the physical. "I've always searched long and hard for intangibles, and tried not to exclude players if they had special qualities," he told me. I always have looked for unique qualities in players, and if they do it doesn't matter if they fit the physical profile or not. I think it's really fun that Russell proved to everybody he's a great player and can on any level. I know it was against a lot of odds."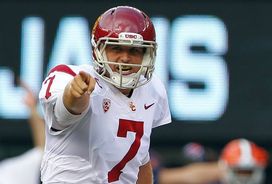 Matt Barkley has been criticized for his arm but praised for his intangibles.
So which prospect in this draft has the best combination of intangibles and ability? According to multiple front office men surveyed by NFP, it's Southern Cal's Matt Barkley. As a result, some believe his stock is back on the rise after taking a season-long dip.
Different execs lauded Barkley for his anticipation, his communication skills, his personality that lights up a room, and his pocket presence. Another said he had the best instincts and ability to see the field.
Asked which quarterback was most impressive in terms of conveying leadership in his combine interview, one general manager said, "I think Barkley is special that way. He has some 'it' factor to him. The personality is there with Barkley. We ask them questions, try to get a feel for how much they love football, and see if they have a special trait that makes people want to be around them and listen to them. It all comes through with him."
Carroll has a better feel for Barkley than most because he coached him at Southern Cal. "No question Barkley is loaded with intangibles," Carroll said. "He has everything everybody wants. He has had it for some time. He knows what it's like to be on a big stage at an early age and handle it impeccably."
The other QBs who score relatively high on the intangible scale are Syracuse's Ryan Nassib and North Carolina's Mike Glennon.
But really, there is no Russell Wilson in this class of QBs. His intangibles make most quarterbacks look like something is missing.
My Sunday Best: Intangible Quarterbacks
All the great quarterbacks have great intangibles. But some have more than others. Here are my best intangible quarterbacks of the modern era:
Tom Brady. The contract extension he recently signed demonstrates the kind of leader he is. Brady sacrificed for the good of the team, which is kind of what he is all about. He is one of the best passers of all time, but if he were one of the most gifted passers of all time he would not have fallen to the sixth round of the 2000 draft. Brady succeeds mostly because of his work ethic, his intelligence and his instinct. He is perfectly wired to be an NFL quarterback.
Drew Brees. He should be too short to be a great quarterback, but his feel for the game makes him one. Brees is an exceptional leader who can carry the message of his coaches to the team. In part because of his unusual charisma, Brees lifted up his team and an entire city in the 2009 season.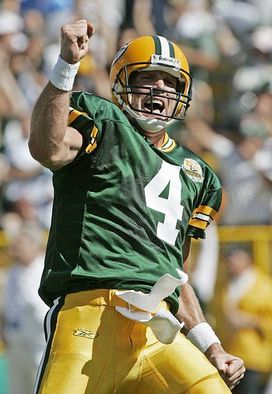 Who wouldn't want to follow Brett Favre into battle?
Brett Favre. When it comes to courage, toughness and will to win, Favre may be in a class by himself. His streak of 297 straight starts is a testament to his drive and commitment. He could have rated even higher on the intangible scale if he were more of a conformist, but being a rebel is part of what made him great. In a couple of years, Favre's successor in Green Bay probably will be on my list too. Aaron Rodgers has outstanding intangibles.
Peyton Manning. He is one of the greatest leaders the NFL ever has seen because of his ability to make players around him better. He sets the bar for his entire team, coaching staff included. No one outworks Manning, and no one is more committed to winning. He is a true professional in every sense.
Dan Marino. You will not find a more competitive quarterback. That's what made Marino such a great leader. There was no intimidating Marino. He was the complete package.
Jim McMahon. He wasn't as gifted as a lot of players on this list, but his innate understanding of the game and feel for playing it was incredible. He often didn't work as hard as he should have and wa s difficult to coach, but he overcame it because he had so much football intelligence. His offensive teammates would have marched through hell for him.
Joe Montana. Joe Cool was one of the greatest clutch performers of all time. He was as unflappable as a quarterback can be. He wasn't the most physically gifted, but his aptitude for the game was off the charts. Montana was a master of the subtle movement to avoid pass rush, thanks to his instincts.
Joe Namath. When scouts talk about the "it factor," they could be talking about Namath. He was the NFL's first great superstar. Nobody could command a room like Broadway Joe. Don Shula once said Namath was one of the three smartest quarterbacks ever.
Ken Stabler.