July 07, 2013 -
Dan Pompei
NFP Sunday Blitz
More than any of the free agents or draft choices the Dallas Cowboy added in the spring, the team's most notable offseason acquisition was almost certainly the hiring of venerable defensive coordinator Monte Kiffin, who at age 73 returns to the NFL after a four-season hiatus from the league.
Kiffin, who spent the past four years working with son Lane on college staffs at Tennessee and Southern Cal, is charged with revamping a Dallas defense that rated 19th statistically in the NFL in 2012, disappeared in some key stretches, and did not take the ball away very often. As if that daunting task isn't enough, the Cowboys will convert from the 3-4 "base" front that they have played, and for which they have drafted, 2005-2012, to a "Tampa-2"-style 4-3 in 2013.
Last week, former Dallas standout wide receiver Drew Pearson audaciously predicted that the Cowboys will play in Super Bowl XLVIII. But for the Cowboys to even advance to the postseason for the first time since 2009, and after a lackluster 8-8 campaign a year ago, Kiffin will have to work his magic. Maybe even more important, key defenders who have played much of their careers in the 3-4 will have to make a speedy transition.
So far, Dallas veterans have publicly expressed confidence that Kiffin and the new scheme will significantly address the team's shortcomings.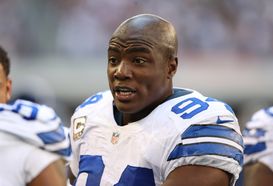 Ware amassed 31 sacks over the last two years in the Cowboys' 3-4 defense.
"The differences aren't as (considerable) as some people have made them out to be," suggested DeMarcus Ware, who at age 31 will move from rush linebacker to right end, a position he hasn't really played since college. "Actually (the defense) allows us to be just as aggressive, maybe more so, and guys have taken to it pretty well. There haven't been a lot of mistakes. It's going well."
Nothing against former coordinator Rob Ryan, whose verbosity played a lot louder than his unit did in two seasons with the franchise, but the gravitas and track record of Kiffin should count for something. Still, simply having Kiffin on the sideline, or concocting game plans, isn't going to be enough, in and of itself. "We've bought into (the 4-3)," acknowledged emerging cornerback Morris Claiborne, "but it still about doing it physically. And mentally, too. (But) the results should be there."
Those results might not show up in Dallas' league-wide ranking versus the run and the pass, but most notably in scoring defense. Kiffin's units have traditionally been more about points surrendered (or, more accurately, lack of) than standing against the run and pass. In his 15 seasons as an NFL coordinator, Kiffin units have ranked just once in the top 10 in total defense, and that was way back in 1995, with the New Orleans Saints. Somewhat stunningly, in his celebrated 13 seasons in Tampa Bay, the Bucs never statistically ranked higher than 16th in yards allowed and 11 times were 20th or worse. Yet the Bucs were in the top 10 in fewest points allowed in all but one of Kiffin's seasons there, and never gave up more than 22.1 points per outing. Dallas, by comparison, allowed 25.0 points per game in 2012, ranking No. 24 in the league.
Said Kiffin, whose defenses permitted an average of only 17.8 points per game during his NFL tenure: "Those (points) are the numbers that count the most."
A hallmark of Kiffin's defenses has always been the ability to turn the ball over, and the Cowboys, who had a measly 16 takeaways in 2012, and averaged just 20.5 in the two seasons under Ryan, seem to have adopted that aggressive philosophy during their offseason workouts. "We're definitely going after the ball," Claiborne said.
All the optimism aside, though, there figure to be some bumps in the road as Dallas moves to a 4-3 look after spending the past eight seasons playing a 3-4. Players, coaches and team officials have acknowledged as much. Even coaches from some of the opponents the Cowboys face in 2013 have allowed that Kiffin may have to put some square pegs in round holes for this year. There are some good fits: The team has a pair of solid corners, linebacker Sean Lee has the kind of speed to get the depth necessary to play in the middle of the 4-3, and Ware and Anthony Spencer should still provide pressure from the edges, even though both will now play end instead of linebacker.
The Cowboys will be smaller, and presumably quicker, but during the breaking-in period, the bet around the league is that opponents will test the new front four in the running game. Ware, who said he has gained 7-10 pounds to make the move to end, has been a better player against the run than some critics suggest, but he'll now face bigger tackles on every play, instead of just "rush" downs. Ditto Spencer, who has not always played the run well. At one tackle spot, Jay Ratliff, who was definitely an unconventional and undersized 3-4 nose tackle, won't be able to out-quick people as often. And the other projected starter, Jason Hatcher, is a converted 3-4 end, and the unit's only 300-pounder. Kiffin and longtime sidekick Rod Marinelli, the new defensive line coach, will have to make do for now with a starting foursome that should average in the 280-pound range. And with a pair of 260-270-pound ends whose anchor ability will be tested.
In the eight years the Cowboys aligned in the 3-4, they never rated in the top 10 in defense against the rush, and just once were in the top half of the league. Six times, they were 20th or worse. Then again, Kiffin's defenses haven't ranked in the top 10 against the run since 1996, his first season in Tampa Bay. But that statistical wart didn't keep Kiffin's defenses from getting the job done. And the Cowboys players certainly appear to have the kind of faith in the legendary coordinator that, all the potential blemishes aside, could potentially make for a much more attractive and productive defense in 2013.
+AROUND THE LEAGUE
*At some point before the start of the coming season, perhaps in the next month or so, the Atlanta Falcons will make Matt Ryan the league's next $20 million-a-year quarterback. The move is hardly a risky one, given Ryan's emergence as the face of the club, his five-season track record, his leadership and endurance, and the fact he helped rescue a franchise that had become irrelevant even in its own city following the twin disasters of Michael Vick and Bobby Petrino. But that's not to say Ryan, who absorbed a career-worst 28 sacks in 2012, won't be at some potential risk.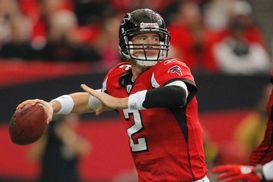 ICONRyan will enter the 2013 season behind a new-look offensive line.
For most of his five seasons in the league, Ryan has played behind a fairly stabile line unit, one with a core five-some that hasn't undergone a lot of change. But with the retirement of iron-man center Todd McClure, the release of former Pro Bowl right tackle Tyson Clabo (who subsequently signed in Miami), and an unsettled situation at right guard, the offensive line is definitely in flux. Assistant coach Pat Hill, in his second season with the team, will have to cobble together a group from a lot of guys who haven't played much before. Second-year veteran Peter Konz likely takes over the center spot. While Konz started 10 games as a rookie in 2012, all of them were at right guard, so he's never started at center in the NFL. Presumptive right guard Garrett Reynolds has 13 career starts, but twice has failed to nail down a spot that opened up when Harvey Dahl left in free agency in 2011. The right tackle slot will come down to Lamar Holmes, who appeared in just one game in 2012, and Mike Johnson. A third-year veteran, Johnson has one career start, and that came as a third tight end, and he was principally drafted to play guard.
The pending investment in Ryan is a smart one, for sure. But the Falcons need the investment in offensive linemen they've made in the draft the past few years, one that team officials are fond of emphasizing, to begin amassing returns in 2013.
*The legal situation with former New England tight end Aaron Hernandez continues to be a matter for local law enforcement officials. And it likely will stay that way. But two well-connected officials with outside agencies tell NFP that there eventually could be – and they emphasize could – some federal involvement with the case. The officials in the Boston and Gainesville, Florida, areas have not reached for any kind of federal assistance in their investigations. That said, the possibility that there might be some interstate implications to the Hernandez affair, has, at least unofficially, piqued the interest of some federal agencies. The "Feds," suffice it to say, have maintained keen interest in the ongoing investigations.
*The Houston Texans chose DeAndre Hopkins in the first round 2