April 21, 2013 -
Dan Pompei
NFP Sunday Blitz
In today's draft, it may be better to be perceived as a character risk than as a medical risk or athletic risk. On this, multiple general managers agree.
"The NFL used to really punish those guys with character flaws," one GM said. "They don't anymore to the same degree."
Once upon a time, if a prospect had made a couple of missteps, many teams just took him off the board. Now, hardly anyone gets taken off a board, though players get flagged.
There are a number of reasons for this phenomenon, which this week is likely to help draft prospects who have not always walked the straight and narrow.
Among them:
*Too few prospects are squeaky clean anymore. "You turn that card over, you eliminate one third of the players," one GM said.
*NFL teams have come to think that not every player who once was deemed a character risk necessarily is a threat to the fiber of the team, or even to himself.
"In years past, say five years ago, anything negative was determined to be bad character," Ravens general manager Ozzie Newsome said. "It was a broader spectrum. It was all lumped in together. Now we look at every situation specifically. Then you have your categories, some you can tolerate."
Even players who fall under the same violation umbrella are being viewed individually. "It's hard to lump a guy into a category because something happened to him and say there is something wrong with him," Lions general manager Martin Mayhew said. "We need to dig deep into every circumstance, particularly if it's a talented player who fits us, and then make an individual assessment of the player."
Teams know more about character missteps than ever before, thanks to more sophisticated investigative techniques, social media and the histories of other players. "Now we have more information," Newsome said. "We can look back at other guys who were similar and say, how did this guy do once he got into the league?"
The types of behavior breeches NFL teams are seeing may be different than they were ten years ago. "With more education for players in their early years, we are seeing fewer barroom brawls, assault on women, things like that," Falcons general manager Thomas Dimitroff said. "There still are party issues, marijuana issues and some theft. But in general, there are fewer criminal issues."
*Marijuana use generally is not a deal breaker anymore.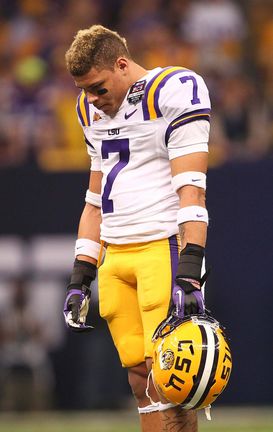 How far will the Honey Badger fall because of character concerns?
Multiple GMs said about half the kids they interview in the pre-draft process either admit they have used marijuana, or have a documented failed drug test in their records. They also estimate that between 60 and 70 percent of NFL players smoke weed.
"Marijuana use is a lot more prevalent today," Mayhew said. "You have to be aware of. It is a major concern when you talk about adding a guy to your team and your community. You have to have an awareness of every aspect of that player's marijuana use."
How the player uses marijuana is the key. If he has failed more than ten tests, as Tyrann Matheau reportedly did, "that could affect things," one GM said. But if there are no indications the use was habitual, teams are willing to look the other way. And so are most communities. After all, we live in a country in which marijuana is legal in Colorado and Washington.
"Five or ten years ago, a failed drug test or getting arrested for marijuana probably was a no in terms of drafting a kid," Newsome said. "Now I don't know how many guys haven't had some experience with it."
*NFL teams have more and better ways to deal with players who have had checkered pasts.
"We strive for cutting edge player development, both on and off the field," Rams general manager Les Snead said. "More resources are going into it from the league level, to the Players Association level to the team level."
Just as coaches think they can hide a player's on field flaws, organizations often believe they can deal with a player's off the field flaws.
Teams have counselors, social workers, psychologists and behavioral specialists at their disposal. "The player development program now is so far advanced from what it was," Newsome said. "The classes they are required to attend, players beginning with the rookie symposium, really open their eyes. Now in addition to developing a player physically, you are trying to develop him emotionally, sometimes financially and socially."
One team that drafted a player who had a history of failed drug tests had the player meet with its resident psychologist pre-draft. The report the psychologist filed indicated the player would not have a problem moving forward. The team drafted the player, and the player has not had a problem.
Teams that have strong leaders in the locker room sometimes feel more comfortable taking in potentially wayward prospects. The Patriots are a prime example.
All this being said, teams still have to draw the line somewhere. Where the line is drawn depends on the team. Among the issues some GMs said they have a hard time with are abuse against women and authority issues. Repeated poor decision making also is perceived as a big deal by many teams.
"Thesholds are different based on desperation to win," Dimitroff said.
In his first draft as general manager of the Rams, Snead took a gamble on perceived character risk Janoris Jenkins in the second round. One general manager said he would not have chosen the cornerback before the fourth round because of off the field concerns.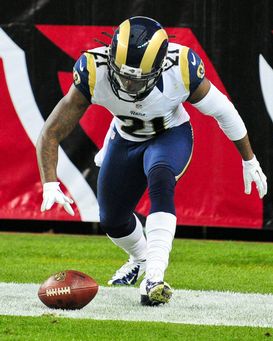 US PRESSWIRECharacter concerns did not dissuade the Rams from taking Janoris Jenkins.
But the Rams saw two things in Jenkins that they thought would enable him to conform to them. The first was that he was a good teammate. The second was passion for football, which was evident when Snead saw him practicing as a special teams gunner for North Alabama after he was dismissed from the team at Florida. "As he matures, you are going to focus on that passion," Snead said. "Now we're going to have to spend some energy on helping the player with some life skills. That's up to us. But if you are passionate, you have a chance."
The Rams also were in position in last year's draft to take a chance on Jenkins, and also on third round pick Trumaine Johnson, another perceived character risk. They had three second round picks, plus high selections in the first, third and fourth rounds.
"I looked at that as we've got a mutual fund here, and we can take a few risks because we had a lot of picks and a lot of good picks," Snead said. "We could add as much tangible talent as possible as long as the people were passionate about football and good teammates."
The point is deciding whether to take a player who is a perceived character risk isn't as simple as it appears. A lot of factors go into these decisions—a lot more factors than ever before.
<strong>My Sunday Best: Draft Prospects With Perceived Character Issues
NFL teams are going to have to make decisions about how these players' pasts affect their draft value. These are my Sunday best players who have had some public missteps. Players are in order of draft value.
1. Alec Ogletree, LB, Georgia. He was suspended by Georgia for reportedly failing a drug test, and he has been arrested twice, for driving under the influence and misdemeanor theft. "It's an issue," one general manager said.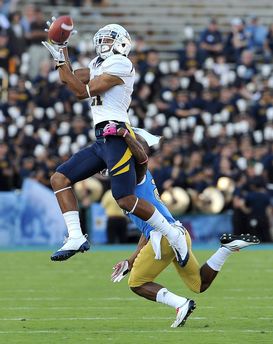 US PRESSWIREKeenan Allen's stock may not be elevating.
2. Keenan Allen, WR, Cal. There have been rumblings about him failing a drug test at the combine, which have been denied. If he did fail a test, NFL teams all will know about it. Failing a drug test isn't a big deal. A lot of players have failed a drug test. Failing a drug test at the combine is a bigger deal because it means the player enters the NFL in the substance program. Personnel men also told me Allen interviewed poorly. If Allen did not fail the test, the poor interviews won't hurt him as much as his poor 40 time.
3. Kiko Alonso, MLB, Oregon. He has had multiple run-ins with the law, including a driving under the influence. He has walked a straight path lately, leading some front office men to hope he has matured.
4. Baccari Rambo, S, Georgia. He has failed at least two drug tests in college and been suspended twice. "He is going to have to change his ways," one front office man said.
5. Da'Rick Rogers, WR, Tennessee Tech. Despite considerable talent, he was run out of Tennessee after violating team rules. "Too many problems," one front office man said.
6. Tyrann Mathieu, CB, Louisiana State. He reportedly failed multiple tests at LSU before being dismissed, and later was arrested on drug charges. Whoever takes him will be taking a leap of faith that he has cleaned up his act.
7. Montori Hughes, DT Tennessee Martin. He is another player who ran afoul of the authorities while enrolled at Tennessee and transferred. "He had a number of issues, and he'll get knocked for it," one front office man said.
8. Tyler Bray, QB, Tennessee. He has had a couple of minor run-ins with the law, but the bigger issue is the maturity level that led to those run-ins. It wouldn't be as big a concern if Bray were a wide receiver or cornerback. But he's a quarterback. Quarterbacks have to set the tone in a locker room. I've talked with a number of NFL scouts who are leery of Bray.
9. Travis Kelce, TE, Cincinnati. He was suspended for a whole year for a violation of team rules. Must have been one heck of a violation.
Things I Didn't Used To Know
*There is a feeling in some NFL front offices that E.J. Manuel has leapfrogged Matt Barkely, Mike Glennon and Ryan Nassib and now could be the second quarterback taken, perhaps even in the first round. Part of this may be because teams have been unable to sell themselves on Barkley, Glennon and Nassib. And part of it may be that Manuel might have more potential than any of them. There clearly is a bust factor with him, but some think Manuel can be a better player at the next level because he has more raw talent than any quarterback in the draft other than maybe Geno Smith.
*With the 16th and 22nd pick in the first round, the Rams are in prime position to make a draft day deal. And they are interested, both in moving up and potentially moving down. What they are not interested in doing is dealing Roger Saffold. The offensive tackle was rumored to be disgruntled after being moved to right tackle from left, but things have calmed down now. The expectation inside the organization is Saffold will be a part of the team for a long time.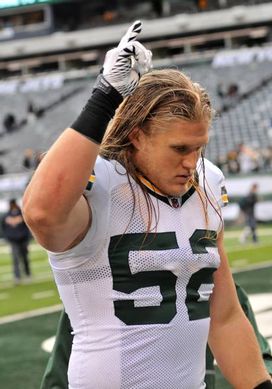 Clay Matthews: new leader of the Pack?
*The Packers coaches expect their leadership void on defense to be filled by two players. With Charles Woodson no longer on the team, the Packers believe two linebackers will step up as leaders. The first is Clay Matthews, by virtue of the fact that he now is the big money man as well as the face of the defense. And the second is Desmond Bishop. He missed the 2012 season, but in 2011 was an emerging leader on the defensive front. Now, coaches say, Bishops leadership will be more valued than ever.
Hot Reads
*Hearing Pat Summerall's voice was like listening to lullaby. Broadcasters did not come any finer.
*I'm not big on calling football players heroes. But this week I'll make an exception for Joe Andruzzi.
*Jack Bechta believes a lot of agents have made the same mistake with their players that a lot of homeowners have made with their houses.
*The hope was that Jimmy Haslam would remind Browns fans of Dan Rooney. Instead, he may be reminding them of this guy.
*The Jaguars may or may not develop a quarterback this year. But they almost assuredly will develop a top contestant for Dancing With the Stars.
*See it's true. Chip Kelly is revolutionizing the NFL—one smoothie at a time.
Dan Pompei covers pro football for the Chicago Tribune at chicagotribune.com.