May 12, 2013 -
Dan Pompei
NFP Sunday Blitz
This is a very happy weekend in many NFL facilities, as rookie camp enables proud and pleased team overlords to get a good look at their draft picks in new uniforms for the first time.
And it has been especially happy in Cincinnati, where first round pick Tyler Eifert looks like he can team with veteran Jermaine Gresham to give the Bengals something few teams have.
"He's already made some catches, where it was, 'Wow, how did he do that?'" Bengals offensive coordinator Jay Gruden told me. "We took him in the first round for a reason. He was too good to pass up. We feel very fortunate. Tyler has a long way to go and has a lot to prove, but he has the tools to be an exceptional tight end. We're excited about having him."
The Bengals now may have as much raw talent at the tight end position as any team in the NFL, with the possible exception of the Patriots. Gruden acknowledges studying the Patriots and how they utilize their unique combination.
Eifert and Gresham are a different tandem from Rob Gronkowski and Aaron Hernandez. And Eifert is a different style tight end from Gresham.
"Jermaine has already proven he is a good, solid all-around tight end, solid blocker," Gruden said. "He's a big target for Andy. Tyler is a different dimension, little bit more fluid."
Having two tight ends who can run and catch opens up a world of game planning possibilities. Gruden is still figuring out how best to use Eifert and Gresham in tandem, and says he will know a lot more as the team works its way through training camp. He wants to find out what the tight ends are comfortable with and what quarterback Andy Dalton is comfortable with.
Last season, the Bengals' most effective personnel package might have been one tight end, three wide receivers and one back with Mohamed Sanu and Andrew Hawkins complementing A.J. Green and Gresham. Gruden said the plan is still to feature that package quite a bit, probably in nickel.
"It's just that our base package will probably feature more two tight ends, two receivers rather than one tight end two backs," he said. "We can get everything in our running game in that personnel group. It's taking out a fullback and putting in a heck of a pass catcher and hopefully a good blocker. We like to mix up our personnel groupings and keep defenses off balance hopefully and be diverse in what we do. Our goal is to get our best players on the field."
If the Bengals can force defenses to go nickel on first and second down with two tight ends on the field as the Patriots do, running backs BenJarvus Green-Ellis and Giovani Bernard are going to see a lot of daylight. The key is Eifert being multi-dimensional—not just a pass catcher.
"If Tyler is a good blocker, that puts us in a good advantage in the run game," Gruden said. "That's what New England does so well. They get teams to match up nickel with them and they can run the ball effectively out of that two tight end set. They have an extra big body blocking. Tyler has a long way to go to prove he's a good blocker. Training camp will help him. Coach [Jonathan] Hayes has been around tight ends for a long time and is a great tutor for him."
Having two tight ends who are receiving threats should make Dalton and Green better.
"You don't have to be 100 percent right when you are throwing to guys like Gresham and Eifert," Gruden said. "The ball doesn't have to be perfect.
He can throw it so many different locations. You can throw it on top of them and they can jump for it. You can throw it behind them and they can back shoulder it. Throw it low, they can go down and get it. They both have a great catch radius. That makes the job a heck of a lot easier for the quarterback where he is not worried about throwing perfect every time."
Defenses aren't going to suddenly forget about Green. But there will likely be times when less attention is paid to him. "Anything to take pressure off No. 18, because he's the bellcow," Gruden said. "Anytime you get him singled up, we're pretty excited."
Anytime a team gets two tight ends like this, it should be pretty excited.
My Sunday Best: Tight End Combinations
The NFL probably has more potentially outstanding tight end combinations than ever before in history, as the talent pool at the position has gotten deeper in recent years. Here are my Sunday best tight end combinations based on talent level.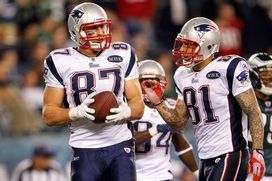 Rob Gronkowski and Aaron Hernandez are a dynamic duo.
1. Patriots—Rob Gronkowski and Aaron Hernandez. There is no question the Patriots have the most gifted and most accomplished set of tight ends in the league. The only question is if they will continue to produce as they have given Gronkowski's injury issues. The interesting thing about these players is each could have been drafted much higher than he was. Gronkowski was pushed down to the second round because of spine issues. He easily could have been a mid first round pick. And Hernandez dropped to the fourth round because teams had concerns about his character.
2. Bengals—Jermaine Gresham and Tyler Eifert. Each of their tight ends was selected 21st overall in the draft, and each was the highest rated tight end in his draft class. Gresham is one of the league's better two-way tight ends and a two-time Pro Bowler. Eifert has the potential to be a better receiver than Gresham.
3. 49ers—Vernon Davis and Vance McDonald. If tight ends were judged by combine workouts, the 49ers' pair would be No. 1. We're not sure yet what McDonald will become, but his talent is outstanding. Davis is a one-time Pro Bowler and a fine player, but the sixth pick of the 2006 draft never really has produced up to his phenomenal ability level.
4. Colts—Coby Fleener and Dwayne Allen. Selecting them in the same year was reminiscent of the Patriots' selecting Gronkowski and Hernandez in the same year. Fleener and Allen were the consensus top ranked tight ends in 2012. The best should be yet to come with this tandem.
5. Cowboys—Jason Witten and Gavin Escobar. An eight time Pro Bowler, Witten is one of the greats. Witten and almost anyone would be a good combination. In fact, Witten and Martellus Bennett formed a more talented combination than Witten and Escobar. But Escobar was picked in the second round for a reason. He didn't have a great workout, but he played like a fine athlete. If he develops the way he is capable of developing, Escobar is going to be an excellent second tight end in Dallas.
6. Eagles—Brent Celek and Zach Ertz. Celek has been a productive player for the Eagles, but he doesn't have as much capability to create mismatches that Ertz does. The presence of Ertz could compromise defenses and create more opportunities for Celek. They have the potential to be a very effective duo.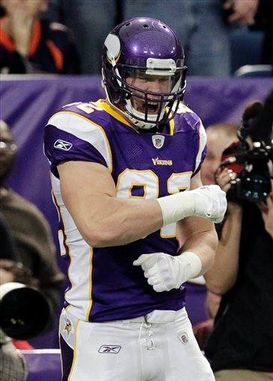 Kyle Rudolph gives the Vikings some offensive muscle.
7. Vikings—Kyle Rudolph and John Carlson. Both of these Notre Dame products were second round picks. Rudolph came on strong in his second season last year with nine touchdown catches and a Pro Bowl appearance. Carlson isn't as big or dynamic an athlete, but he can be a fine complement if he can stay healthy.
8. Lions—Brandon Pettigrew and Tony Scheffler. A former first round pick and a former second round pick, Pettigrew and Scheffler are a nice blen d of a big tight end who can block and an athletic tight end who can catch. Neither has great speed, but the sum of their parts is very good.
9. Ravens—Ed Dickson and Dennis Pitta. Drafted in back to back rounds in the great tight end class of 2010, Dickson and Pitta are an effective duo. Neither one has been dominant, but they are both important pieces of an effective offense, and they present defenses with tough choices.
10. Chiefs—Tony Moeaki and Anthony Fasano or Travis Kelce. It will be interesting to see how this one shakes out because with the addition of third rounder Kelce, the Chiefs have three tight ends who can ball. Assuming all three are still around in September, Andy Reid has to determine how to use each and how they will fit together.

Things I Didn't Used To Know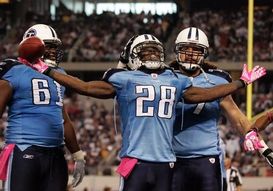 ICONChris Johnson might not welcome Shonn Greene with open arms, but Greene could help his career.
*Titans running back Chris Johnson sounds much more excited about the team's additions of Andy Levitre, Chance Warmack and Brian Schwenke than he is about the addition of Shonn Greene, but the Tennessee coaching staff believes Greene can help make Johnson a better player too. The Titans have tried to sell Johnson on the fact that giving Greene some of his carries will make Johnson more effective because he will be fresher, and it will extend his career. They are planning on using Johnson and Greene they way they used Johnson and LenDale White together early in Johnson's career. Greene also will give the Titans some peace of mind in the event Johnson gets banged up. And there will be this benefit: last year while playing for the Jets, Greene was 100 percent on converting third and ones. Johnson was 66 percent for the Titans. Guess who is going to be getting the ball in short yardage?
*For a team that lost three time Pro Bowler Steven Jackson in free agency, the Rams are feeling really good about their running game. Why? They have options. And a potentially pretty good running back committee. The team traded up to draft Zac Stacy, and they clearly believe he has a future in the league. The Rams were higher on Stacy than some teams, but the fact that he was so productive in the SEC gives the team confidence that he can at least fill a role in the NFL. And if Stacy is slow to get moving, the team also feels very good about 2011 draft picks Daryl Richardson and Isaiah Pead. Richardson's average per carry of 4.8 last year was tied for seventh best in the league among running backs. Pead, the team's second round pick, did even better at 5.4, but he carried only 10 times. It's worth noting that both averaged more per carry than Jackson, who ran for 4.1 yards per try. The Rams believe Richardson and Pead are more explosive than the soon to be 30-year old Jackson.
Hot Reads
*Want to know what it's like in a team's inner sanctum on draft day? The one and only Peter King takes you inside Rams headquarters here.
*Nobody asked me, but it seems Marcus Robertson might be a better fit to coach Derrick Rose than Louis Delmas.
*Also on the subject of the Lions, Nick Fairly tells Terry Foster they are going to the Super Bowl.